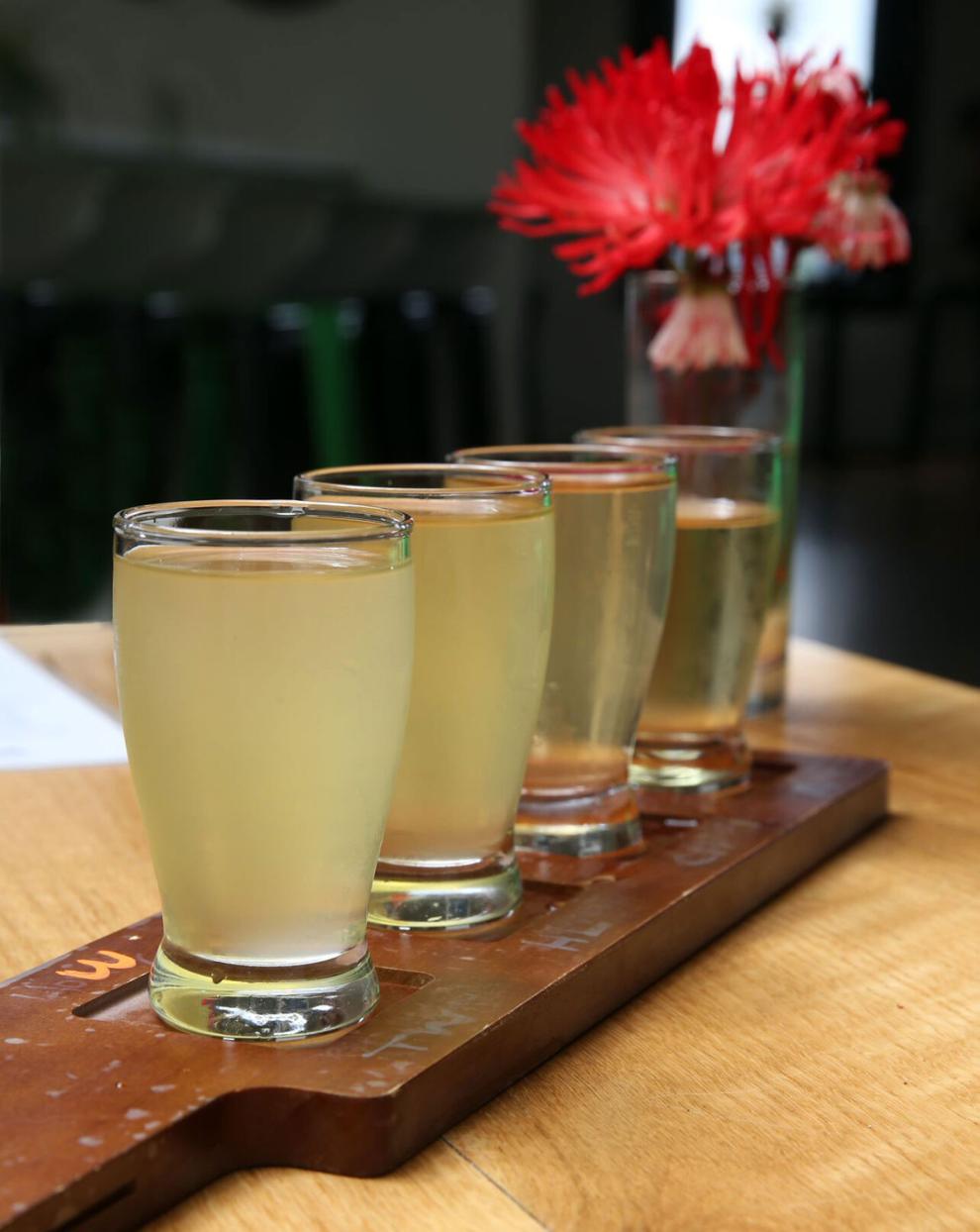 Warm weather is upon us and there is nothing better than ending the day with an ice-cold glass of …. cider or mead? Across Lancaster County cider and mead options seem to be popping up everywhere. Here are three of the hottest spots to cool down with one of these refreshing beverages.
Artifice Ales & Mead
55 N Main St, Manheim, PA 17545
Artifice Ales & Mead offers a unique drink for those with an adventurous palette: mead. Mead is made with fermented honey and tastes similar to a lightly sweet wine. As a beer enthusiast, I was hesitant to order an entire glass of mead. Fortunately, Artifice offers four-glass flights so that you can mix and match small pours of both mead and beer. I was pleasantly surprised by Artifice's peach mead that tasted like a fruity ray of sunshine.
Artifice's food was equally enjoyable, my favorite being the maple roasted brussels sprouts which were caramelized and crispy. My dining partner described these sprouts as "the only way I would eat them!" Artifice offers a comfortable environment for an evening out or a relaxed afternoon with friends.
Artifice is owned and operated by the same team that runs Meduseld Meadery in Lancaster, where you can drink mead, throw axes, and enjoy the occasional sight of a man in a kilt.
---
Wyndridge Farm Tasting Room
398 Harrisburg Ave, Lancaster, PA 17603
Wyndridge Farm Tasting Room offers locally made beer and cider on the northern edge of Lancaster city. This is Wyndridge's second outpost; their original restaurant and brewery/cidery is in Dallastown. Wyndridge's Lancaster location provides an array of ciders and beer on tap, but the widest assortment is found in their canned cider.
Wyndridge has a seasonal selection of summer ciders including mojito and my personal favorite, pineapple mango cider. Their flatbreads were just right for pairing with cider, especially the hot pepperoni flat bread topped with ricotta and hot honey drizzle.
Worth noting is that Wyndridge Farm Tasting Room is a half-block north of the Warehouse District Beer Garden at 555 N. Charlotte St. After enjoying ciders at Wyndridge, stroll down to the Beer Garden for additional libations, a game of cornhole, food trucks, and live entertainment.
---
The Fridge
534 N Mulberry St, Lancaster, PA 17603
Located on Mulberry Street near both Wyndridge and the Beer Garden, The Fridge is a hangout for those who appreciate excellent craft beer. The Fridge's wide selection of craft ciders includes Levengood's, a crisp local staple. What I love about The Fridge is that you can sample hand crafted drinks from across the county and across the globe without leaving the building. If you see something you want to try later, you can buy a mixed six-pack to take home.
I particularly enjoyed a Salt and Sand margarita cider made by the inventive Graft cidery in the Hudson Valley. Graft has been a driver of cider innovation in the U.S., launching flavors such as rhubarb spritz, Moscow mule, salt gose, sake plum, kombucha, and many more. Some of their ciders are in cans printed with a fantasy story series that you can enjoy while you sip. And the artwork on Graft cans is a whimsical window into a world of nomads, tiger-sharks, and castaways. These ciders are worth seeking out and The Fridge is where to find them.
With your cider, enjoy The Fridge's thin-crust pizza topped with mushrooms, kale and gruyere. Or, try the Bat Out of Hell all-natural hot dog with bacon, arugula, tomato, and spicy hell aioli. Hell yeah!