You've heard of farm-to-table food.
But have you heard of table-to-farm dinners?
For these dinners, you can walk or take a wagon ride to a picturesque farm field, where a meal awaits. Whether it's a table long enough to seat a few hundred people or tables for 10, these dinners are served on the farm where much of the food was grown.
Bird-in-Hand Family Restaurant has offered its own cornfield banquets for seven years. Since then, a few other Lancaster County restaurants and farms have added the special dinners.
B&H Organic Produce in Caernarvon Township partnered with Chef Philip-Georges Davis two years ago to make seasonal dinners at the farm, with produce grown there and nearby.
C.R. Lapp's Family Restaurant near Quarryville sponsor a cornfield dinner as a once-a-year fundraiser.
Here's more about four farm dinners you can find in Lancaster County through the fall.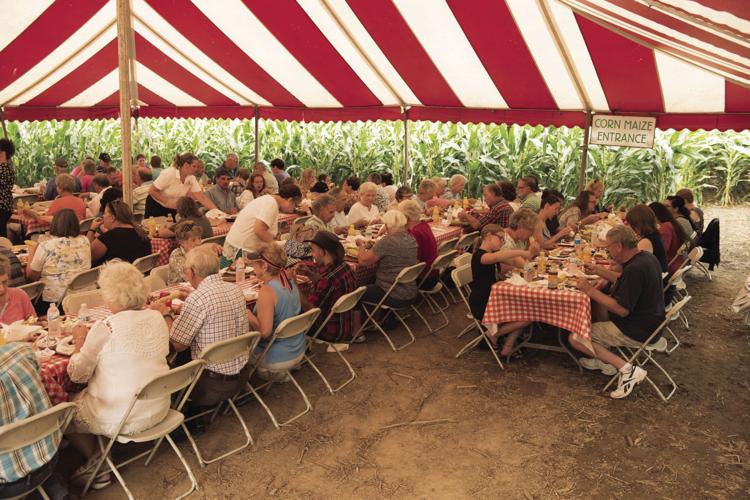 Cornfield Banquet
Host: Bird-in-Hand Family Restaurant.
Where: Smucker homestead farm on the east side of Bird-in-Hand.
Details: Take a hay ride to the banquet site in a cornfield. After dinner, gather around the fire to ask John and Myrna Smucker, Bird-in-Hand's owners, questions and listen to live banjo music. There's also a corn maze to explore.
When: The banquets start after the 4th of July when corn starts to grow high. Final banquet for the season is Thursday, Aug. 22. The banquets are from 5:15 p.m. to 8:15 p.m.
Cost: $44.95 per person; $24.95 for children ages 4-12; children 3 and under are free. Call 800-537-2535 or visit bit.ly/BIHcornfield to buy tickets.
Menu: Barbecued chicken, fresh-picked corn on the cob, baked Idaho and sweet potatoes, Grandma Smucker's baked lima beans, chow-chow, coleslaw, applesauce, rolls with butter and apple butter, whoopie pies and fresh peach shortcake.
Why they host a meal on a farm: These banquets are a new way to delight tourists and local residents, company owner John Smucker says. "It combines food and our love of agriculture," he says.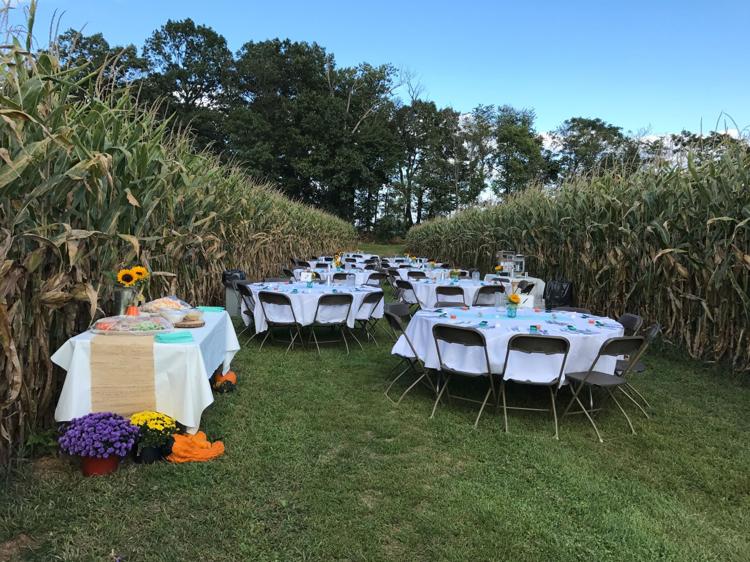 Cornfield Dinner
Host: C.R. Lapp's Family Restaurant.
Where: TBA.
When: Saturday, Sept. 7. Beverages and hors d'oeuvres are served at 5:30 p.m. and dinner is served at 6 p.m.
Cost: $100 per couple. Call 717-786-1768 to buy tickets. All proceeds benefit Fisher House Foundation, a nonprofit that runs a network of homes for the families of veterans and military members during treatment.
Menu: Fresh roasted chicken, roasted potatoes, fresh green vegetable, tossed salad and fresh peach shortcake topped with lavender sauce and whipped cream.
Why they host a meal on a farm: Eating outside is a great experience, says restaurant owner Christy Lapp. Eating outside surrounded by 8-foot-tall corn is even better. Lapp's once-a-year dinner is a fundraiser for a cause close to the Lapp family, which has three members in the Marine Corps.
Farm to Fork Fondo
Host: Cherry Crest Farm
Where: 150 Cherry Hill Road, Ronks
Details: The word "fondo" comes from an Italian term for long-distance cycling. Don't worry - you get to choose the distance that works best for you. Aside from the bikes and food, there will be live music, raffles, coffee stations and a festival market.
When: Start your weekend with a Meet the Farmers dinner at 6:30 p.m. Friday, Aug. 23. The ride begins at 8:30 a.m Saturday, Aug. 24, and the gathering goes until 6 p.m.
Cost: Prices vary depending on cycling distance, from a 10-mile "Ramble Ride" for $40 to the "Fran Fondo," an 80-mile trek fro $138. Kids 12 and under can do an 8- to 12-mile ride for $25.
Menu: Beer sponsor Victory Brewing Co. will be on hand with its mobile barbecue unit, and the full menu will be released closer to the date of the event.
Why they host a meal on a farm: According to its website, the Farm to Fork Fondo mission is "to highlight and support the symbiotic relationship between cyclists, farmers and beautiful landscapes."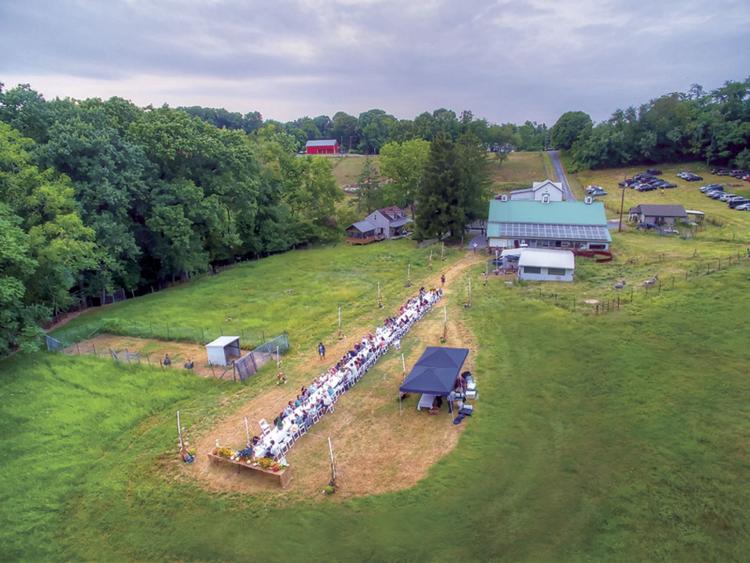 Farm to Fork Dinner
Host: Lancaster County Field of Hope
Where: The Heth Farm, 4338 Fairview Road, Columbia
Details: This fundraiser dinner raises money for families with health hardships. Dinner includes Pennsylvania wines and live music.
When: Saturday, Sept. 14, 4-9 p.m.
Cost: $160 each. To buy tickets, visit lancofieldofhope.com or call 717-538-3877.
Menu: The menu will feature food from chef Jason Hampton.
Why they host a meal on a farm: The Heths enjoy cooking and wanted to help those in need.