Dinner started with plates of warm rolls topped with woodland mushrooms and herbs. The wine was flowing, and the conversation with new friends was just getting started.
Dozens of people gathered shoulder-to-shoulder inside a Lancaster County barn, sheltered from the rain.
It was almost perfect.
When the clouds parted, they picked up the tables and moved the party outside to their picture-perfect spot. Only a few wine glasses didn't make the journey down the slope and onto the field.
Outstanding in the Field ended its Northeast tour of outdoor meals here in Lancaster County.
The dinner at a local organic farm was $235 a ticket, yet it still sold out to a crowd of locals and visitors. They came to support local farms. They came for the food, the atmosphere and, for many, the Instagram-worthy pics.
Since Jim Denevan started his traveling Outstanding in the Field business in 1999 in California, he's hosted more than 1,000 meals in 50 states and in 17 countries. When he started, Denevan saw these dinners as a way to connect people to their food where it's harvested, shared with friends and strangers, breaking bread together.
Nearly 20 years later, farm-to-table has grown so much it's reached pet food. And so has the need for connection, he says.
Smartphones and technology can entertain us, teach us and show us the world. Yet there's still something very human about connecting with people and place.
"People want to touch things and taste things that are right in front of them," Denevan says.
This was the fourth time the company has set up the long table at Culton Organics in Silver Spring in West Hempfield Township. The farm on Marietta Avenue is a beautiful setting and Tom Culton's a great host, Denevan says.
"Tom Culton is a quirky, fun, interesting farmer with a ton of history that goes back hundreds of years," he says. "When a farmer gets up and talks about the generations going back to the 1700s, it's powerful."
The farm's been in the Culton family since 1741. These days, the farm produces an eclectic mix of organic vegetables, many sold at restaurants throughout the region.
With so many courses, the dinner started at 3 p.m. on a muggy, rainy day. Sheltered in a barn with Culton's vintage skateboard collection in the corner, servers shared plates of oysters, platters of organic radishes drizzled with cultured butter, citrus and fresh herbs plus plates of dolmas made from charred greens topped with seafood and oysters.
Ploughman Farm Ciders poured hard ciders from Adams County, or diners could try a biodynamic sauvignon blanc from California's central coast.
Kyle and Jessica Sollenberger may have spent more time at Outstanding in the Field dinners than some of the staff. It was the 15th dinner for the Lancaster couple. They try to switch between dinners close to home and ones farther away.
"It's a fun tradition," Kyle Sollenberger says.
"We love food and we love supporting local," Jessica Sollenberger says.
Coming to these dinners, they say, has taught them both to think more creatively when it comes to cooking. They have the Outstanding in the Field cookbook to help as well.
Most of the produce for the dinner was harvested within a week, with most picked that morning, Culton told the crowd of about 100 before the meal started in the barn.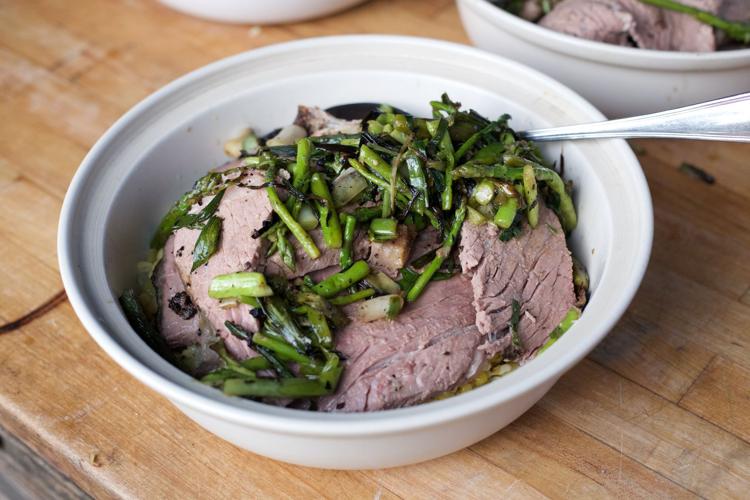 "Being a farmer, you get to kind of Peter Pan it," he says. "I get to do what I want and go out and play in the dirt and live out my dreams."
This season was tough, though and forced him to grow up. Devastating rains caused plenty of crop losses. There were a few bright sides. The tomato crop was awesome and a new hemp crop is thriving.
It's nights like this that are what farming means to Culton, he says: getting people together and sharing food.
On a muddy tour of the farm, he pointed out the fall-sprouting asparagus from France and the rare blight-resistant American chestnut trees planted by his grandfather.
He showed the areas of tobacco lost from the rain and a field of hemp that has a lot of potential, especially in a place called West Hempfield.
A crew from helm restaurant in Philadelphia, led by Kevin D'Egidio and Michael Griffiths, prepped the first course, sheltered from the rain under two tents.
They got to know Culton as he supplied produce for the restaurants where they worked and now the one they own.
It's not uncommon for the chefs to get excited about one of Culton's ingredients and showcase it on the menu, such as the meaty Dr. Martin lima bean, says D'Egidio, co-owner and co-chef.
The chefs started working on the dinner in the spring, when Culton planted some vegetables such as root crops and greens. As the night approached, they looked at what would be ready and built a menu.
"These guys are super-malleable," Culton says during the break to move the party outdoors. Just that morning, they decided to swap ingredients like watercress for mustard greens to make a meal that's a real expression of the season.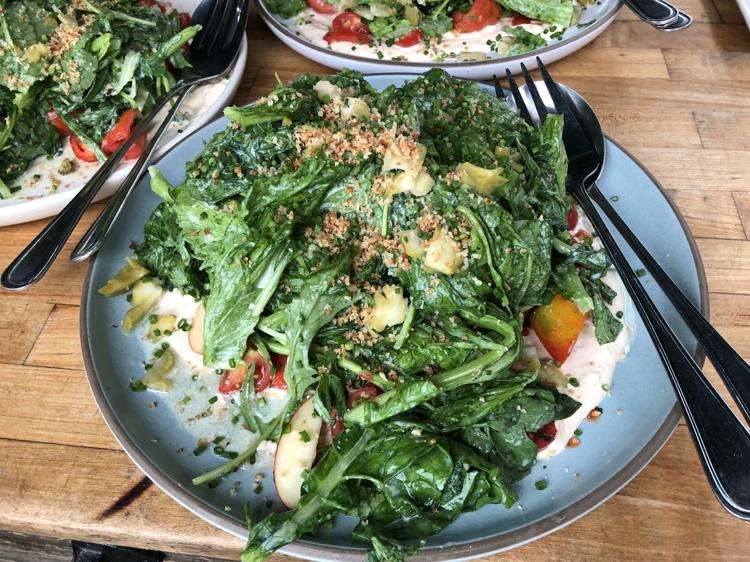 The meal started with warm rolls topped with roasted mushrooms, cheese and herbs passed around the long tables clustered in the barn.
They were followed by greens topped with apples and a buttermilk dressing. Then there were roasted vegetables on a vibrant green chimchurri, plates of roasted new potatoes plus sausage blended with cabbage cooked over coals.
By the time the table moved, the crowd had been eating for three hours and the main course had yet to be served.
Next came bowls of roasted beef top round, Szechuan leg of pork topped with asparagus plus grits with braised radish and turnip tops.
As the sun set, dessert was served: hemp seed s'mores with caramelized apple bread, dulce de leche chevre, roasted peaches and fresh yogurt.
"This is a nice respite from all the BS," Culton says. "I didn't hear a lick of politics. It's nice to step away from that for a night."
The Outstanding in the Field crew follows the harvest across the country, from west to east and then goes south.
After they left Lancaster, they were on to a wharf in Washington, D.C., two days later for a sold-out dinner and then to another sold-out dinner at the largest organic community-supported agriculture farm in Maryland.
By the time you read this, they'll be prepping for a sold-out dinner on an organic farm in Georgia.