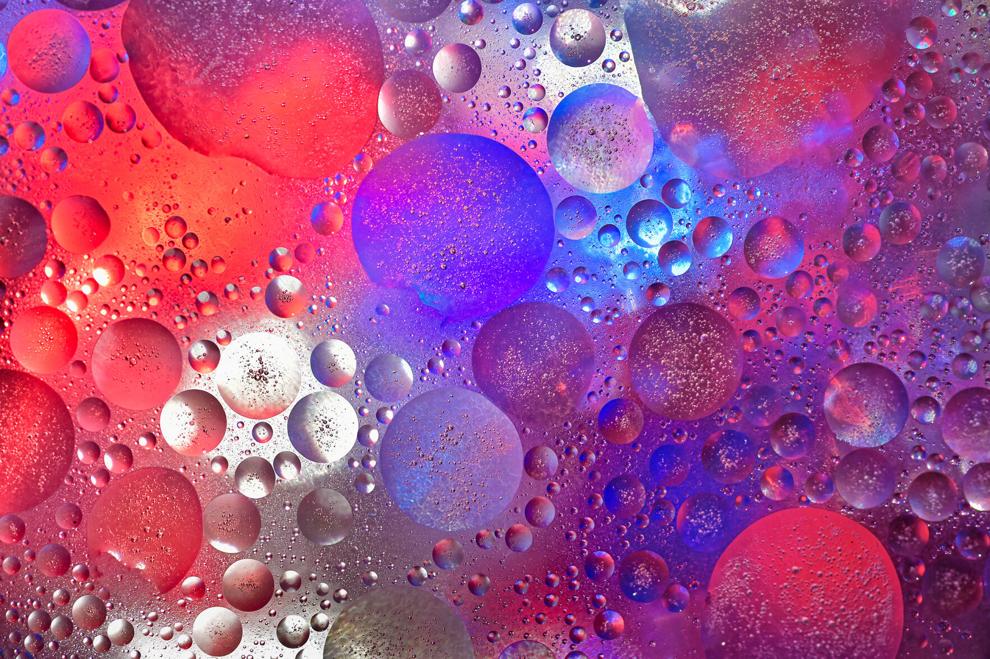 This week's Through the Viewfinder turned out to be an interesting photo, but it was not an easy shoot. If you have a lot of patience, I would challenge you to give this a try, but only if you possess this virtue.
What you are viewing is a photo of oil and water within a clear Pyrex dish. The handles of the dish were placed on two black shoeboxes with red, white and blue metallic streamers (such as those you would place around your neck on July 4th) sitting under the dish to provide the color.
After a lot of trials with many errors, I found the best way for the oil and water to blend together was by using a mixer to combine the two ingredients. Too much or too little oil was an issue. Tripping over all of the supplies and spilling the dish as it crashed to the ground was also problematic. Somehow, I managed to save the dish, but I'm not sure about my sanity.
As this was shot outside, the sun was my light source.
Here are eight images from the multiple hundreds that I shot. Please give them a look and see which photo you like best.
THE METHOD: A Nikon D4S body employed a 105mm micro lens set to f/11. An ISO of 400 was selected, and my shutter speed was at 1/640th. I tried a tripod, but as I mentioned having patience earlier, the tripod was quickly dicarded.
Holding the camera and lens perpendicular or as level as possible is a must if you wish to hold good depth of field. The idea is to have all of the bubbles in focus and this photo accomplished that.
I processed the photo in Luminar, making adjustments to saturation and vibrance and also adding some structure. Contrast and cropping was completed in Photoshop.
Through the Viewfinder is a weekly feature by LNP | LancasterOnline photographers exploring the art of black-and-white and color photography.