Why do people care so much about sports? Why do athletes dedicate their lives to the pursuit of a game? Why do fans invest so much time and project so much of their own hopes on a certain team or player? Yes, sports are a great distraction from life's daily grind, but there's inspiration there, too. Inside the context of a game – with its arbitrary rules and time limits – an athlete endures disappointment and enjoys triumph. We see ourselves in them. LNP sports reporter John Walk, 31, started the "Inspirational Athletes" podcast two years ago as a platform to share inspirational stories and let listeners know they're not alone in their own struggles.
Walk, a Lancaster County native and former member of the Penn Manor High School basketball, football and track teams, estimates he's had three former U.S. Olympians, four former pro athletes, four high school student-athletes, 11 high school coaches, 12 pro athletes, 14 college coaches and 25 college student-athletes sit across from him in the LNP studios (or on location) to share their stories. There are 100 episodes of "Inspirational Athletes" and 99 of them feature local athletic figures who tell their stories about overcoming personal struggles – on and off the field. There have been many memorable moments and lots of inspirational conversations. But during the 100th and final episode of the podcast, audiences get to hear one of the most inspirational stories. That is Walk's own story.
You recently recorded the 100th episode of the "Inspirational Athletes" podcast and you turned the microphone back on yourself and told your story. Why?
I was trying to line up a big name guest for episode 100. There are three or four Major League Baseball players from Lancaster County and some guys in Major League Soccer and, for whatever reason, I didn't hear back from my requests. At the same time, in the back of my mind these last couple months, I've had the idea of turning the microphone on myself and giving people an idea of why we started this podcast and telling my story, like here's what I went through, here's what I learned from it. That propelled me to thinking, "What could I do as a podcast that might make a difference or might be different from all the others in this world."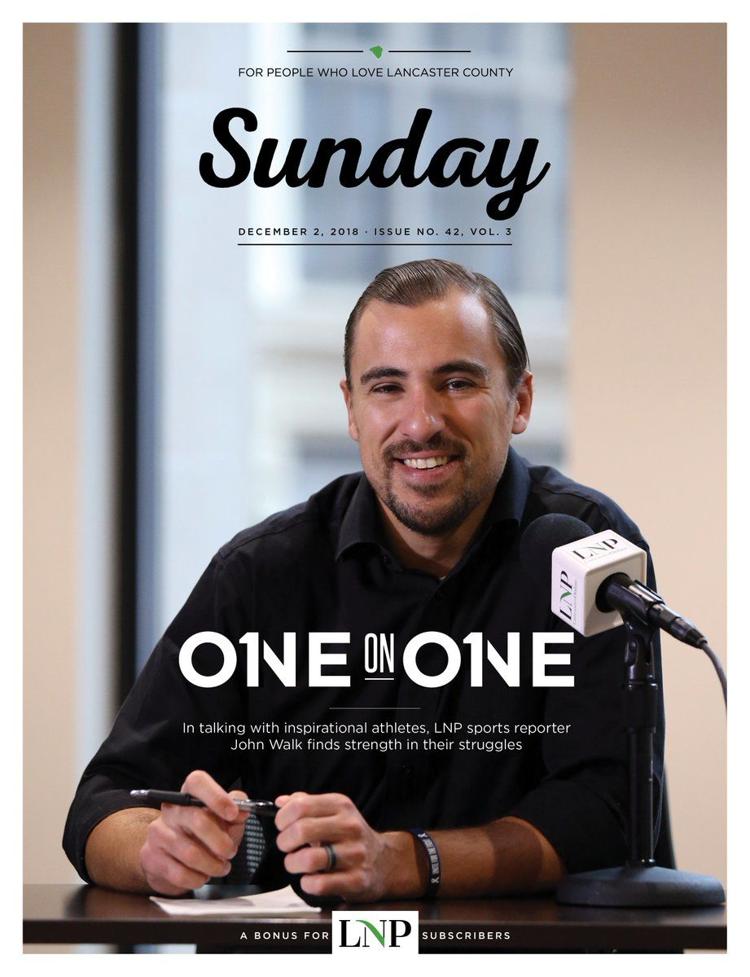 Why were you reluctant to talk about your own struggles?
It's hard. Those are some of the darkest times of my life and I found that as I was readying episode 100 these last few weeks that I'd have to get in the mindset of thinking back on those dark times and each time I thought about them, I would kind of be messed up for a day or two – just down in the dumps. It's emotional to live through. But at the same time, I've also learned that it's kind of selfish on my part to keep it to myself. We all go through struggles in life, and maybe through sharing my story people could relate to it in some way and it could help them. So, if I can help others, then why not do that?
You were diagnosed with Hodgkin's lymphoma at 27.
I never entertained the thought of dying because I knew that we caught it early. I knew that it's really treatable. The only thing I was really concerned about was the side effects of the chemotherapy. Because, being a journalist and having had done stories about student athletes going through cancer battles and hearing what they experienced – that was my kind of concern going in. Am I going to feel terrible? Is this going to prevent me from working? Is this going to prevent me from exercising and living what I deem a normal life? Those were my worries. I will say the next couple days after I got diagnosed, I would just read up about cancer and what causes it and one of the main things is that cancer cells feed off sugar and I've always had a sweet tooth my entire life. I remember being mad at all the crap that I had put in my body over the years. I won't say I've completely revolutionized my diet, but I've certainly cut back on the junk and the sweets and I really take care of myself now. (Editor's note: Walk is now cancer-free.)

Readers should take a moment to listen to the episode. Cancer wasn't the only struggle you endured, and maybe wasn't even the hardest one, but out of all those experiences, what sort of positive things came out of that?
I will preface this by saying that I'm now 10 to 11 months removed from finding that our child, at 12 weeks of pregnancy, had died. So, I have perspective. There are some coaches out there in the Lancaster-Lebanon League that have been through similar circumstances and I had known about that in the back of my mind. Once I went through this, I reached out to them. Like how did you deal with this as a husband? How did you help your wife? One of the things I was taught is that you've got to live with the new normal. Those few coaches were an invaluable resource to me.
The first couple weeks after the miscarriage, (my wife and I) didn't want to be around anybody or talk to anybody. We just wanted to be around ourselves. Eventually, I started returning the many phone calls that people had left with us and one of those was to my sister-in-law. I remember driving to a sporting event and talking to her on the phone and just kind of working through my emotions and saying my wife and I have been through the worst of the worst and no matter what comes in the future, we at least now know that we'll be able to get through it. And, I guess, the last thing I've learned … my wife physically having gone through the miscarriage and seeing how she handled that and coming out better for it, I never really saw that in her until that very moment. So I've learned that she's much stronger than I gave her credit for.
At the end of every episode of "Inspirational Athletes" you ask your guests to provide some words of advice about overcoming the obstacles that life has thrown at them? What would you say?
I would say definitely learning to live with the new normal. You're never really moving on from a tragedy like (a miscarriage), you're just learning to live with the fact that your child is now up in heaven. You're not really going to move on but you can accept the circumstances and live with it.
There are a lot of pieces of advice guests have given me and I've applied some of them. I forget who said it, but "Life is unfair." Nothing is ever going to be fair. I'm not telling my story for sympathy but to show that we all have things that are hard in this world. Tragedies strip you down to reveal who you are. You could either go down that dark path – I certainly did. It smacked me in the face like, "OK, do you really believe in God?" Because now times are tough and you're questioning him and you're questioning his ways, so are you really faithful in the darkest of times? 
How did your faith help you during these dark times?
I was reading through the Bible and looking for something that could help us with what we're going through. If you know the story of Job and the 10 to 12 children that were taken away from him and how he eventually came to reconcile that – that's how I was trying to reconcile my faith (during the first two months following the miscarriage). Eventually Job did come to see God's goodness in that. We've since met others at our church that have reached out and said, "We've been there and here's how we dealt with it." And we applied that to our own lives. So, it certainly has made us stronger in our faith and it's made us a better husband and wife as a couple.
As a journalist, you've written about quite a few student-athletes that have struggled with cancer.
I didn't put this in the podcast, but when I was with the York (Dispatch), I did a story on Brandon Hohenadel, who played basketball for Eastern York and he got leukemia. I did a couple stories on him with his first initial battles with it. He's since passed away in 2016. He's buried in a cemetery off the Hallam exit and I stop at his gravesite each time I go to my six-month checkup at my oncologist's office. I try to stop there each time I go that way and I kind of just talk to Brandon about what life is like, and what life would be like for him. He'd be in college. He wanted to be a sports agent.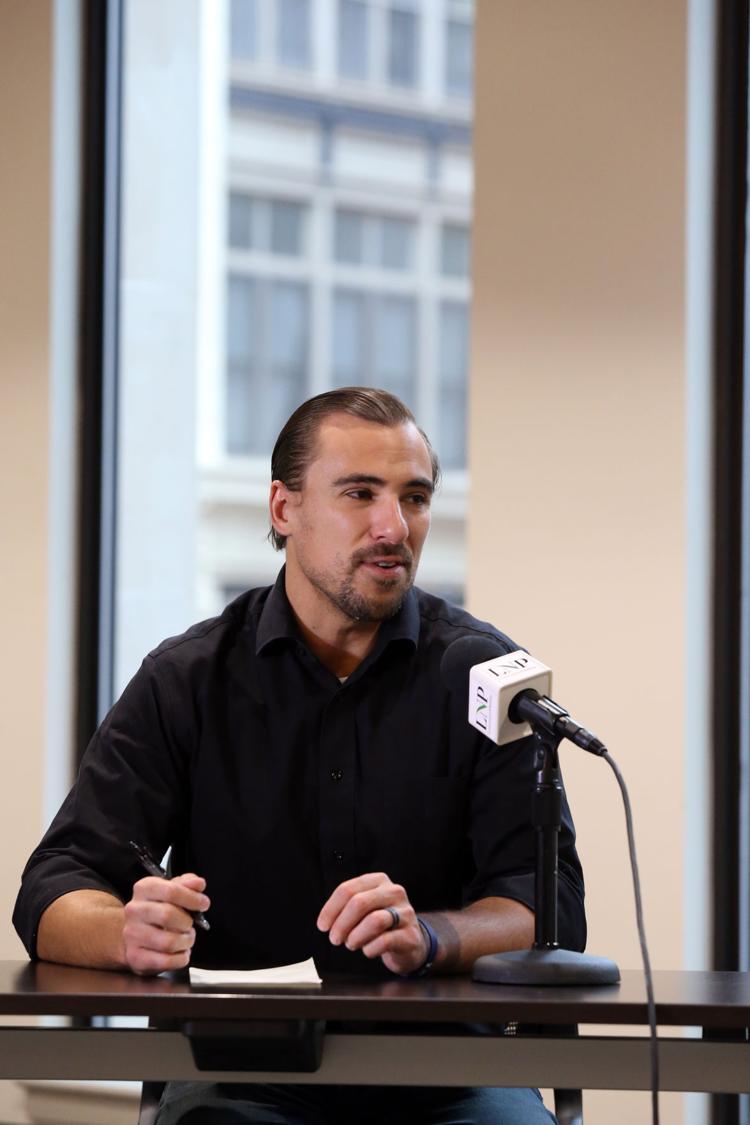 You kept working through your diagnosis and the miscarriage. How did your job help you get through this?
I'm the type of person that doesn't want things to screw me up from leading a normal and productive life. I couldn't really leave my editors to scramble – I'm sure they would've been fine, they've been awesome, even going back to when I was getting chemotherapy.
At the same time, last spring, I was a first-year boy's lacrosse referee. What people don't know is that it takes like three or four months of preparation and research because you've got to study a whole 110-page lacrosse rulebook and then you've got to pass a 100-question test from the PIAA before you get certified. I had already spent money on a lot of the certifications, registrations and lacrosse gear so I couldn't really back out. So, on top of covering high school basketball, I was also training to become a high school lacrosse referee for the first time and then this miscarriage happens. It's like in a way, I guess, I had work and this lacrosse referee thing as a distraction in my mind.
Plus, my brother roped me into running the Turkey Hill half-marathon which, I think, was in April, so I also had to make time to train for that over the course of January, February, March and April. By the day of the half-marathon, I felt I've got to do this for our unborn child. After that I kind of started feeling a lot better about life.
Sports are like a shortcut to finding out what you're made of. Can you talk about why sports are important to you?
I think without sports there's no way I would've been able to make it through what I've been through. Sports have taught me a lot in terms of facing trials in life and how are you going to respond to them. It's what you do when no one is watching. There are a lot of clichés, but they are true when you think about it. Sports have taught me a lot of invaluable lessons.
Why did you decide to become a lacrosse referee?
High school sports are in dire need of referees – and lacrosse is probably, in my opinion, the one high school sport that is in the most dire straits in terms of needing referees. I had known about that in my first three or four years covering lacrosse and instead of writing, "Hey, lacrosse needs referees," I wanted to do something different. So I thought, "Let me go and live in their shoes a little bit and tell the story of what it was like becoming a referee." Maybe I could kind of propel somebody like, "Oh, if John did it maybe I could do it."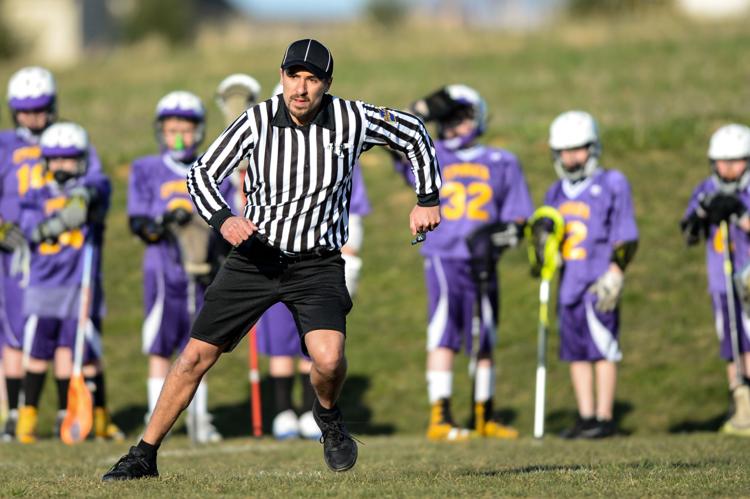 What did you get out of the experience of being a referee?
I have a much fonder respect for all high school referees all across the board now. I realized they don't just show up in the stripes that day and put a whistle in their mouth and officiate that game. There are months, sometimes years of work, that go into studying that rulebook and watching film and prepping for what you see on the field and knowing what you're seeing and knowing what to call. I've since learned from that and I no longer criticize referees. I've been there and I get it.
These are human beings in the black and white at these sporting events. They have families, they have jobs, and they're doing their best and their sacrificing their time to be out here officiating a game for your son or daughter. Respect that and don't be so hard on them. Otherwise, these referees are going to turn away from wanting to officiate and then you're not going to have officials for these games. So, yeah, lay off the referees.
What do you like about covering amateur athletes?
As amateurs, these games might be the best thing these athletes ever do in their entire sporting careers. But also, for example, Warwick football coming back and playing – and winning – just hours after a car accident that took the lives of two students. Following that football team over the course of the next week and seeing how they responded and the community support … that was pretty special. That should probably be one of the better sports moments this year, to be honest.
I hope people realize that Lancaster County and the Lancaster-Lebanon League is kind of special in a way – and maybe I'm biased because I live here and I see it. After those two Warwick students died, the entire LL League showed their support; from high school down to elementary school, kids were dressing in red and showing their support for Warwick. Where else do you see that? That was incredible. That lets me know that our sports department is blessed to work in an area where there is so much support for local sports and athletes and it's not just when Johnny or Jenny scores points.
Listen to episodes of the "Inspirational Athletes" podcast on Lancasteronline.com/podcasts and on iTunes by searching "Always Lancaster: Inspirational Athletes" in the podcasts section.