Central Dauphin and West Shore have advanced to Central Pennsylvania Interscholastic Hockey League championship games scheduled for Friday at Hersheypark Arena. Their opponents will be determined Monday, when the Bears Division and Viola Division playoffs continue.
Here's a preview of Monday's games.
Bears Division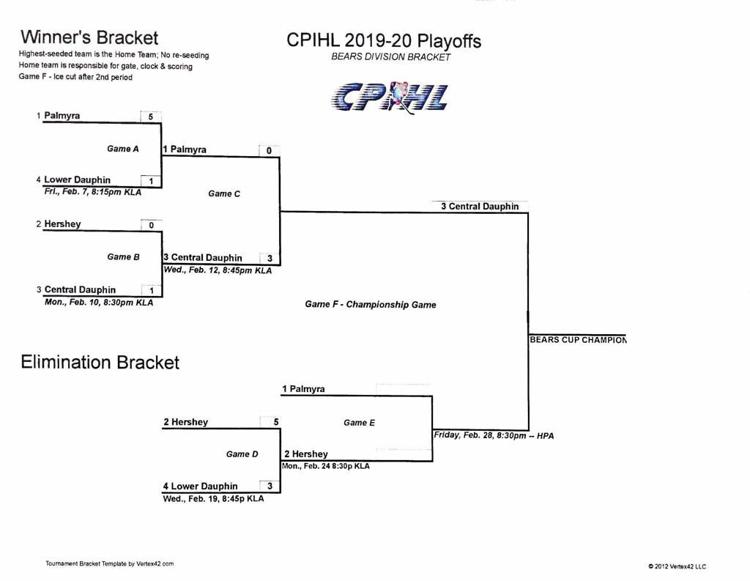 No. 1 Palmyra (16-3-0-1) vs. No. 2 Hershey (14-3-1-2)
Puck drop: Monday, 8:30 p.m. at Klick Lewis Arena
On the line: The wining team advances to the Bears Cup final, facing Central Dauphin in a championship game scheduled for 8:30 p.m. Friday at Hersheypark Arena.
How they got there: The Cougars won their Feb. 7 first-round game against Lower Dauphin 5-1 before falling to Central Dauphin 3-0 Feb. 12. The Trojans suffered a 1-0 setback to Central Dauphin in the first round Feb. 10 before bouncing back with a 5-3 win over Lower Dauphin in the elimination bracket Feb. 19.
Head-to-head: Palmyra took the first two outings between the teams during the regular season, winning 7-6 in overtime Nov. 22 and 5-4 Jan. 10. Hershey earned a 5-3 victory in the Jan. 31 regular-season finale.
Players to watch: Hershey's Jason Rippon had five goals and two assists for the Trojans in three regular-season games against Palmyra. Palmyra's Kyle Ziemba had five goals and four assists against Hershey during the regular season.
Goaltenders: In almost-identical numbers, Palmyra's Jackson Bell put up a 2.00 goals-against average and a .923 save percentage in two playoff games while Hershey's Christopher Larkin posted a 2.00 goals-against average and a .922 save percentage in two playoff outings.
Notable: This will be the ninth straight year that either Hershey or Palmyra will make an appearance in the Bears Cup title game. The last time neither advanced to the final was 2011, when Central York defeated Central Dauphin ... In two of the three regular-season games between the two teams, one team trailed by at least two goals and tied the game. Palmyra trailed Hershey 5-0 before its 7-6 overtime win Nov. 22 ... Palmyra has not allowed an opponent's power play to score a goal in nine opportunities during the playoffs. Hershey's penalty kill allowed one goal in six opponent power play opportunities. Meanwhile, Hershey's power play has scored twice on seven postseason opportunities while Palmyra's power play went 0-for-8 in its first two playoff games ... Hershey and Palmyra, along with Lower Dauphin, qualified for the 2020 Flyers Cup tournament.
Viola Division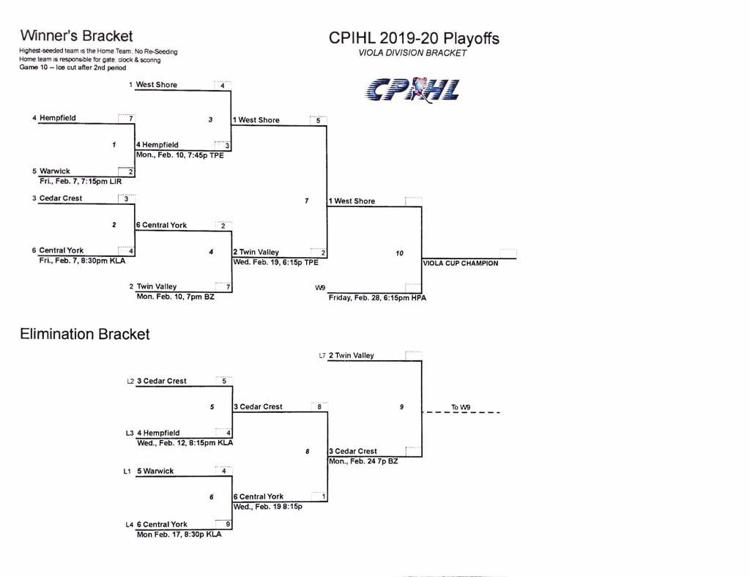 No. 2 Twin Valley (16-3-0-1) vs. No. 3 Cedar Crest (16-5-0-0)
Puck drop: Monday, 7 p.m. at Body Zone
On the line: The winner advances to face top-seeded West Shore in the Viola Cup championship game scheduled for 6:15 p.m. Friday at Hersheypark Arena. The losing team bows out of the tournament.
How they got there: After a first-round bye, the Raiders -- with players from Twin Valley, Collegium and Tulpehocken -- defeated Central York 7-2 Feb. 10 before suffering a 5-2 setback to West Shore Feb. 19. The Falcons -- players from Cedar Crest, Lebanon, Lebanon Catholic and Elco -- dropped their Feb. 7 playoff opener to Central York in a 4-3 shootout decision before picking up a 5-4 overtime win over Hempfield Feb. 12 and an 8-1 win over Central York Feb. 19.
Head-to-head: Twin Valley won the only regular-season meeting between the two teams with a 5-3 decision Dec. 9.
Players to watch: Lebanon's Todd Griffiths leads the Flacons in postseason scoring with four goals and six total points. Meanwhile, Twin Valley's Koby Howat has paced the Raiders with four goals and five total points.
Goaltenders: Twin Valley's Caleb Dinsdale posted a 3.50 goals-against average and a .887 save percentage in two playoff games. Meanwhile, Lebanon Catholic's Nolan Harner registered a
Notable: Twin Valley joined the CPIHL last year. This is Cedar Crest's first season in the Viola Division after playing in the Bears Division last year and winning the Rothrock title in 2018 ... The Falcons have not trailed by more than two goals at any point during the postseason ... In its potseason win, Twin Valley outshot Central York 26-19. In its postseason loss, Twin Valley posted 20 shots to 43 for West Shore ... The Raiders have scored two postseason goals on four power play chances. Meanwhile, their penalty killing unit killed off two of three opportunities. Meanwhile, Cedar Crest has scored one power play goal on 11 postseason chances, and its penalty killing unit killed off 10 of 14 chances.