Editor's note
Ad Crable is retiring from LNP after nearly 37 years, but he will continue writing this column and answering reader questions about the outdoors in Lancaster County and Pennsylvania. Please continue to send him story tips and seek advice on the local outdoors scene. Ad can be reached at acrable@lnpnews.com.
The weekly calendar of outdoors events in Lancaster County also will continue uninterrupted. Notices of activities for the public should be emailed to sports@lnpnews.com; send to LNP, Attn: Sports, P.O. Box 1328, Lancaster, Pa 17608-1328; or call 717-291-8666.
Who knows what condition Lancaster County streams will be in with the seemingly never-ending wet weather, but another trout season will open regardless at 8 a.m. sharp Saturday.
Anglers of all ages will be seeking more than 34,000 trout that have been stocked in recent weeks in more than two dozen streams and Muddy Run Recreation Lake by the Pennsylvania Fish and Boat Commission and its many local volunteers, as well as six local sportsmen's clubs with cooperative nurseries.
Another 38,000 reinforcements of trout will be stocked once the season begins.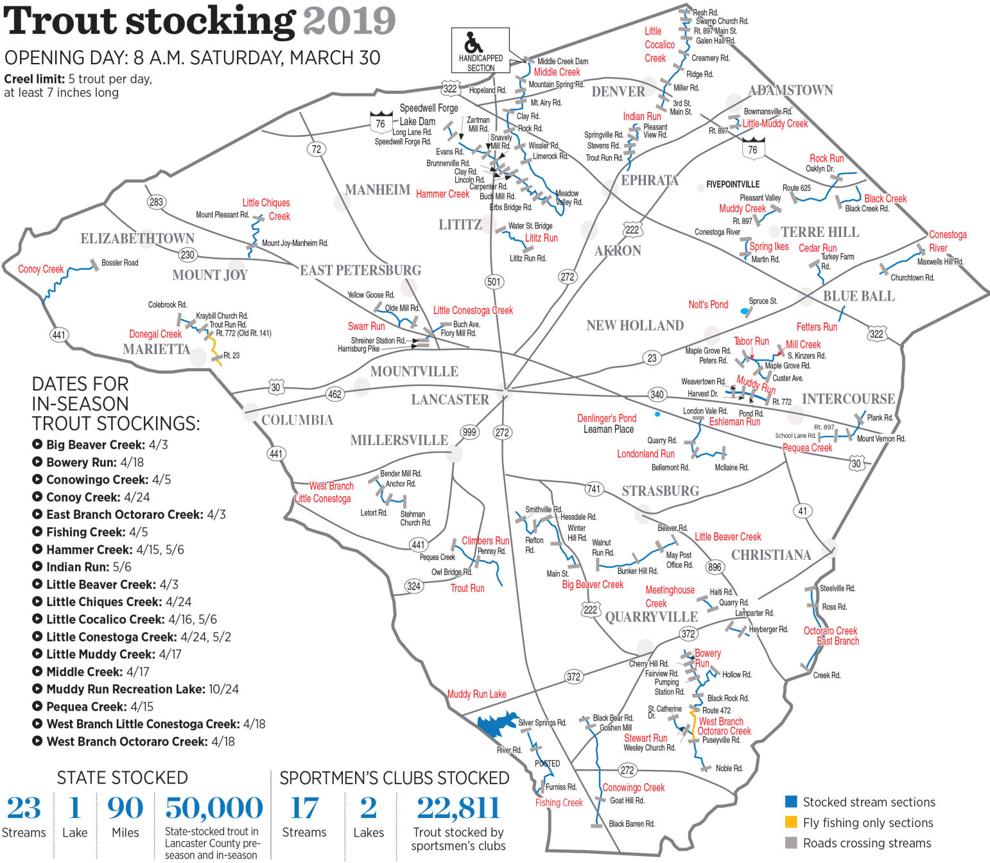 Lancaster and  17 other southeastern Pennsylvania counties get the jump on the rest of the state for casting the first lines. In the remainder of the state, the opener is Saturday, April 13.
Good news this year is that none of the 23 streams stocked by the state has lost any spots due to landowner posting or other factors.
A bit of bad news: due to flooding last summer, both the Donegal Fish & Conservation Association and the Southern Lancaster County Farmer-Sportsmen's Association lost fish and equipment and were unable to raise fish for stocking this season.
Also good news is that the total trout to be stocked statewide of 3.2 million adult trout is about the same as last year.
This despite warnings of trout number cutbacks as the commission struggles to get legislative permission to raise fishing license fees for the first time in 14 years.
Locally, the belt tightening led to some conversation about  cutting stocking of trout in Stewart Run in southern Lancaster County, but the decision was made to continue with the full allotment this year.
The breakdown of trout to be stocked statewide is 2.1 million rainbows, 640,000 browns and 440,000 brook trout. The average size of stocked trout is 11 inches, according to the commission.
Also, about 9,600 trophy golden rainbow trout that weigh an average of 1.5 pounds and measure at least 14 inches will be stocked. That's in addition to thousands of hefty brood trout that will be sprinkled in waters throughout the state.
If catching a lunker trout is high on your bucket list, 21 streams around the state have been designated as Keystone Select Trout Stocked Trout Waters and have received trout from 14 to 20 inches.
None is in Lancaster County. The nearest are White Clay Creek in Chester County, two sections of Tulpehocken Creek below Marsh Creek Lake dam in Berks County and Quittapahilla Creek in Annville, Lebanon County.