Penn State Extension thinks it's time owners of small woodlots in Lancaster County and throughout Pennsylvania feel the burn.
Extension is launching a new initiative to convince private forest owners of the need to intentionally set fire to their woods in carefully controlled burns to help wildlife, control invasive plants, knock back tick populations and to simply improve the health and diversity of their woods.
We know that Native Americans regularly intentionally set fire to fields and forests to get the plants and food-bearing trees they needed for themselves and to draw in game. Aging of charred tree stumps showed that settlers in Pennsylvania followed suit, burning woods to improve understory grass for their livestock.
Centuries of forest burning enabled species such as oaks to adapt thick bark to survive burns while competing maple and birch trees were killed. Some trees, such as pitch pines, rely on burns to release their cone seeds.
Then, starting about 100 years ago, Americans found it abhorrent to intentionally kill trees. Forest fires became a thing to prevent and snuff out. Wildlife and healthy forests have suffered ever since.
Realizing the error of their ways and with a push from the nonprofit Pennsylvania Prescribed Fire Council, the state legislature in 2009 passed the Prescribed Burning Act that set controlled burning standards and encouraged state land managers to use burns as a key forest-management tool.
The state Department of Conservation and Natural Resources and Pennsylvania Game Commission are increasingly using controlled burns to improve wildlife habitat; improve generation of valuable food species such as oaks; to achieve healthier, more resilient forests; to kill invasive species; and to burn off fallen branches and leaf litter to reduce chances of wildfires.
The Game Commission, for example, has conducted about 130 controlled burns on game lands in Lancaster and 11 other counties in its southeast region since 2011. The burns have ranged from an acre or so to improve pollinator plants in a field to 2,000 acres in forestland on game lands in Dauphin County.
"Our primary goal is to rejuvenate wildlife habitat which ultimately improves hunting opportunities," says Steve Ferreri, the Game Commission's land manager for Lancaster and Chester counties. "We may use fire to reset the clock to get different species."
The 2009 law succeeded in jump-starting burning as an important forest management tool for large government agencies. But requirements for trained "burn bosses" and other regulations have deterred involvement of private landowners, who own 70% of Pennsylvania's 17 million acres of forestland.
Jesse Kreye wants that to change.
The Penn State assistant professor of fire and natural resources management will soon roll out a public education program to explain the many benefits of controlled burning on private woods. Then, the plans are to make it easier to safely and legally carry out the prescribed burns.
"There are still a lot of people in Pennsylvania who aren't aware of why they should be using controlled fire and what benefits it provides," says Kreye, who comes from Florida, where more than 1 million acres of woods and grasslands are burned each year. "I think a lot of people, once they understand what happens, will really come around to the idea."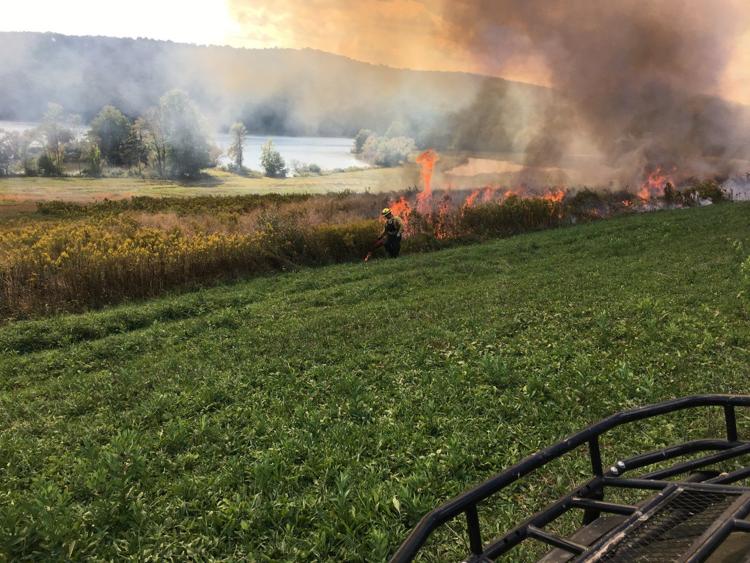 One challenge is to get the images of wildfires in California and Australia out of people's heads and get them to realize the benefits of carefully controlled burns.
"It's a lot more predictable than people think," Kreye says. "Flames don't get more than a foot high, and we can control the smoke."
In addition to getting private woodlot owners to embrace the need for fire, Kreye and Penn State Extension hope to work with the Pennsylvania Prescribed Fire Council to help private landowners form regional burn associations. Member landowners could get required training to prepare burn plans and to hire a "burn boss" to conduct organized burns. That way, several controlled burns could be done the same day on small woodlots that otherwise might be too small to burn alone.
Kreye also hopes Extension can set up training for people who could then be hired as consultants to help landowners do burns. Depending on the size and complexity of burns, it can take from a few to many people to conduct a burn.
A survey Kreye and his students did of private forest landowners already involved in some of management on their properties showed a "significant demand" for burn management. "A large factor is people who are really interested in wildlife," he said.
Ad Crable is an LNP outdoors writer. Email him at acrable@lnpnews.com.