Longer hunting seasons. More deer tags for buck and does. Removing antler restrictions. Mandatory deer testing. Sharpshooter culling.
These are the highlights of measures being considered by the Pennsylvania Game Commission to help limit the spread of the always fatal chronic wasting disease in the state. The measures were spelled out in the agency's CWD Response Plan Proposal, which was unveiled to the public on Thursday.
Game Commission officials were clear that they want hunters to be the tip of the spear that's used to combat CWD, and so they are seeking hunter buy-in before a final response plan is enacted.
"The plan is only going to work if the public is going to support it," said agency spokesman Travis Lau.
Public support is a key component to the Game Commission's efforts to attack CWD if Pennsylvania is to avoid a repeat of Wisconsin's failed response plan in the early 2000's.
In 2002, Wisonsin DNR enacted several measures to entice hunters to kill more deer in an area where CWD prevalence was high. Hunters initially embraced the program, but support quickly wilted, and the effort has widely been criticized as a colossal failure as CWD continues to spread across Wisconsin today.
CWD IN PENNSYLVANIA
CWD is a fatal disease that attackes the central nervous system of deer and elk. Though it has been prevalent across parts of the West and Midwest for decades, CWD was first detected in Pennsylvania in 2012, in a captive deer living on a deer farm in Adams County.
Since then, CWD has been detected in animals at 16 deer farms across the state, including one in Lancaster County.
In 2013, three wild deer in Bedford and Blair counties were the first free-ranging deer in the state found with CWD. To date, 250 wild deer have been found with CWD in Pennsylvania. Nearly all of them have been in southcentral counties.
Positive cases found in the wild have grown every year since 2013. Last year, 123 wild deer tested positive for CWD.
Currently, the Game Commission has delineated three CWD Disease Management Areas (DMA), surrounding those places where CWD has been found.
The biggest is DMA 2, which stretches across a wide swath of southcentral Pennsylvania, from Snyder County in the northeast corner to Somerset County in the southwest.
DMA 3 covers parts of Indiana, Jefferson and Clearfield counties, while DMA 4 covers northeast Lancaster County and adjacent sections of Lebanon and Berks counties.
(DMA 1 no longer exists. It had surrounded a deer farm in Adams County, but was dissolved when no more CWD cases were found there after several years.)
Within these DMAs, hunters are forbidden from taking high-risk deer parts - basically anything that might have brain tissue or spinal fluid - out of the areas; the Game Commission has boosted doe-tag allocations; deer feeding is banned; and the use of urine-based lures is outlawed.
But these measures apparently aren't keeping CWD in check.
"Despite preventative measures and extensive monitoring, CWD has continually increased in prevalence and geographic spread in Pennsylvania since its discovery in 2012," the agency states in its new response plan.
"Data from other states suggests that with no change, Pennsylvania will reach a CWD prevalence over 30 percent in the area where CWD was first detected in the next 10-20 years."
Which leads us to the new proposed response plan.
It calls for continuing the DMAs, which generally encompass 10-mile circles around the location of any comfirmed cases of CWD.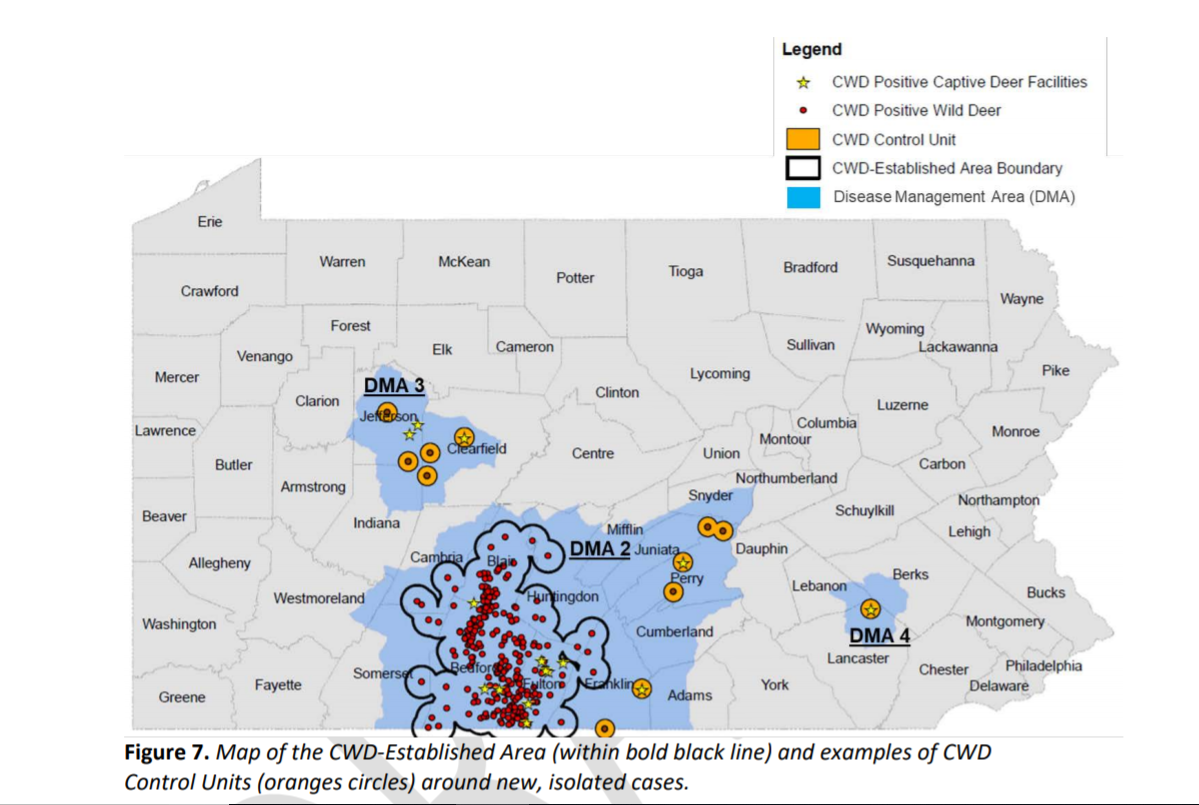 CWD CONTROL UNITS
New, will be the creation of CWD Control Units. These will be 3-mile circles - within a DMA - surrounding the location of CWD cases, where "the main objective is to remove CWD positive deer quickly before CWD becomes established in the local deer population and/or environment."
To achieve this objective, some pretty radical hunting season changes will be made inside the Control Unit boundaries.
Beginning next year, the Game Commission proposes to allow within the Control Units hunting for antlered and antlerless deer with any legal weapon during the statewide early muzzleloading and firearm antlerless season Oct. 17-26; and during the regular firearms season Nov. 28-Dec. 12; and for antlerless deer only in the late archery muzzleloader season from Dec. 26-Jan. 30, 2021.
Additional antlerless tags would be issued for use within the Control Units. Also within the units, hunters will be allowed to buy a second buck tag for $2 or $3.
Antler restrictions will be removed across all DMAs, which would include the DMA area both inside and outside each Control Unit.
Between February and April, if a new case of CWD is found and a subsequent CWD Control Unit is created, the Game Commission will establish a three-week hunting season in that unit, which will be open to all landowners and hunters with landowner permission. Additional buck and doe tags will be made available for those special seasons, during which any legal weapon can be used.
If hunters don't kill enough deer within the CWD Control Units to allow for adequate CWD testing, sharpshooters will be authorized to kill additional deer within those units.
Another initiative that could be implemented under the plan are as-yet-unidentified "incentive programs."
The plan doesn't specify what these programs might look like, but they would be designed to increase land access and encourage the taking of additional deer within the Control Units.
"During 2019-2020, Pennsylvania Game Commission will survey hunters and landowners to determine if there are incentive programs that would be effective and supported," the plan states.
CWD-ESTABLISHED AREAS
In addition to the CWD Control Units, the plan also calls for the creation of a CWD-Established Area. This would be an area within DMA 2 that's focused around the specific locations where most of Pennsylvania's CWD cases have been detected in the wild.
It would cover a contiguous area encompassing parts of Cambria, Somerset, Blair, Bedford, Huntingdown, Fulton and Franklin counties.
The CWD-Establised Area would essentially be one big CWD Control Unit, where all the special hunting opportunities and other programs allowed in the Control Units would also be permitted.
The Game Commission stresses in the plan that the measures suggested are not designed to eradicate deer in specified locations across the state.
"The actual number of deer remaining on the landscape to achieve disease management objectives may vary by location," the plan states.
"The objective is not to remove all deer from the area. The main objective is to lower CWD prevalence and slow the spread of CWD. Reducing local deer numbers is the mechanism to achieve the main objectives, not the objective itself.
"If the CWD prevalence is declining or remains low (less than 5 percent), then deer density, regardless of the number – is acceptable for disease management purposes."
Convincing Pennsylvania hunters that this is not an eradication program could be key to avoiding the failure of Wisconsin's CWD response plan.
There, state officials stated the objective was to totally depopulate a designated area to kill CWD, and hunters and landowners quickly came to reject the program.
The Game Commission wants to know what the public thinks of its prosed action plan. Comments will be accepted through Feb. 29, 2020, with an eye toward implementing a plan for the 2020-21 hunting season
Comment forms can be found on the homepage of the agency's website here.
DEER FEEDING
The draft CWD Response Plan does not call for a statewide ban on feeding deer. However, the Game Commission is separately presenting that idea to the public in open houses across the state to find out if there is support for it.
Feeding is how many people - hunters and nonhunters alike - interact with deer across Pennsylvania. It's also big business, given the number of stores that carry deer corn, mineral blocks and other feed-based products aimed at attracting deer.
Feeding deer is seen by wildlife managers as a way deer are manipulated by humans to gather together in groups. Since CWD is spread from one deer to the next through bodily fluids, wildlife managers often prefer people don't do anything to promote those gatherings.
But the general feeding ban Wisconsin imposed back in 2002 was a measure wildlife officials there specifically identified as a failure due to a lack of public support.