The announcement is made every time Clare Marchese takes a shot. A jumper. A layup. It doesn't matter. The words rise above the thunder of sneakers racing up and down the court.
"Captain Clare!" assistant coach Ron Moore exclaims, drawing out the one-syllable name for effect. It's not a scream. It's more of an acknowledgment.
The phrase has become a regular feature at practices. Marchese hears it. She knows it's coming.
"If I make it, I look at him and I smile," she said. "I want him to know I appreciate his support."
Everyone on Elizabethtown's women's basketball team takes shots during these intense, 5-on-5 scrimmages in an empty Thompson Gym. No one else gets an announcement. That's reserved for the captain.
Marchese's contribution to E-town can't be understood from a visit to her profile page. She's a fifth-year grad student on a nationally-ranked team that doesn't have another senior. She has appeared in 13 of 16 games while averaging 7.8 minutes and 1.1 points.
The 5-foot-7 guard's value lives in the minds of her teammates. It isn't measured by those numbers.
"She's someone you can always count on," junior Cyleigh Wilson said. "The first person that always has a smile on her face whenever you're looking at her. She brings positive energy to our team, not just in basketball but outside of basketball."
Marchese has already graduated and is pursuing a doctorate in occupational therapy. She didn't have to return for another season.
She chose to come back and fill this role.
The recruitment
Veronica Nolt had a specific type of player in mind when she was searching for freshmen for the 2018-19 team. It was Nolt's fifth season as head coach and she was beginning to make the program her own.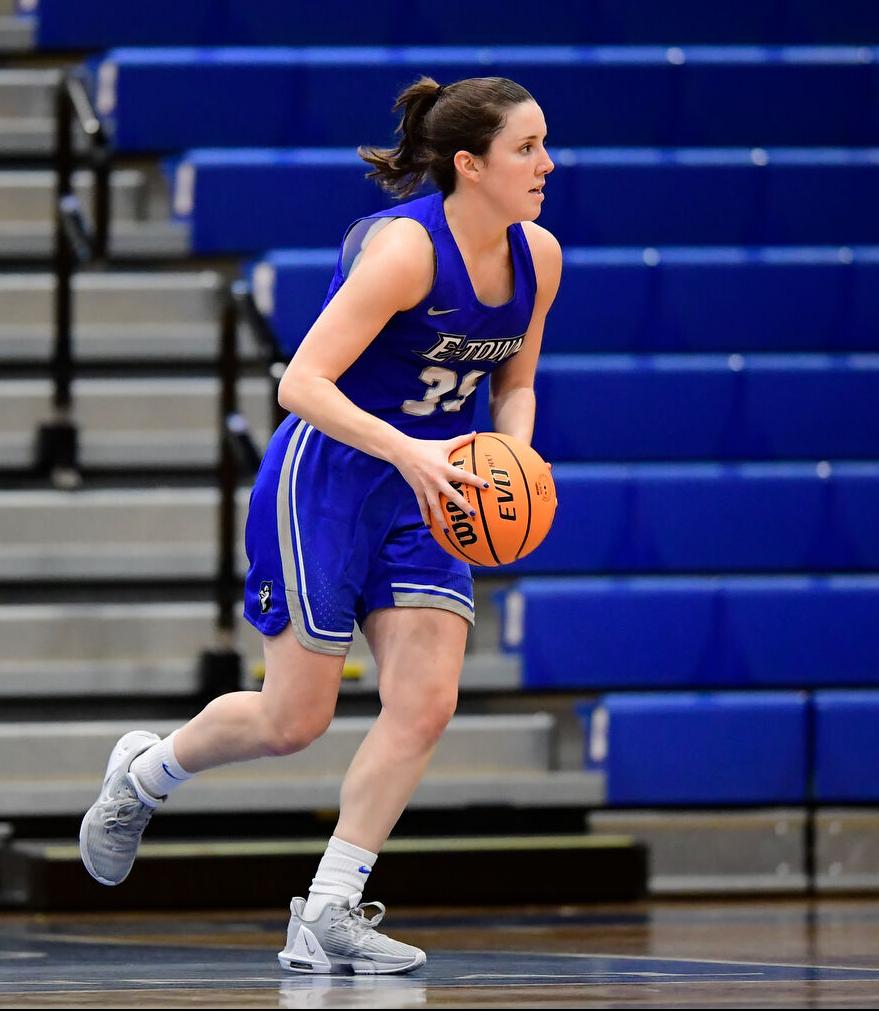 E-town is 15-1, after Saturday's 84-55 win over Goucher, with several all-state players on its roster this season. That's not how it was five years ago. Nolt was still building then.
"What do you start with?" she said. "I wanted to start with the right culture. From the beginning, it was character, work ethic, no drama. Those three things are the ingredients. You can make people better players. But it's difficult to change the habits and personalities of 18-year-olds."
That's how Marchese ended up on E-town's radar. Nolt talked with high school and AAU coaches and was interested in Marchese's character.
Marchese wasn't sure she wanted to keep playing after high school. The Bishop Shanahan grad was focused on her career goals and expected her senior season to be her last. Division III schools showed an interest and a visit to E-town convinced her to keep going.
"Staying overnight sold me," Marchese said. "I was hanging out with the team, not just in the basketball atmosphere but in the dorms. Everybody was together. It felt so genuine. I knew this was where I was coming."
Marchese's on-court presence hasn't changed much through the years. What has changed is her confidence and her demeanor. She was once shy and afraid to speak. She has grown into the vocal side of being a leader.
Nolt relies on Marchese when evaluating today's recruits. Not their talent. Their intangibles. They meet with the captain and others during their visits and a seal of approval is required.
"If she comes out and says, 'I'm not sure,' the show's over," Nolt said. "It's not worth it to me to have a really good player who doesn't fit. I trust her tremendously."
Character, work ethic, no drama. That remains the standard.
The motto
E-town's slogan can be found just about everywhere one looks. T-shirts. The door to the locker room. The stools in front of the lockers. The window. The coach's office.
Grace and grit.
Two words that can be traced to a day several years ago when E-town was struggling and dealing with injuries. Nolt told her players they were going to fight through the hard times by using those traits.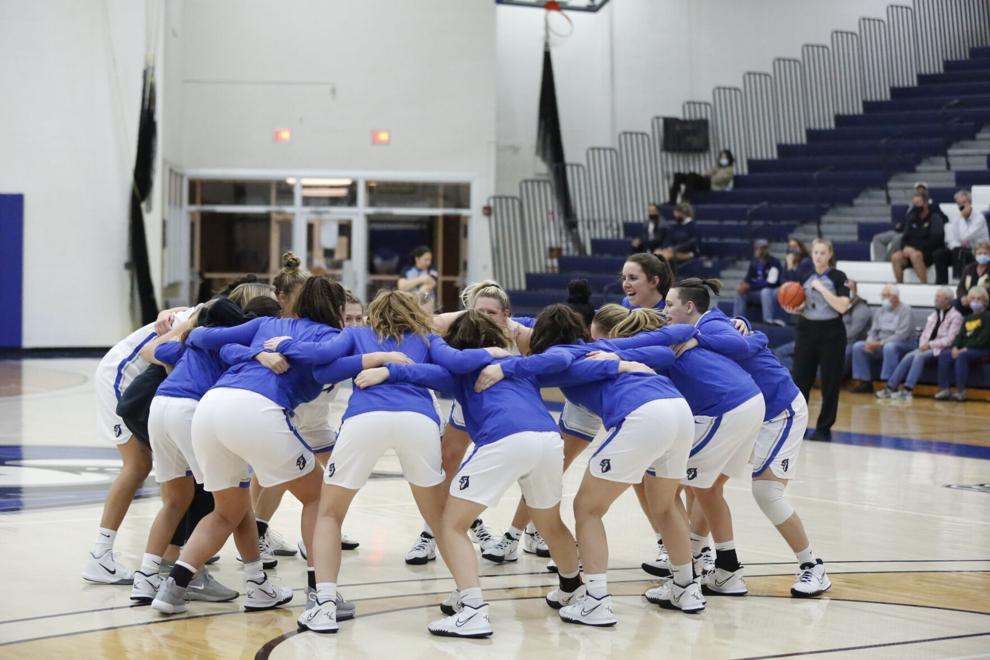 Nolt calls Marchese the poster child for grace and grit. When she was a freshman, she had a shoulder injury. She popped it back into the socket and kept on practicing.
No E-town player can complain about her situation because Marchese never complains. She's a fifth-year player who takes a backseat to underclassmen. She shows up to every practice, does her workouts and accepts her place.
"Everybody has a role," Marchese said. "It could be to help your teammate when they come off the court and they are feeling down because they didn't play well. It could be to cheer every possession as loud as you can. It could be to count down the shot clock from the bench. I'm doing my role, which is the most important part to play to help this team have success like we've been having."
E-town was undefeated until a trip to Scranton on Jan. 13 and is a contender for the Landmark Conference title. The Blue Jays were ranked No. 23 in the latest coaches poll.
With five juniors, four sophomores and five freshmen, E-town is on target for a second consecutive 20-win season. Marchese has been the captain for both teams. Last year, she shared the distinction with Veronica Christ.
"If there was an absence of her leadership, we would have a vacuum," Nolt said. "That can go badly. They respect and appreciate her so much. Not just because she's a really hard worker and the sweetest girl you're ever going to meet. Because she's not in a great situation. She's not getting all the accolades. She's still true to the mission of our program."
Marchese made a realization not long after she arrived on campus in the summer of 2018. She needed to find her niche.
"I'm not the tallest person, I'm not the best person, I'm not the most skilled person," she said. "I just wanted to be part of something that's bigger than myself."
The final games
There are little tributes that show the respect Marchese commands. The team photo features her sitting in the center with a basketball on her lap. A poster with her face on Captain America's body was made for Senior Night last year.
With four weeks left in her final regular season, she's starting to feel nostalgic about her college journey. Each trip to a conference rival is a reminder that the end is near. It's the last time she'll travel to Moravian or Goucher or Drew.
Five years is a long time to spend in a program. Marchese has made those days count.
"She's definitely the glue for our team," Wilson said. "She's someone you can always turn to. She never really has a bad day. She's always there to pick us up and always the first one there to congratulate you on your successes."
Nolt will reference Marchese long after her final steps on the Thompson Gym floor. The coach called the fifth-year "a gem." She will lead E-town's pursuit of a conference championship.
"We need her," Nolt said. "We are a different team without her."
When she thinks back on these past five years, Marchese will be grateful. For the minutes she played, the friends she made and the chance to become Captain Clare.