About half a mile separated Otis Ubriaco from the finish line of the 43rd annual Red Rose Run when he felt himself begin to struggle.
The 5-mile race's hill-laden course and what Ubriaco called a "not great" stretch of training preceding the event combined to make the finish grueling for the former Iona College distance runner. But the end result was worth it.
"When you get to that point, it's like left foot, right foot," Ubriaco, a Lancaster resident, said.
Ubriaco, 25, left-foot-right-footed his way over the finish line in 26 minutes and 30 seconds, earning his second overall victory in the Red Rose Run, after winning the race in 2017.
Runners take part in 5-mile Red Rose Run; proceeds benefit Central Market [photos]
Over 950 racers signed up to take part in the 43rd-annual Red Rose Run. It was a 5-mile run. Proceeds benefit Lancaster's Central Market.
The 43rd annual Red Rose Run is underway. pic.twitter.com/Yrfi5B7KFu

— David Eckert (@davideckert98) June 1, 2019
Isaac Bryan finished second with a time of 26:37. Duncan Hopkins took third, finishing in 26:53.
Ubriaco said he knew he wasn't in the best shape and wouldn't have a strong finish, so his strategy was to bank as much distance between himself and the field as possible before he started to fatigue.
He made his move around the three-mile mark, and knew he was in a strong position.
"If I didn't die, I'd be fine," Ubriaco said. "That was the big question, if I was going to die or not."
Pain was a theme among the winners in both the men's and women's divisions Saturday.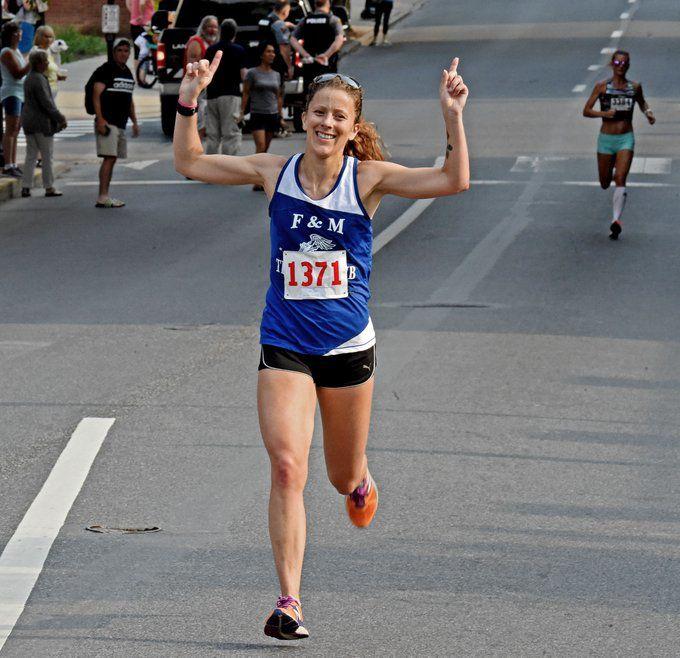 Katie O'Regan, who took first on the women's side with a time of 30:28, said she wasn't sure if she would run the race at all.
O'Regan, a Lititz resident, suffered a recent injury to her achilles tendon that forced her to limit her physical activity over the last three weeks, but still managed to finish the race in 30:28.
"I felt awful," O'Regan said. "I felt really out of shape. But, it could have been worse. I'm really pleased with that effort."
It was the first Red Rose Run victory for O'Regan, an accomplished runner. O'Regan holds Franklin and Marshall Track Club records in 12 different categories, according to the club's website.
But a Red Rose Run victory had proven elusive for O'Regan, making Saturday's win a bit sweeter.
"I've been trying at this race for so many years," O'Regan, 34, said. "I think this might be my fourth time."
Georganne Watson finished second with a time of 30:36. Bryanna Dissinger took third, finishing in 31:14.
F&M Track Club, home to both Ubriaco and O'Regan, took home the open team title, while Highmark claimed the corporate team title.
Overall,1,038 runners crossed the finish line, up from 865 last year. The day also included a kids fun run and a wheelchair race.
The winner of the very, very good dog division gets a post-race drink pic.twitter.com/qWEmG4aotv

— David Eckert (@davideckert98) June 1, 2019
Some runners toted strollers and others brought their dogs along with them.
One couple, Barbara Mangiovi and Tom Howe, ran the race on the morning of their wedding day after meeting at the event 12 years ago. They donned matching "bride" and "groom" shirts and Mangiovi wore a cap with a makeshift wedding veil attached to the back.
The field also included two runners who have now participated in all 43 Red Rose Runs — Dave Glouner and Elvin Kraybill.
Kraybill, who entered the first Red Rose Run on a whim while eating breakfast that morning, earned a prize for the very first time, coming in third in the men's 70-79 age division.
He ran with his son, Peter, and his grandson, Elijah, who made the trip into town to form a trio across three generations.
"It's something of a family ritual," Peter Kraybill said.
"It's what it's all about," added Elvin.
Top 10 Male Finishers
Otis Ubriaco, 26:30.4
Isaac Bryan, 26:37.9
Duncan Hopkins, 26:53.1
Drew Nesbitt, 27:04.6
Nathan Henderson, 27:02
Brian Petraco, 27:15.6
Stephen Schousen, 27:25.1
Adam Harriger, 27:33.5
Zach Simmons, 27:41
Andrew Friesema, 27:46.1
Top 10 Female Finishers
Katie O'Regan, 30:28.8
Georganne Watson, 30:36.2
Bryanna Dissinger, 31:14.8
Alyssa Kennedy, 31:20.3
Elizabeth Doherty, 31:38.4
Brenda Hodge, 32:11.3
Joslin Sellers, 32:17.2
Emma Rissinger, 33:04.7
Erin Panzarella, 34:08.6
Isabella Fife, 34:13.8
Complete results are available here.