To someone who doesn't wake up early for 15-mile training runs, there was only one way to respond to Jeanette Arnold's goal.
You're crazy.
That's what she often heard when she told people about attempting 50 marathons in 50 states. It can be hard to wrap one's mind around such a challenge. In Arnold's world, it's not that unusual.
"Once you start running and you start to hang out with runners, it doesn't seem that odd," she said. "They've done those kinds of things, too."
It took Arnold more than 17 years to complete her journey. The Manheim Central grad was 45 when she started. The first race was in Maryland in 2005 and the last was in Hawaii in December. It was actually 51 marathons. Don't forget the District of Columbia.
The possibility came into focus after Arnold made it through her first 10. From there it was 50 or bust. By the time she was halfway home, there was no turning back.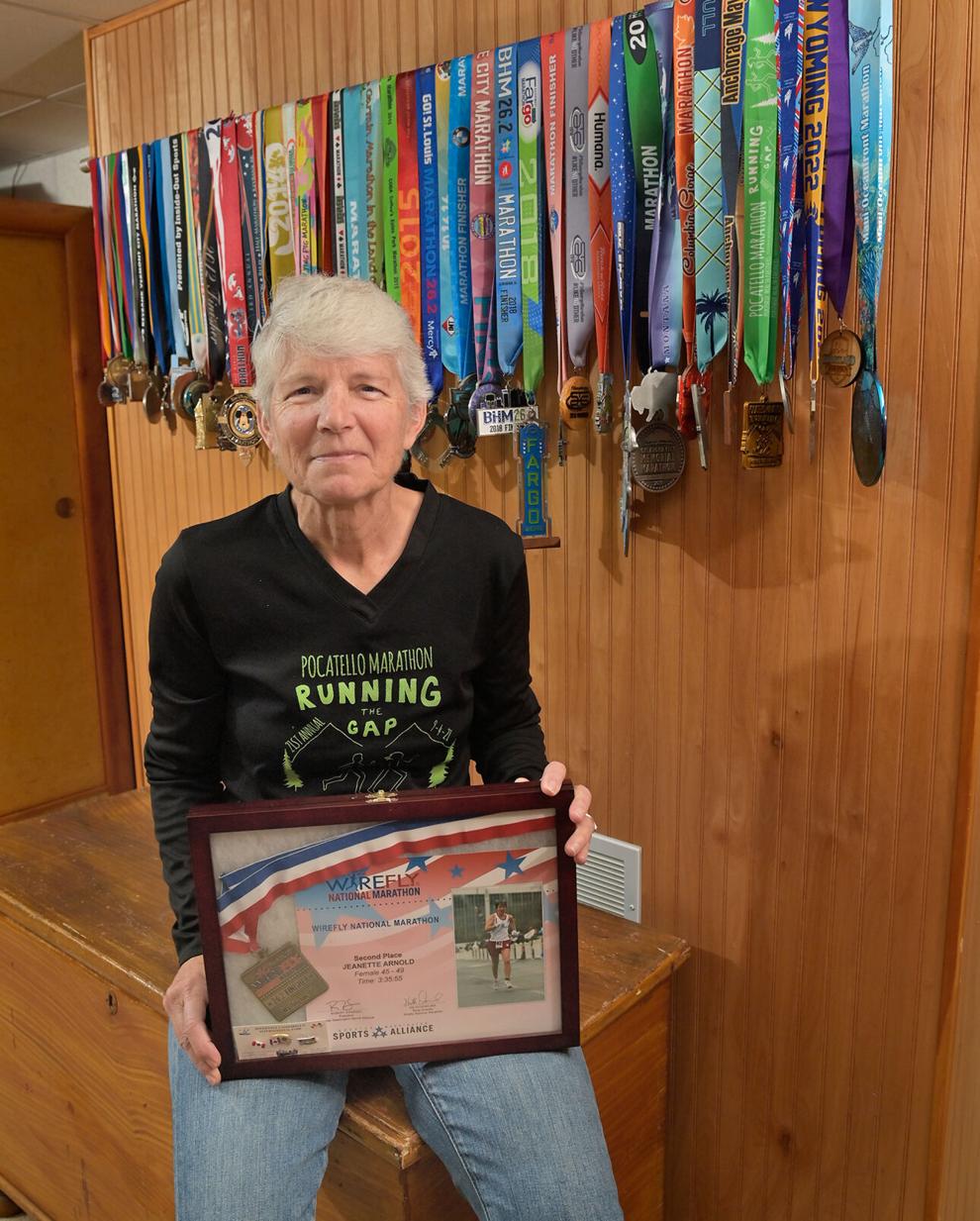 Lloyd Arnold, Jeanette's husband, handled the planning and finances. He booked plane tickets and hotels, searching for the best deals while piling up rewards to reduce costs. This became a shared project.
"If I tried to stop it, there would probably be some animosity there," Lloyd said. "I didn't want that animosity. Obviously I love her. I want to see her accomplish her goals, whatever they were. I went along for the ride."
Besides, Lloyd noted, he already knew Jeanette was crazy. He said it's the good kind of crazy.
The crash
Injury is the biggest obstacle for any runner chasing 50. Arnold was fortunate for the most part. She completed every marathon she started and only had to pull out of one she entered because of bursitis in her hip.
Then came the accident.
While vacationing in Florida in December 2021, Arnold was riding a bicycle when she was struck by a hit-and-run driver. She suffered a broken vertebra in her lower back. The marathon quest was placed in serious jeopardy.
Arnold was through 48 at that point. She had Nebraska, Wyoming and Hawaii left on her list.
"That was one of the first things I asked them after surgery," she said. "Will I be able to run?"
Arnold continued her pursuit without pause. She competed in Wyoming in June 2022, then Nebraska three months later. That set the stage for Hawaii. Her final leg was the final state to join the union.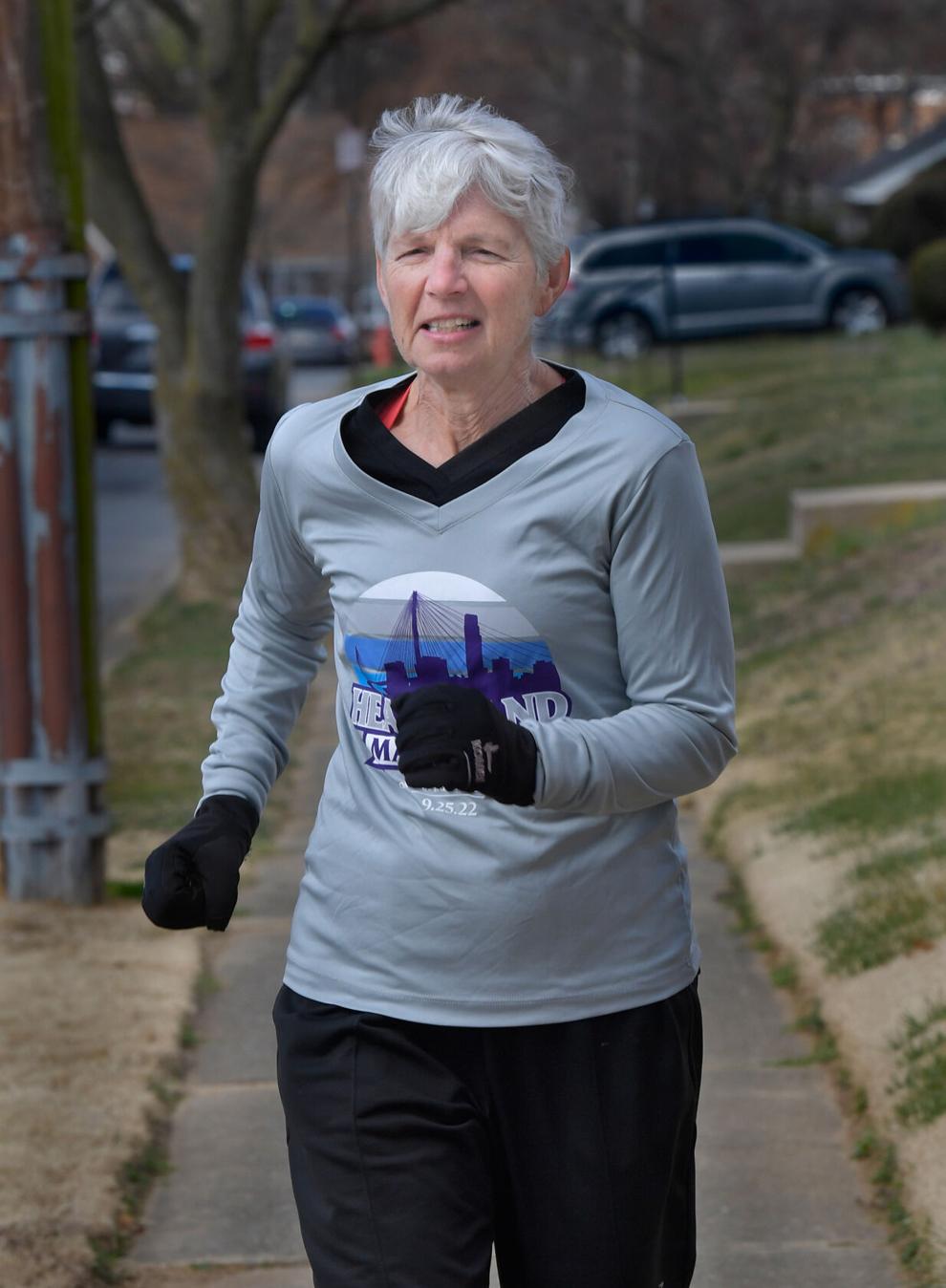 Before Arnold started running again, she could only walk. She went on long trips with Kaye Mede, a friend who was part of the same running club that met on Sundays at Lancaster County Central Park.
If Arnold wasn't so fit, her recovery from the back injury would have taken much longer. She rebuilt her endurance quickly with Mede by her side.
"We got to see parts of the city we never saw before," Mede said. "You take the time to look around when you're walking that you don't necessarily do when you're running. At that point she was determined, especially when the hospital staff made it sound like there's no reason why you can't."
Sports were always an important part of Arnold's life. She was a field hockey state champion at Manheim Central and a national champion at Lock Haven.
Arnold lives in Lancaster and is a retired teacher who worked at Edward Hand Middle School, since renamed Jackson Middle School. Her training was built around her school schedule. There were mornings when the family's dog, a Collie mix named Penny, nudged Arnold out of bed with a wet nose so they could share a run.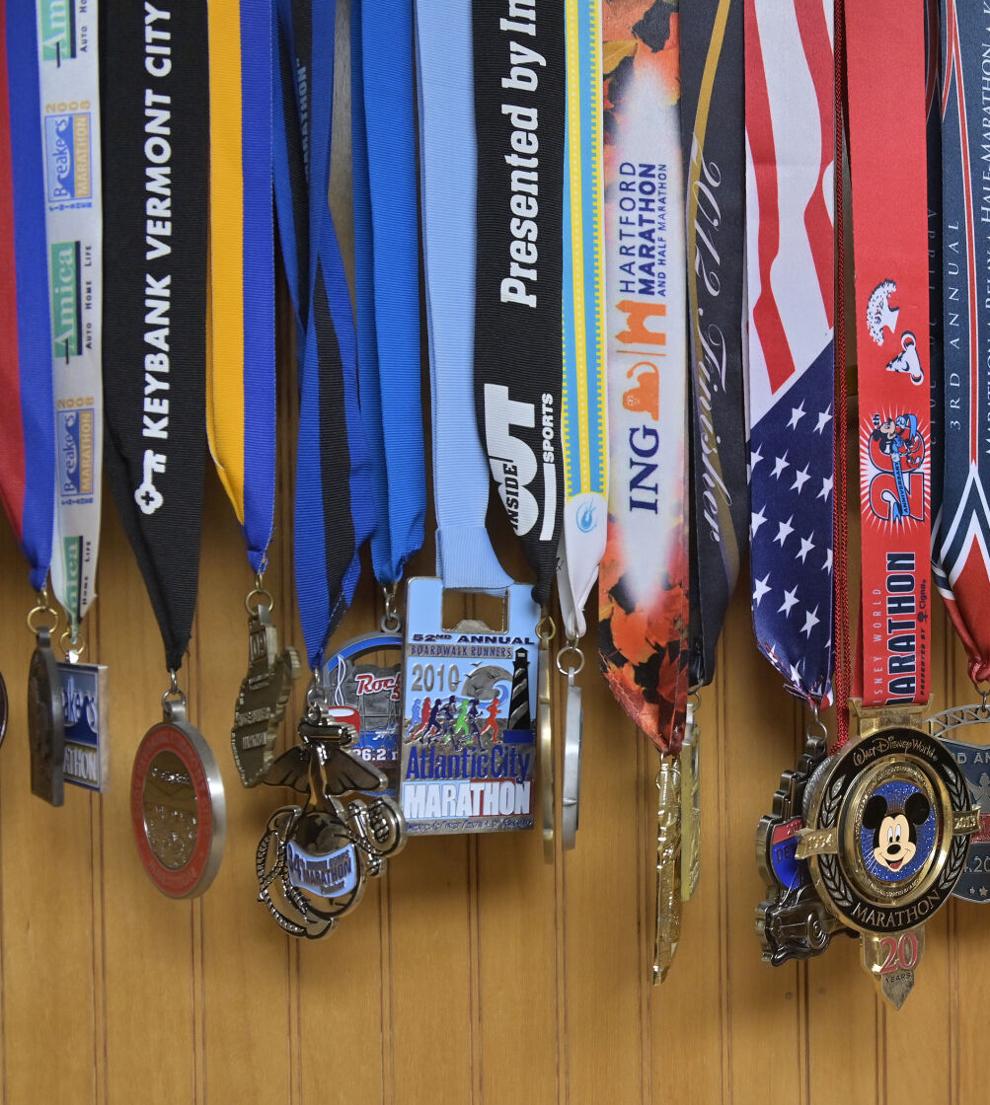 As her final few marathons came into sight, not even a car accident could slow Arnold.
"If the doctors thought she could do it, she was gonna do it," Mede said. "Quitting was not an option. You keep going because you don't want to think of the alternative."
The memories
There's a curtain rod in Arnold's basement that holds the medals from all 51 of her marathons. She started hanging them early on and extended the rod as more medals were acquired.
Each is unique to the event and the year it was held. The medals clang together whenever one is touched.
The Mickey Mouse medal, earned at a race at Walt Disney World in 2013, is one of Arnold's favorites. She remembers walking too long at a theme park the day before.
"When you look at each one," Arnold said, "you remember different things about that race."
Arizona was the worst. Arnold entered a marathon in that state three times. Once she didn't run because Lloyd misplaced the car after attending a football game and she spent too long searching for it. The second time she had to cancel because of her hip injury.
There were mental tricks Arnold used to get through the grueling races. Sometimes she thought about her family. Sometimes she repeated the same mantra in her head over and over. She'd listen to other runners or bands that played along the course.
In West Virginia, she counted roadkill to pass the time. There were some snakes, a couple of possums. Fewer victims than she expected.
As more acquaintances became aware of Arnold's mission, it became a regular topic of conversation.
"All the people I worked with knew I was doing this," Arnold said. "They would ask, 'How many more do you have to do?' That was the first thing they'd ask when they'd see me."
The marathons allowed Arnold to travel to places she'd otherwise never visit. She and her husband spent time with relatives they hadn't seen in years.
The race in Hawaii was part of an extended family vacation. Loved ones were standing by the finish line ringing cowbells when Arnold took the final steps in her 17-year adventure.
"It was mostly a relief," said Arnold, who is now 62. "That was the overwhelming feeling I had. There were times I thought I wouldn't be able to make it."
Arnold will occasionally venture downstairs and look at her curtain rod full of memories. The keepsakes that decorate her basement are a source of both pride and nostalgia.
These days she'll run 4.5 miles in the morning. A default run, she calls it. Maybe there's another marathon in her future, but only if she really wants to do it.
The 50-state quest, which once consumed Arnold's life, is behind her. She was just crazy enough to finish.
---
MORE: 7 months after having cancerous tumor removed, Penn Manor sophomore Madi Stringer progressing on wrestling mat
MORE: Penn Manor girls wrestler Trinity Mowery also standing her ground as junior referee
MORE: New Lancaster County wheelchair basketball program is bringing communities together