The farther south you go in the United States, the more popular rodeo becomes. Like the football, basketball or baseball teams we have in Pennsylvania, for instance, some high schools in Texas have their own rodeo teams, complete with a similar postseason akin to that of the league, district and state tournaments here.
"We live and do it," Penn Manor rising sophomore Darby Conrad said of rodeo. "But they live and do it 24 hours a day."
Darby has still managed to make her own way on the rodeo circuit despite living in a state where there are no extracurricular rodeo teams through her school. She has been representing the state of Maryland since a family friend initially got her riding there competitively a few years ago.
And, it turns out, Darby is pretty good on the back of a horse.
She was recently named the Maryland High School Rodeo Association's Rookie of the Year.
And later this month — from July 16 to 22 — she will be competing in the National High School Rodeo Association championships in Wyoming. She'll represent Maryland in barrels, goat tying, breakaway roping, team roping and poles after being among the top high school riders from the MHSRA in each of those events during this past rodeo season.
It's a season that has taken her to events all over the country. And runs pretty much year-round. And cuts into her schooling, with mom Kim Conrad often needing to sign out Darby with field trip forms for the long weekend trips.
Despite missing classes on Fridays and sometimes Mondays, Darby still gets her schoolwork completed — all the while overcoming many struggles she's had in the classroom from the very start.
'Comprehension has been a problem'
First there was the speech impediment that arose from Darby not speaking until she was 3.
"There was nothing really wrong," Kim Conrad said. "But her big brother would just be like, 'Mom, she wants this, she wants that.' She realized she didn't have to talk to get stuff."
Teachers at Penn Manor's Ann Letort Elementary School worked tirelessly with Darby to get her speaking properly.
"It's then they (teachers) realized she was having problems reading and everything else," Kim Conrad said.
Darby has trouble retaining the words or numbers she sees.
"She can read over something but she doesn't always comprehend what she's reading," Kim Conrad said. "Comprehension has been a problem for her from the get-go."
Darby has since worked with IU 13 support teachers throughout her time in school. And when taking tests, she often goes to a separate room, where she can talk out the problem in order to better comprehend and answer the questions.
"They've helped me a lot," Darby said of her teachers. "I'm not afraid to ask questions because I know the more I get help, the better my grades will be."
When she was in sixth grade, one of Darby's support teachers told her that she can manage her classroom struggles and make it to college, so long as she puts in the effort. Darby says she would like to study medicine in hopes of becoming a large-animal veterinarian, a dream she's had since kindergarten. She says not many colleges in the northern part of the country specialize in what she's looking for.
"I want to go down south and do that," she said. "So that's why I want to go down and do well in competitions in order to get my name out there."
Though a bit shy at first, Darby at times comes across as mature beyond her years, perhaps a result of all that rodeo has taught her. After all, she won't be riding just one horse at nationals. She'll ride three different horses in five separate competitions over the course of several days. And she'll have to be at the top of her game with each.
Quite the pressure for a 15-year-old.
'That animal comes first'
An old, beat-up white pickup truck arrived at No Name Farm in York County on a sticky Thursday night in June pulling a long, silver trailer across a large grass lot.
Darby, mom Kim and dad Mark Conrad soon exited the truck. So, too, did a cousin and a pair of family friends — all girls.
They were there to prep for nationals, taking turns alongside the many other dozens of riders and their horses running through poles and around barrels in a large, dirt area circled by metal railings.
The girls soon proceeded to walk out the five horses from inside the trailer.
Among them was Bells Lady Bar, a brown 10-year-old female American Quarter horse nicknamed "Pumpkin," who has a go-with-the-flow personality. Darby will ride her in the barrel and pole competitions.
And Wings Over Wheels, a black 14-year-old female American Quarter horse nicknamed "Bathsheba," who is the queen of the bunch. Darby will ride her in the breakaway roping and team roping competitions.
There's also Stroker Ace, a brown 16-year-old American Paint horse, considered the alpha male of the group. Darby will ride him in another pole event.
"You have to get to know the personality of each horse," Darby said. "Because you want something different from each horse, and they're not all going to respond the same."
The three horses are among seven the Conrads own, keeping them among a herd on rented acreage in Strasburg Borough.
There's also Geronimo, a brown-and-white 11-year-old male Paint horse with a personality described as goofy but gentle. He has been brought out of retirement by Penn Manor rising senior Savannah Haddad.
Savannah will be competing in nationals. as well, riding Geronimo in the pole competitions.
Kim Conrad created a Facebook page — "Darby & Savannah's NHSFR 2017" — to keep up on the girls' performances at nationals.
Savannah and Darby are second cousins, although they act more like sisters. Savannah even sometimes refers to Kim and Mark Conrad as mom and dad, like she did on that June night when she and Darby, along with help from the other girls, proceeded to place saddles, stirrups and harnesses on the horses, in addition to wrapping ankle supports near the bottom of each of the horses' legs. (In the horse world, this process is often referred to as "tacking up.")
Mark and Kim Conrad stood off to the side watching all of this unfold. And that's the point. The girls have learned they have to be the ones to take responsibility for these horses, which can weigh upwards of 1,000 to 1,200 pounds. They must care for the horses, in a sense, like a mother would for a child.
Then there's the financial management side, considering all of the money they've watched their parents sink into the tack, feed and water for the horses, and the gas for the trucks to travel to the competitions, which also require participatory fees.
"That's something we try to instill in the kids," said Tommy Haddad, Savannah's father. "It's your responsibility to feed and water the horse ... that animal comes first before you."
Mark Conrad would eventually speak up on that Thursday at No Name Farm. He's the one who has taught Darby and Savannah all they know about rodeo, sometimes using the same booming baritone that can be heard inside Christ Covenant Church in Conestoga Township twice a week.
Mark Conrad has been the pastor at that little red church in Conestoga since founding it 12 years ago. That was just three years after Darby was born, when Mark Conrad had given up drinking following a 15-year battle with booze that began when he rode his first bull at age 15.
"He continuously drank," Kim Conrad said. "And it just got worse."
'Gotta look up'
Mark Conrad was downing a case of beer a day by the time his addiction reached its peak on the night of Sept. 21, 2001, when he and Kim Conrad exploded into a loud shouting match at their Washington Boro home, Mark getting so heated he punched the refrigerator.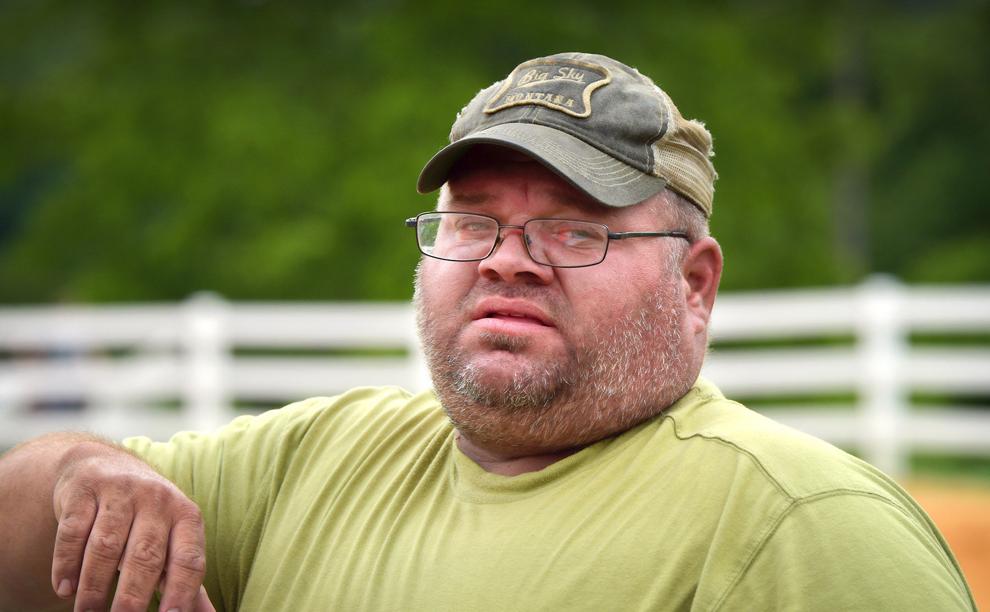 "That's it," Kim Conrad told her husband. "You're going to live with your dad."
Mark Conrad woke the next morning knowing he needed to change.
"I'm going to church," Mark Conrad told his wife.
Three months later, Mark and Kim Conrad were baptized. And Mark Conrad hasn't had a drink since, soon leaving a career in construction to become a pastor.
A bespectacled, bewhiskered, burly man now in his mid-40s, Mark Conrad often shares his faith with those in the horseback riding community. In August, he's set to lead one of the cowboy church programs for the Maryland High School Rodeo Association. Cowboy church emphasizes cowboy culture, such as playing church music with a Western flavor or passing around a cowboy hat or boot to collect the offering.
This faith has kept Mark and Kim Conrad, married since 1994, strong through Kim's several health issues, which have left her unable to work the past six years.
"Gotta look up," Mark Conrad said. "We were in the hospital one time, I walked outside and I looked up. That's all I did. I trust God."
'Remain calm'
Darby was sitting on Pumpkin at No Name Farm that night in June when Bathsheba began to act out, sending fear across the face of a young girl named Allison, a friend of Darby's who was astride the black mare.
"Remain calm," Darby told Allison softly.
In one swift motion, Darby dismounted Pumpkin, took a step toward Bathsheba and grabbed her reins, giving Allison a moment to hop down and allowing Darby to get on the back of Bathsheba and ride away. Darby spent the next few minutes trotting Bathsheba around the open pasture to put the horse at ease.
"As soon as I'm not calm, my horses are not calm," Darby said later.
But how will Darby handle this at nationals? How will she stay calm while competing in the biggest event of her young life to date?
"I still have nerves at some point. I have just learned how to handle it," Darby said. "I try not to think about it as much as I can. I think of something else to do if I get nervous."
This is where her faith comes into play.
"Before each event," Darby said, "I'll say a prayer with my dad."
It makes sense. Those elements have kept this family together.
"Us and horses and God," Kim Conrad said.