Aidan Hodge could read the clock from about 50 meters away. The last, most painful part of the race awaited him.
When the senior saw 4:05, he knew. If he pushed a little harder, he could do it.
Hempfield's school record wasn't just any one. Distance runners had eyed it for over three decades. It belonged to the late Kevin Schadt.
Hodge finished the 1,600-meter run in 4:10.77 at the District Three track and field championships at Shippensburg on Saturday, eclipsing Schadt's 4:11.14, which stood since 1991.
"It was a wonderful record," said former Hempfield coach Jeff Bradley. "Nobody anticipated it would stay for 32 years. That tells you how good Kevin was and how good Aidan is."
Hodge became aware of the mark his freshman year when he looked at the lobby wall outside Buchanan Gym. He wondered what it would be like to have his name up there.
Last season, when Hodge ran 4:13.15 and placed fifth at the PIAA meet, he realized Schadt's record was attainable.
Shaving off those 2 seconds became a grueling, yearlong pursuit. An entire cross country season and most of a track season passed. So many miles. So many races.
"It takes a lot of determination to go after it," Hodge said. "Even when it sucks, when everything hurts, you keep telling yourself you're doing it for a reason."
Once Hodge crossed the finish line in first place at districts, he waited anxiously to see the clock. He was spent and felt terrible. All he wanted was a time under 4:11.
The scoreboard at Seth Grove Stadium delivered exciting news.
He'd done it.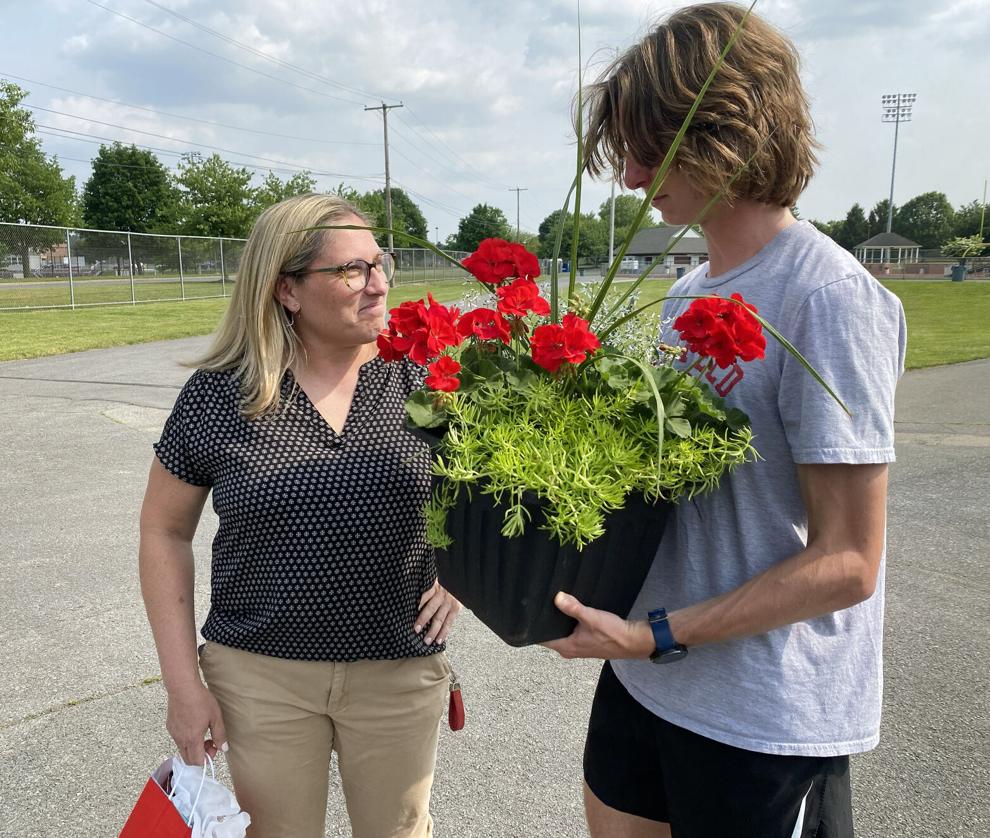 Remembering Kevin
The moment was bittersweet for Kevin's widow, Angie Schadt, who knew for weeks the record was in jeopardy. She texted her friend, Hempfield athletic director Ryan Landis, for updates.
Was this the day? Did Aidan break it?
Hodge was under a second away at the Lancaster-Lebanon League meet on May 13. He made up the difference a week later.
"At first I was like, 'No, it can't happen; I hope it doesn't happen,' "
Angie said. "Then, as it went on, it sounded like it couldn't happen to a better kid."
Kevin Schadt died of leukemia in 2019 at age 47. Angie said the record, a proud piece of personal history Kevin shared with his children, Kylie and Landon, meant a lot to him.
Bradley remembers Schadt's career in great detail. The particulars of races are at the front of his mind.
Jeff Groff held the school record at 4:20.25 during Schadt's freshman year, 1988. Schadt first ran the 1,600 in 1989, when he stunned everyone with a victory at a Shippensburg invitational. He was already at 4:25.
Schadt had constant duels with Cedar Crest's Nick MacFalls, whose 4:14.90 still ranks in the top 10 in league history.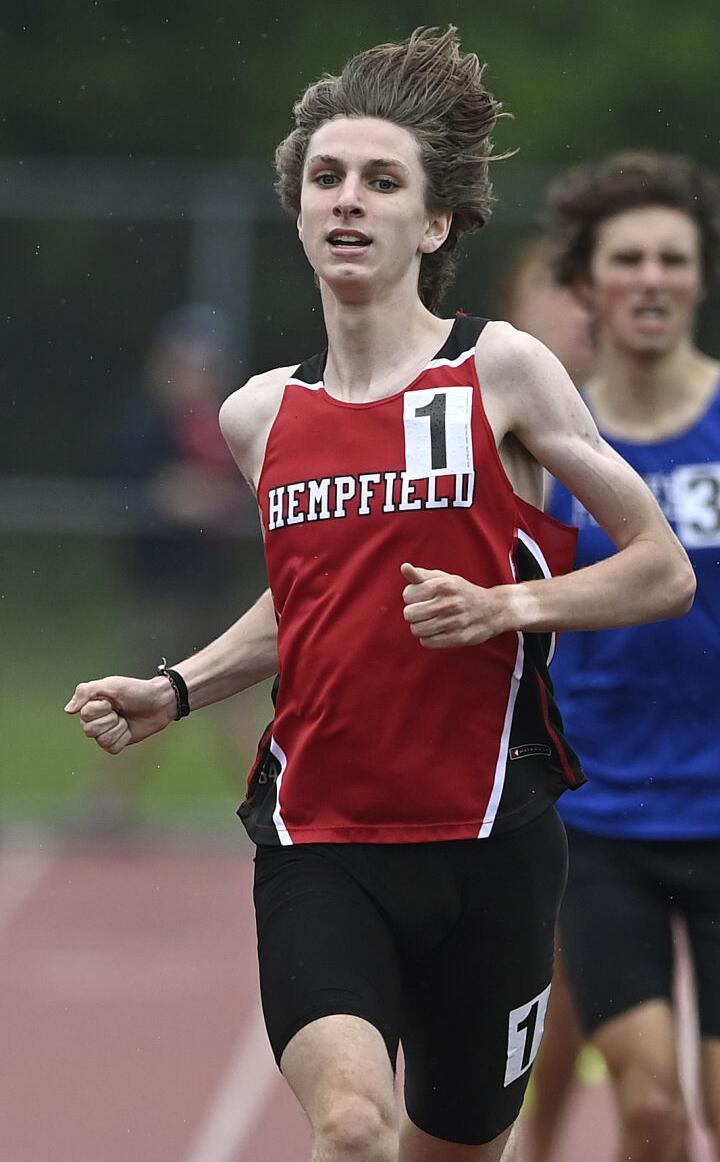 "Kevin just had a spirit... this desire to win," Bradley said.
Schadt was on vacation in the woods, shortly after he won the state championship as a senior, when he was asked to compete at the high school level one more time.
The top eight runners in each event were invited to the Golden West meet, where Schadt set his record, finishing fourth in the nation.
Schadt was among nine members selected to Hempfield's inaugural 2005-06 Hall of Fame class.
"He was an outstanding young man," Bradley said. "Humble. That was one of the great things about Kevin. Everybody just loved him."
An introduction
Hodge first met Angie Schadt at Hempfield's track Tuesday. They exchanged gifts. She got flowers. He received Kevin's favorite pre-race snack: Doritos and a Turkey Hill iced tea.
The last few weeks stirred up emotions for Angie. Her husband's friends reached out to her as his name returned to the news.
"It's a little weird seeing stuff about him again," Angie said. "It makes me miss him a little bit more."
Hodge rewrote Hempfield's record book the past four years. He owns the school mark in the 800 and 3,200 as well.
Two races remain for Hodge. He'll chase his first state gold medal when he runs in the 1,600 today and 800 Saturday at the PIAA meet.
Hodge stands alongside his school's legends, and will likely be a Hall of Famer himself someday.
"I've tried to wrap my head around that," he said. "In that monument of all the greats at Hempfield, I don't see myself up there, yet. Because I'm in it right now. It's still surreal. I haven't processed it."
Hempfield had a dirt track through the end of Schadt's senior year. The team drove to Franklin & Marshall for workouts.
Bradley asked Schadt to run eight 400s in 60-62 seconds during one of his final sessions. Schadt made it around the track a little bit faster each time. He finished the last 400 in 54 seconds.
Some runners from Reynolds Junior High were also practicing that day. They watched Schadt's performance and burst into cheers when he crossed the line the final time.
"Kevin loved it," Bradley said. "He won states five days later."
The record was only part of Schadt's legacy at Hempfield. His achievements can never be erased.