The Central Pennsylvania Interscholastic Hockey League season culminates with a pair of championship games scheduled for Friday at Hersheypark Arena.
Before that, the league is set to host a pair of elimination games to determine the final spots in the championship game.
Following is a look at the matchups for Monday's games. For more information, visit the CPIHL's website.
Bears Division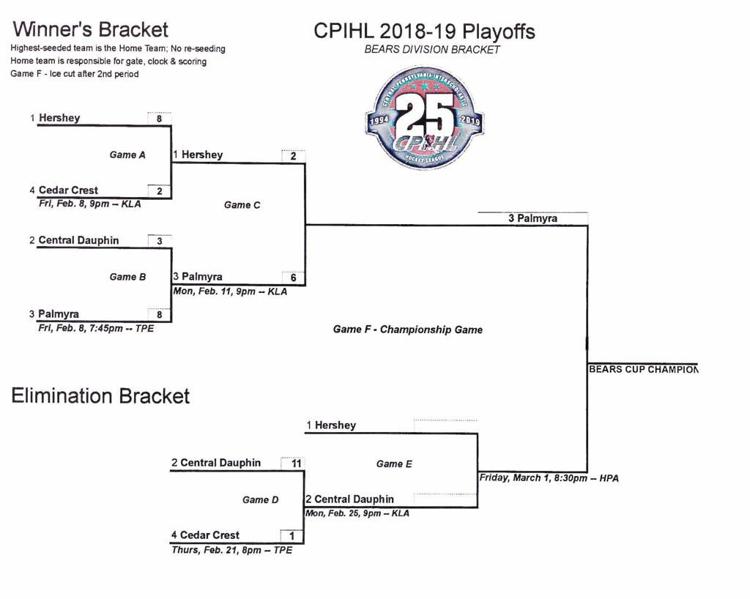 No. 1 Hershey (15-3-0-2) vs. No. 2 Central Dauphin (15-5-0-0)
Puck drop: Monday, 9 p.m., at Klick Lewis Arena
How they got there: The Trojans topped Cedar Crest in their playoff opener before a 6-2 setback to Palmyra. The Rams also suffered a loss to Palmyra before earning an elimination-game win over Cedar Crest.
What's at stake: Palmyra awaits the winner in the Bears Cup final scheduled for 8:30 p.m. Friday at Hersheypark Arena.
Head-to-head: Central Dauphin picked up a 5-4 victory over Hershey on the final day of the regular season Feb. 4 and won by the same score in overtime Nov. 28. The Trojans won the first of three head-to-head matchups with a 6-3 decision Nov. 12.
Players to watch: Hershey's Jason Rippon posted four goals and two assists over the Trojans' first two playoff games. He scored five goals against the Rams in three regular-season games. Central Dauphin's Gavin Yingling, who leads the CPIHL in postseason scoring with five goals and four assists, scored six goals with two assists against Hershey in the regular season, including the game-winning goal Feb. 4.
Goaltenders: Hershey's Christopher Larkin, with an overall 2.83 goals-against average and .876 save percentage, backstopped the Trojans in their two playoff games. Central Dauphin's Evan Petras (3.34 GAA, .866 save percentage) and Brett Saylor (4.17 GAA, .775 save percentage) split time in goal for the Rams.
Notable: In the last two games between Hershey and Central Dauphin, neither team led by more than one goal ... After putting up identical shot totals in their first head-to-head meeting, Hershey outshot Central Dauphin in each of the latter two games by a total of 81-59. Central Dauphin won both of those games ... Both teams have scored early in their postseason games with Central Dauphin putting up seven first-period goals and Hershey six ... Hershey went 3-3 in regular-season games decided by one goal. Central Dauphin was responsible for two of those losses. Central Dauphin only played one other game decided by one goal, a loss to Palmyra in the season opener ... A win for Hershey would give the Trojans a berth in the Bears Cup final for the seventh time in the last eight years. Central Dauphin has not appeared in a championship game since its 2015 title-game loss in a bid for the Viola Cup.
Viola Division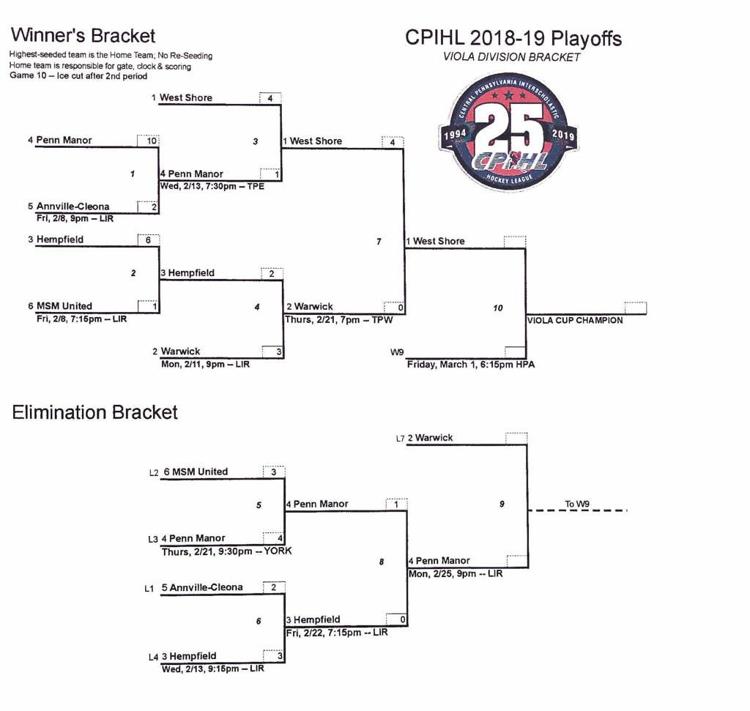 No. 2 Warwick (15-4-1-0) vs. No. 3 Penn Manor (16-6-0-0)
Puck drop: Monday, 9 p.m., at Lancaster Ice Rink
How they got there: After a first-round bye, the Warriors scored a come-from-behind win over Hempfield before falling to West Shore Thursday. The Comets — with players from Penn Manor, Lancaster Catholic, Lancaster Country Day and Solanco — opened the tournament with a win over Annville-Cleona before a loss to West Shore and a pair of one-goal victories over MSM United Thursday and Hempfield Friday.
What's at stake: The winning team advances to face West Shore for the Viola Cup in a 6:15 p.m. championship game at Hersheypark Arena.
Head-to-head: Warwick and Penn Manor did not cross paths in the playoffs, but they each picked up a one-sided win in two regular-season games. Warwick took a 6-3 decision Dec. 5 while Penn Manor got even with a 7-3 victory Jan. 2.
Players to watch: Warwick's Jonathan Bergh was not in the lineup during the Warriors' loss to West Shore. Bergh earned an assist in the team's playoff opener after a 31-point (26 goals, 5 assists) regular season that included a goal in the win over Penn Manor. Lancaster Catholic's Liam Besecker collected four goals and an assist in the Comets' postseason run, including the overtime game-winner over MSM United and the primary assist on the Comets' only goal against Hempfield.
Goaltenders: Warwick's Logan Hann (2.46 GAA, .917 save percentage) started both playoff games for the Warriors with numbers close to his season average. Penn Manor's Neel Mahapatra (2.89 GAA, .861 save percentage) occupied the Comets' crease throughout the playoffs, posting a .883 save percentage in four playoff games.
Notable: The Comets surrendered the game's first goal in three of their four playoff games. The only time they scored first turned into a 1-0 victory. Warwick allowed the game's first goal in both of its postseason outings ... Warwick has been outshot 64-43 in two playoff games while the Comets have outshot their four opponents 116-77. They allowed 29 shots over their last two games ... Penn Manor scored eight of its 16 playoff goals in the second period ... Warwick has only been short-handed twice in the playoffs, killing off both penalties. Penn Manor allowed two goals on its opponents' 12 power play opportunities ... Penn Manor and Warwick both made their last championship-game appearances in 2016. The Warriors fell in the Viola Cup final while the Comets dropped the Rothrock Cup final.