One of the four spots for the Central Pennsylvania Interscholastic Hockey League's March 1 championship night at Hersheypark Arena has been filled.
Palmyra earned the right to play for the Bears Cup with a 6-2 win over Hershet Monday night. The Cougars' opponent in the Bears Division championship game, as well as the two Viola Division finalists, have yet to be determined.
Wednesday's games, featuring Lancaster County teams, will help teams get closer to filling out the championship-night slate. Following is a look at each of Wednesday's matchups. For more information, visit the CPIHL's website.
Bears Division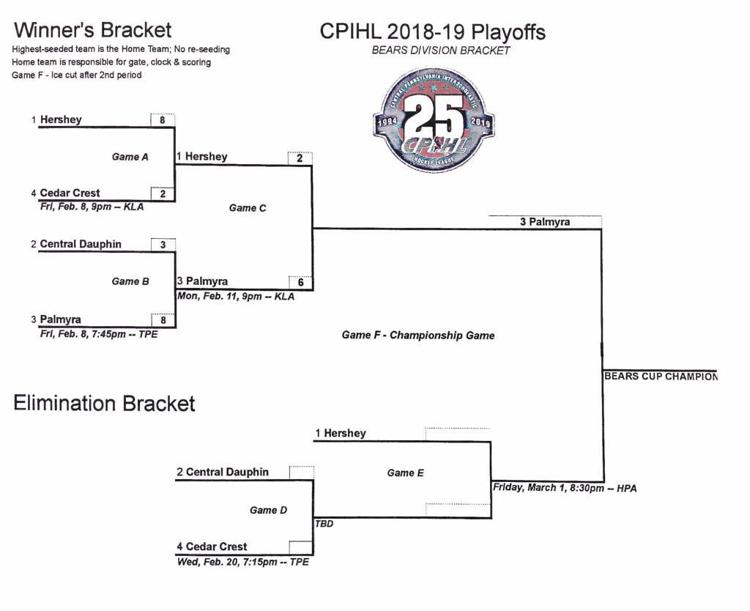 Viola Division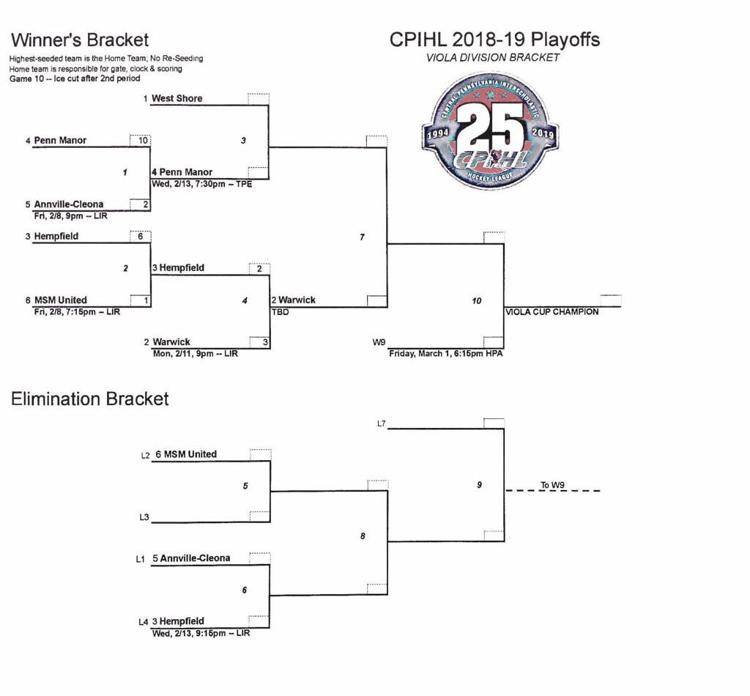 No. 4 Penn Manor (14-5-0-0) vs. No. 1 West Shore (15-3-0-0)
Puck drop: Wednesday, 7:30 p.m. at Twin Ponds East
How they got there: The Comets, with players from Penn Manor, Lancaster Catholic, Lancaster Country Day and Solanco, powered past Annville-Cleona with a 10-2 victory in Friday's first round. West Shore, drawing players from Red Land and Cedar Cliff, earned a first-round bye as the division's top seed.
What's at stake: The winning team advances to face No. 2 Warwick (15-3-1-0) with a championship-game spot at stake. Losing team faces No. 6 MSM United (7-7-1-4) in an elimination game.
Head-to-head: The two teams split a pair of regular-season meetings with the Comets winning 2-1 Nov. 28 and West Shore evening the score with a 4-0 shutout victory Dec. 7.
Players to watch: Lancaster Country Day's Jack Kiely is the Comets' leading goal scorer, finding the back 18 times, including once in Friday's postseason opener. West Shore held him to one assist in two games. Jesse Troutman led West Shore with 26 regular-season goals and 42 points. He scored a goal in each of the two regular-season games against Penn Manor.
Goaltenders: West Shore's Alex Ringling (2.08 goals against average, .885 save percentage) started both of his team's games against Penn Manor, stopping 44 of the 46 shots he faced over that span. He split time in goal with William Keeney (2.14 GAA, .900 save percentage). Penn Manor's Neel Mahapatra (3.31 GAA, .849 save percentage), Friday's winning goaltender, started both games against West Shore in goal for the Comets, making 27 saves on 32 shots. Penn Manor's Tyler Hess (4.08 GAA, .744 save percentage) and Cara Jandzio (1.69 GAA, .860 save percentage) also saw time in goal during the regular season.
Notable: Friday's first-round victory was the Comets' ninth straight win overall. Their last loss was a 7-6 setback to Manheim Central Dec. 17 ... West Shore ended the regular season with a 1-0 shutout victory over Warwick, extending a streak of allowing three goals or fewer to six games ... Seven different Comets scored goals Friday, and 12 different players recorded at least one point ... Penn Manor doubled up West Shore in shots during their first game against each other. In the second, the Comets outshot West Shore 20-19 ... West Shore's penalty kill held Penn Manor's power play scoreless through 14 opportunities in two regular-season games ... The Comets have outscored teams by a combined score of 59-27 during their winning streak.
No. 3 Hempfield (15-5-0-0) vs. No. 5 Annville-Cleona (10-5-2-1)
Puck drop: Wednesday, 9:15 p.m. at Lancaster Ice Rink
How they got there: The Black Knights, with players from Hempfield, Conestoga Valley and Donegal, defeated MSM United, 6-1, in a first-round game Friday before falling to No. 2 Warwick in Monday's winner's-bracket game. The Little Dutchmen dropped Friday's playoff opener to No. 4 Penn Manor, 10-2.
What's at stake: It's win or go home for both teams with one loss in the double-elimination tournament. The winner moves one step closer to the championship game, facing either MSM United or the losing team from the Penn Manor/West Shore game in the next round of the elimination bracket.
Head-to-head: Annville-Cleona earned a head-to-head two-game sweep of the regular season series, winning 4-1 Nov. 19 and 2-1 in a Feb. 1 regular-season finale.
Players to watch: Conestoga Valley's Charles Braught collected two goals and an assist over the Black Knights' two playoff games. He and Hempfield's Chris Grubb accounted for the two regular-season goals against the Little Dutchmen. Annville-Cleona's Kameron Freeman scored both of his team's goals in Friday's playoff opener. Freeman also picked up an assist in the Feb. 1 win over Hempfield.
Goaltenders: Both goalies for the Black Knights saw time in the playoffs. Hempfield's Max Aukamp (1.80 GAA, .913 save percentage) made nine saves on 10 MSM United shots Friday. Conestoga Valley's Josh Griel (1.90 GAA, .899 save percentage) stopped 14 of Warwick's 17 shots Monday. Griel also played both regular-season games against Annville-Cleona, making 51 saves on 57 shots. Alex Lingle has backed the Little Dutchmen all season to a 3.87 GAA and .848 save percentage. He made 19 saves in Friday's playoff opener.
Notable: Friday's loss ended a three-game win streak for Annville-Cleona ... The 10 goals allowed to Penn Manor were the most the Little Dutchmen had given up in a game all season, and the most since a 7-6 overtime loss to Penn Manor Dec. 21. ... After winning 11 straight games, Hempfield lost two of its last three games ... Three of the Black Knights' five losses were decided by one goal ... Hempfield scored the first goal in each of its first two playoff games ... Annville-Cleona outshot Hempfield in each of the two regular-season games between the two teams and a total of 57-44 ... The regular-season win over Hempfield was Annville-Cleona's only victory in four games at Lancaster Ice Rink ... The Black Knights scored at least two goals in all of their games sans the two against Annville-Cleona.