While putting together a story about longtime Conestoga Valley boys basketball scorekeeper Ed Sieber earlier this week, I came across a name with which I'm familiar when it comes to CV boys basketball: Bob Swavely.
Through interviews with various folks for the Sieber story, I learned that Swavely died last August. He was 73.
While saddened by his passing, it made sense then that I had not heard from Swavely this basketball season, as he often was a second set of eyes on CV boys basketball box scores and would notify me of corrections, among other Buckskins-related historical markers, throughout each season.
It just so happened while I was putting together the story about Sieber I took quite a few photos of basketball-related objects within the CV trophy case next to Robert Rill Gymnasium, and stumbled across Swavely's name on a basketball commemorating the 1965-66 CV boys basketball team that went 23-1, won section and league titles, and reached the 1966 District Three Class 1A championship game. The run was kept alive when Swavely scored four points in five seconds to tie the district semifinal game near the end of regulation and later scored the go-ahead bucket in the second overtime in a 50-47 win over Chambersburg. That 1965-66 CV squad is the first to have reached a district final in the program's history — though the Bucks lost to Reading, 37-35. (The 1994-95 team made it to the Class 3A district final, falling 65-54 to Mechanicsburg.)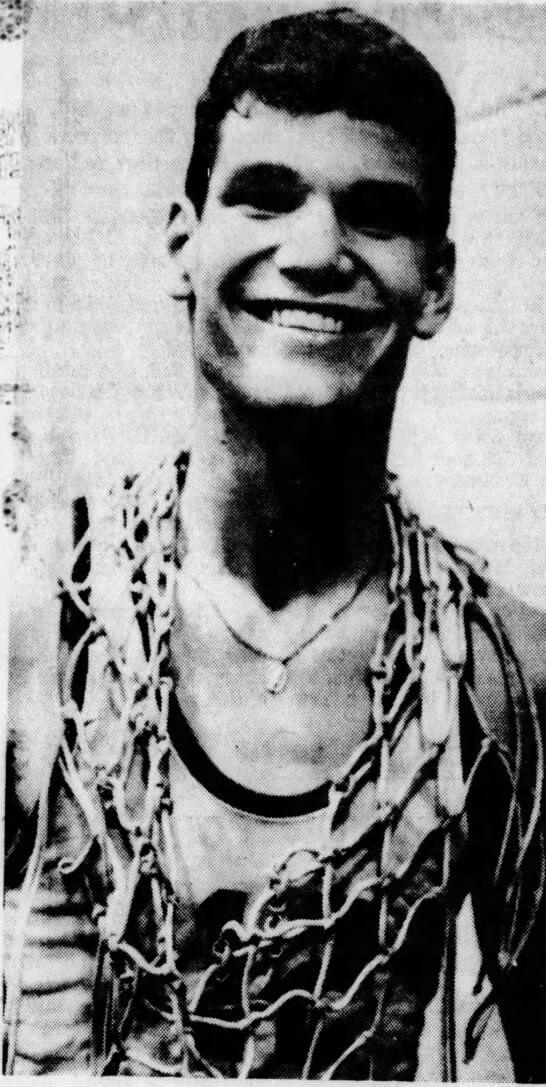 It came at a time when the Bucks' were a part of the Lancaster County Scholastic League (CV joined the newly-formed Lancaster-Lebanon League beginning in the in 1972-73 season). Swavely was a senior on the 1966 team, at a time when CV was in the middle of a run of three-straight section and county championships.
Swavely later returned to his alma mater and served as ninth-grade boys basketball coach and then as assistant for the junior varsity and varsity teams, over a coaching career that spanned 30 years.
"He was the type of coach players would run through the wall for," Lancaster Country Day coach Jon Shultz said.
Shultz was a longtime CV assistant before taking the LCD job five years ago.
"Bob was a shirt-off-his-back type of guy," Shultz said.
That's the lead item on this week's L-L boys basketball notebook. 
New 3-point leader: Manheim Central senior guard Trey Grube became the league's all-time career 3-point leader in Friday's overtime loss to E-town. He surpassed previous record-holder and Cocalico alum Tucker Lescoe, who finished with 271 for the Eagles as a senior in the 2015-16 season. Through Saturday, Grube sits at 278 career 3s. Speaking of which, while covering Manheim Central this week, I noticed Grube had something written on his sneakers: 2-1-16. I asked Grube about it after last Tuesday's overtime in at Warwick. Turns out the sequence of numbers are the date of death for his paternal grandfather Chris Thompson, a United States Marines veteran and father of seven who was 81 when he passed away.
"He was a big father figure for my dad," Grube said. "He taught him a lot of lessons. He taught me a lot of lessons, too. His passing hit us hard. I tape my wrist and put a cross on it. I've been doing that since my freshman year."
Grube's father, and Thompson's son, Derek Grube, said his father, 'played semi-pro football for the Harrisburg Caps and baseball for the Lancaster Red Roses.' Upon seeing Trey play basketball in third grade, grandpa Thompson said, he looked at son Derek (father of Trey) and said, "Trey is going to be a good one."
Section leaders: Hempfield (6-0 league, 14-2 overall) has a two-game lead atop L-L Section One, Manheim Central (6-1, 13-3) has a one-game lead atop Section Two, Lampeter-Strasburg (6-1, 13-3) and Octorara (6-1, 10-5) are tied for first place in Section Three, and Columbia (4-0, 15-2) has a one-game lead atop Section Four.
Scoring leaders: The league's top-two scoring leaders are injured in Lancaster Mennonite senior guard Camden Hurst (25 points per game) and L-S senior Ben Wert (24.1 ppg). Hurst (broken hand) is due back in about a week, while Wert (knee) is done for the year). The next three scoring leaders are Grube (23.4 ppg), Octorara senior guard/forward Elijah Hamilton (18.8) and CV senior guard Griffen Rishell (18.5 ppg).
Overtime: Manheim Central and Elizabethtown both had back-to-back games of going into overtime, E-town against Ephrata on Tuesday, Manheim Central agt Warwick on Tuesday, and then E-town at Manheim Central on Friday. Here's a recap of those three contests…
Ephrata 67, Elizabethtown 63, 1 OT: In a L-L Section Two matchup last Tuesday, Ephrata led 12-7 at the end of the first quarter. Elizabethtown tied it by halftime, 23-23. The visiting Mountaineers went back up 39-35 going into the fourth quarter. Down a bucket in the closing seconds of regulation, E-town's Caiden Zeager hit a bonkers, three-hands-in-his-face, fall-away 3-pointer to tie it, 58-58. E-town cut the deficit to 65-63 with 13.1 seconds left, but Ephrata hung on for the win.
Manheim Central 67, Warwick 60, 1OT: In a game featuring 12 lead changes, the Barons outscored the host Warriors, 15-8 in the extra period. It was Manheim Central's first OT game of the season, while Warwick went beyond regulation for the fifth time. Full game coverage can be found here.
Elizabethtown 69, Manheim Central 63, OT: The host Barons and visiting Bears went extras, each for their second game in a row, E-town for the third time in its last five games. Manheim Central forward Aaron Enterline hit a corner 3-pointer near the end of regulation to tie it. E-town outscored the Barons 9-3 in OT. The Bears were led by Brenden Lehman (21 points), Braden Cummings (17 points), Noah Locke (15 points) and Caiden Zeager (11 points). 
Top scorers: Top L-L League individual game scorers from last week…
Penn Manor senior guard Ethan Benne 26 points (Friday, vs. McCaskey)
Octorara senior guard/forward Elijah Hamilton 25 points (Tuesday, at Lancaster Catholic)
Hempfield senior guard Miguel Pena 24 points (Friday, at Cedar Crest)
Manheim Central senior guard Trey Grube 22 points (Friday, vs. Elizabethtown)
Donegal senior guard Dutch Good 21 points (Thursday, vs. Lancaster Catholic)
Elizabethtown's Brenden Lehman 21 points (Friday, at Manheim Central)
Ephrata junior forward Trent Wolf 21 points (Tuesday, at Elizabethtown)
Lancaster Catholic junior Thaddeus Lee 21 points (Tuesday, vs. Octorara)
Lancaster Country Day senior guard Toby Ashby 21 points (Saturday, vs. Lancaster County Christian)
Manheim Central senior guard Trey Grube 21 points (Tuesday, at Warwick)
Manheim Township junior guard Caden Young 21 points (Wednesday, vs. Exeter)
Manheim Township junior guard Sebastian Henson 21 points (Friday, vs. Lebanon)
Lancaster Country Day senior guard Toby Ashby 20 points (Thursday, at Mount Calvary)
Lancaster Mennonite senior guard Savier Sumrall 20 points (Monday, vs. Steel-High)
Lancaster Mennonite freshman guard Chase Hurst 20 points (career-high, Monday vs. Steel-High)
Octorara senior guard/forward Elijah Hamilton 20 points (Saturday, at Northern Lebanon)
Coaching notables: Annville-Cleona coach Jason Coletti enters the week two wins shy of 150 career victories. He's in his fifth season overall leading the Dutchmen, and 15th year overall as a head coach. …  Columbia seventh-year coach Kerry Glover picked up career win No. 105 with Saturday's victory across the Susquehanna at Class 5A Eastern York. With the win, he moved into fifth-place all-time in program history in career victories, surpassing Steve Wisler (104-48). Two more wins for Glover would move him past Sammy Angle (106-66) for fourth-most coaching wins all-time in program history. … Warwick eighth-year coach Chris Christensen enters the week at 99 career wins. The Warriors (10-5) host Solanco (6-10) in a L-L Section Two matchup on Tuesday. 
Top upcoming games: 
Monday, Jan. 23: Four games involving seven L-L teams. Of those, Section Three matchups Cocalico at Lancaster Catholic and Donegal at Lampeter-Strasburg have chances to go down to the wire.
Tuesday, Jan. 24: Eight games involving 15 L-L teams.
Wednesday, Jan. 25: Two games involving three L-L teams.
Thursday, Jan. 26: Seven league games involving 14 L-L teams
Friday, Jan. 27: Five games involving 10 L-L teams. Of those, Section Three matchup Octorara at Donegal is intriguing considering the Indians beat the Braves in their last matchup, and a Donegal win could force a three-way, first-place tie in the section.
Saturday, Jan. 28: Four games involving four L-L teams all in non-league action.
In case you missed it: Check out this feature story on longtime CV boys basketball scorekeeper Ed Sieber … this video on Lancaster Country Day senior Nile Abadir, a tennis standout who is playing basketball and contributing for the Cougars this season...
Dunk of the Week: Utah State grad student Taylor Funk (Manheim Central) with the breakaway jam in last Tuesday's win over UNLV…
Thanks for reading!