It only took one event for the Lancaster County Junior Golf Tour to deliver a full season's worth of dramatics.
At the season-opening Craig Hartranft Team Junior, the Boys Gold division was decided by a sudden-death playoff, with Hamilton McNaughton defeating Manheim Township teammate Connor Strine on the playoff's second hole, after both players shot a 74 to end the round 4-over par at Overlook Golf Course.
Hannah Barrett, of Carlisle, claimed the win in the Girls Gold division by shooting a 90.
"It was nerve-racking but I got the job done," McNaughton said.
It looked like McNauhgton's bid for his first LCJGT win might come to a disappointing end on the first playoff hole, where he drove his tee shot into a tree branch.
McNaughton recovered nicely to save par, though, forcing a second playoff hole when Strine missed a birdie putt.
There, McNaughton made par again, claiming the win when Strine couldn't match him.
"I thought I was going to lose it on the first hole," he said.
"I thought it was heading toward the trees, and I was like, 'please just get a decent bounce,' and it actually bounced right back into the rough. I had a clear shot at the green, so I got kind of lucky on that."
Luck didn't have much of a role in a clinical performance through 18 holes, though.
Dealing with a steady rain throughout most of the front-nine, McNaughton birdied three holes during the round, which allowed him to keep pace with Strine, who bogeyed only three holes after a double-bogey on the first hole.
"I thought I played pretty solid," McNaughton said, "especially for the conditions. I think that's why I started to play better on the back because it stopped raining and everything started to dry up."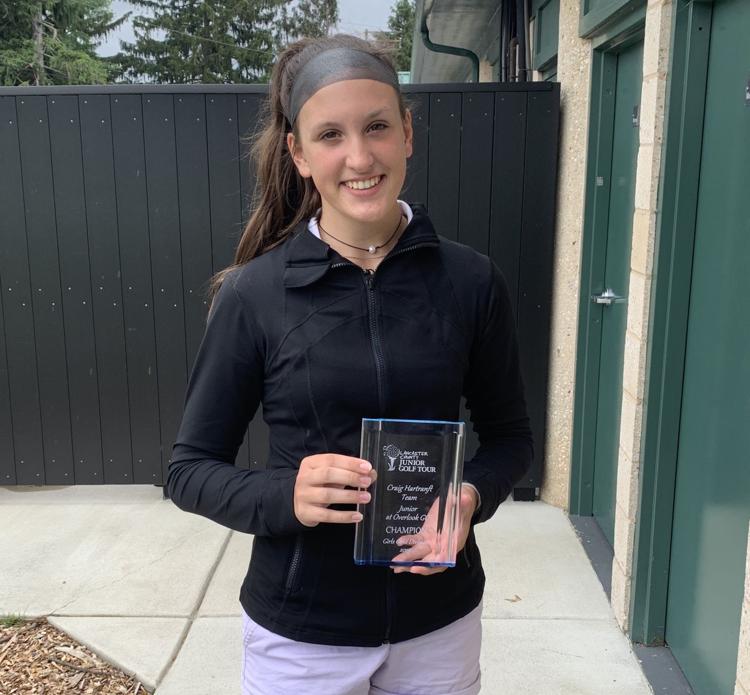 The Girls Gold division evoked its own share of suspense. Barrett, a 13-year-old, edged Amanda Gerrish by one stroke, after she made par on the 17th hole to finish 20-over. Gerrish double-bogeyed holes 17 and 18.
Like McNaughton, Barrett said she thought the weather played a serious factor on the front-nine.
She fought through it nicely, though, shooting an identical 45 on the front and back-nine.
"I just try to ignore (the rain) and try to adjust to it," Barrett said. "I just try to play my best and not focus on it.
"At the beginning, you just had to keep on going, but I think I did a pretty consistent job."
Logan Wagner (+6), Jaxon Eck (+6), Graham Calhoun (+8), and Derek McGlaughlin (+8) rounded out the top-6 in the Boys Gold division.
In the Girls Gold, Katherine Lapinsky (+23), Megan Ruffing (+25) and Madison Bailey (+27) finished third through fifth, respectively.
Zach Stoyer (+11) won the Boys Silver event, Tristan Groff (+14) won the Girls Silver, and Dylan Ramsey (+16) earned the victory in the Boys Bronze division.
The LCJGT also features Boys and Girls Futures divisions, which play 9-hole rounds.
Twelve-year-old Custer Jackson (+9) took home the win on the boys side of things, while 10-year-old Charli Troxell (+15) won the girls event.
"It feels really good," Troxell said of her win.
The tour continues play next Wednesday, June 19, at the G. Crudden Memorial at Four Seasons Golf Club in Landisville.