The U.S. women's field hockey team will have to find a new captain.
After nine years and 176 international caps, Kat Sharkey announced her retirement from Team USA on Thursday.
The 29-year-old joined the national team in 2011 and won two gold, one silver and three bronze medals during her career, playing both as a forward and a midfielder. She was named captain prior to the 2018 World Cup in London.
"I am so grateful to have had the opportunity to be a member of the U.S. Women's National Team for this long," Sharkey said via a team release. "It was incredibly rewarding, fulfilling and challenging. I truly enjoyed being on this journey with such strong and inspiring women and I'll always cherish the memories that we made on and off the field."
Sharkey first picked up field hockey in seventh grade and went on to be a standout at Wyoming Seminary, where she was the nation's second-highest scorer as a senior. After playing with future U.S. teammate Kelsey Kolojejchick on the Blue Knights, Sharkey teamed with two more future national team players, Katie and Julia Reinprecht, at Princeton.
With the Tigers, Sharkey was a four-time first team All-Ivy League and All-Region selection and a three-time All-American. She led Division I in scoring both her junior and senior seasons and broke the program record with 107 career goals, while also earning Princetonian Female Athlete and Ivy League Player and Offensive Player of the Year honors in addition to being named a Honda Award finalist.
Sharkey took a year off from Princeton when she joined Team USA in 2011. After debuting at the 2012 Four Nations Tournament, Sharkey earned her first medal when the U.S. won silver at the 2013 Pan American Cup. A year later, she was part of the squad that surprised with a fourth-place finish at the World Cup and went on to win gold at the Champions Trophy.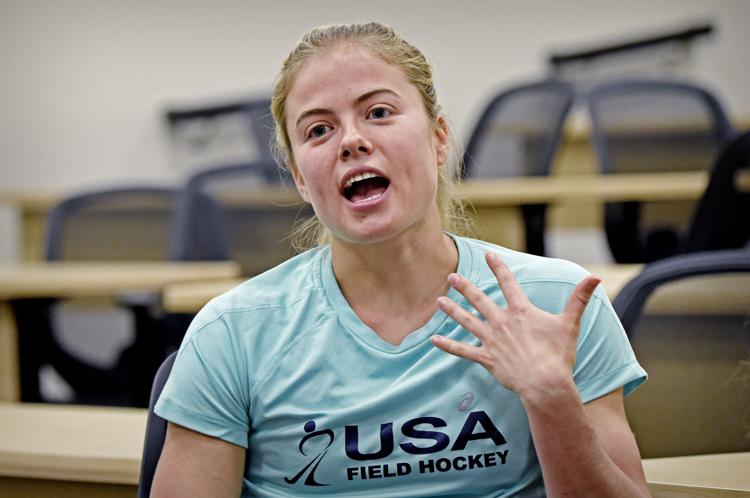 In 2016, Sharkey made her Olympic debut at the Rio Games, where Team USA finished fifth.
"It was an incredible moment for me to read the team selection for the Olympic Games and see my name on the list," Sharkey said in the release. "The team's performances throughout the Olympic Games was the result of years of hard work and many sacrifices. To see all of our hard work pay off in those games was such a special feeling as an athlete."
"The Olympic Games was one of the most amazing experiences of my life. Standing on the field during the national anthem with my teammates in our first game was very emotional for me. It was a surreal feeling listening to the national anthem with my arms around my teammates next to me and to see my family in the stands supporting me as always. It was a goal that I had been chasing for a while and to know that I had accomplished it felt amazing."
In 2017, Sharkey helped Team USA win gold at the World League Semifinals and bronze at the Pan American Cup, which was held at Spooky Nook Sports. Her play at the last tournament earned her a spot on the Pan American Hockey Federation's Pan Am Elite Team.
She earned the honor again in 2019 after leading Team USA to Pan Am Games bronze and was even chosen as the U.S. flag bearer for the tournament's opening ceremony. After playing in the inaugural season of the FIH Pro League, she scored what proved to be her final goal for Team USA in a 4-1 win over India in November.
Sharkey is the fourth member of Team USA to retire in recent months. Defender Caitlin Van Sickle announced her decision in December, while former Penn Manor standout Jill Funk and fellow midfielder Cat Caro stepped away earlier this month.
The move leaves Warwick graduate Alyssa Manley, who is currently taking some time away from Team USA, as the most capped athlete with 124 international appearances.