If you watch closely, every time 14-year-old Cody Campbell takes a step, his left foot turns outward.
"You normally run with your foot straight," Campbell said. "So my foot will kick out to the side."
The muscles that previously kept Campbell's left foot straight as he steps forward are now gone. They were removed in May during surgery that also removed a large, cancerous sarcoma tumor on the inner part of Campbell's left thigh.
Campbell only recently returned to the Hempfield freshman football team after a long recovery in which he essentially learned how to walk again and regained the weight he lost from many rounds of chemotherapy and radiation.
Serious diagnosis
Campbell first noticed something amiss about this time a year ago, when he returned home after a football practice.
"Does this look swollen to you?" Campbell asked his father.
"Yeah. But you probably just took a bad hit from football," Dell Campbell replied.
A couple of months passed before the swelling got so bad Cody Campbell visited a doctor.
Tests soon revealed a massive tumor in the inner part of Campbell's left thigh, between his knee and his groin. Two needle biopsies confirmed the tumor to be a non-Rhabdomyosarcoma soft tissue sarcoma cancer.
NRSTS tumors account for about four percent of all childhood cancers and are most common in teens and infants, with about 500 to 600 cases diagnosed in people younger than 20 each year in the United States, according to statistics on StJude.org.
Campbell, then an eighth-grader at Hempfield's Centerville Middle School, received his official diagnosis about a week before Christmas.
"The first day, I was really nervous," he said. "But the second day, I just relaxed. I started thinking about ... not what is going to happen during it, but what I'm going to have to do after it to get back to where I am."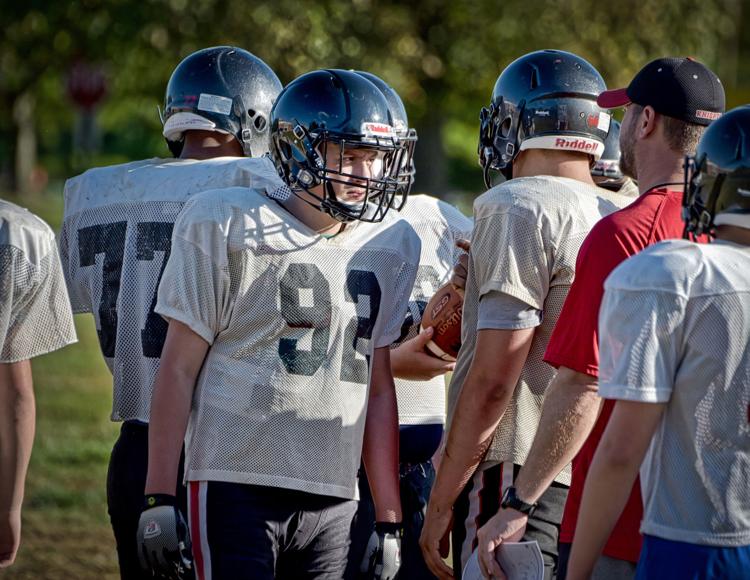 'Just give it some time'
Treatment began in January in the form of five straight weekdays of radiation for five weeks in a row, soon coupled with chemotherapy.
"About a week after radiation started, I took a chemo pill at home every day," Campbell said. "And every three weeks, I went in (Penn State Children's Hospital (Hershey Campus)) for an inpatient stay from Thursday through Sunday. While I was there, I got two different (intravenous) chemos."
His brown hair fell out about a week after chemo started. Other side effects got worse with every round of chemo.
"As it kept going, I got really sick," he said. "I couldn't eat that much. I felt like I was going to throw up when I did eat."
As a result, the 5-foot, 10-inch Campbell lost about 20 pounds over the course of treatment, dropping to 139 pounds at his lowest.
Surgery to remove the tumor came in May, followed by another three rounds of chemo.
"Honestly, while I was going through this, I was the strongest person in my family," Campbell said. "I didn't show any fear. I kept telling my family, 'Why are you worrying? I'll be back on the field by the end of the year. Just give it some time.' "
'It's what I love to do'
Campbell — quite obviously — loves football.
"We went to Disney when Cody was 6 or 7," Dell Campbell recalled. "You know the bus shuttles that you take to the theme parks? Every time we get on one of those buses, Cody would sit next to someone and start talking to them about football. He'd be talking X's and O's with strangers."
The sport propelled Cody Campbell during his cancer fight.
"The doctors and physical therapists thought there was almost no chance of me ever playing football," Campbell said. "The surgeon thought maybe in a couple years I would be able to play high school football as a junior or senior. I busted my tail to get back out here because it's what I love to do."
Campbell admits that he was supposed to use a walker in the first month after the surgery, but instead used a cane to get around.
A month later, he got rid of the cane.
"He was so determined," Dell Campbell said.
'He never wavered'
On Sept. 8 at Hershey Children's Hospital, Cody Campbell rang a bell to signify his clean bill of health and the end of his cancer battle. About a month later, during a Make-A-Wish trip to a Philadelphia Eagles game Oct. 6, Campbell got a surprise in the form of meeting his favorite football player, former Eagles tight end Brent Celek.
"My son doesn't smile in pictures," Dell Campbell said. "I have not seen him cheese like that in some time."
Cody Campbell returned to the football field with the Hempfield freshman team just a few weeks ago. He still sees a physical therapist about three days a week as he continues to rebuild the "neuroconnections to the muscles in my leg to re-learn how to run and walk properly."
"I'm slower," he said. "That's obvious. My explosion is not as good. That's obvious."
Now back up to 160 pounds, Campbell saw his first game action in late September, pulling down opposing ballcarriers from his linebacker position.
"I am just so happy for the kid," said Hempfield freshman football coach Matt Wagaman, who was also Campbell's eighth-grade math teacher last fall.
"He never wavered," Wagaman said. "When Cody was here and he wasn't practicing, he was watching. He knows our offense and defense better than anybody else on the team. ... He's just a tremendous kid. The bounceback that he's had ... he's just fantastic."