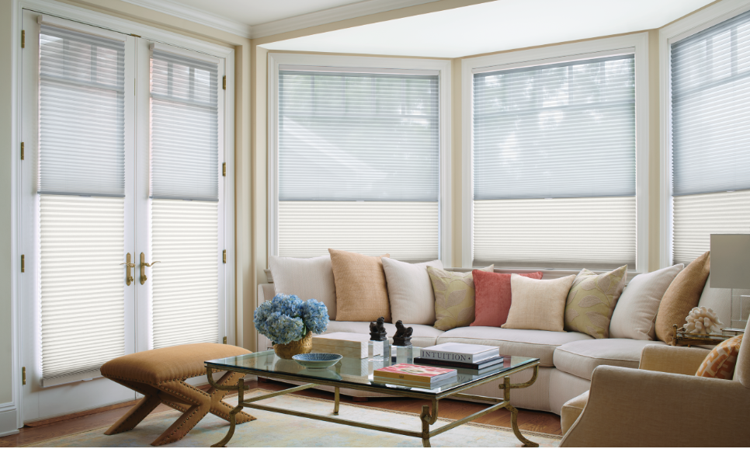 Window treatments are a bit like clothing for your windows. You want them to look great and be practical at the same time. Just like choosing the perfect outfit, choosing the perfect window treatment can be challenging, especially with so many options. Here are some things to consider:
Energy savings
Window treatments are more than just a decorative accessory for your room. They can play an important role in keeping your home warmer in winter and cooler in summer. As much as 50% of a home's heating and cooling energy can be lost through its windows. Cellular/honeycomb shades are an excellent insulating option for reducing the transfer of cold or heat at the window's glass, especially if you have older, drafty windows.
Privacy
You may think privacy is simply a matter of closing your shades or blinds, but it's not always that easy. Sometimes you need privacy and light, too. Choosing a top-down/bottom-up shade is an excellent option for bedrooms, bathrooms and other first-floor rooms where you might want privacy while still allowing natural light, and perhaps fresh air, into your home.
Light control
Windows in a home office or family room can put a glare on your TV or computer. Consider several options for these spaces, including semi-opaque blinds and shades that cut glare without making the room too dark, or horizontal and vertical blinds that allow you to redirect the light.
Room darkening
Whether you work a late shift and need to sleep during the day, or you just like to sleep in, you might benefit from room-darkening shades, blinds or draperies. They can be custom made to fit windows, sliding doors and skylights.
Safety
Cords not only get tangled, they can also be a safety hazard. If you have
children or pets, consider a cordless lift system, a retractable cord system,
or motorized blinds and shades. Motorized window treatments are also a great option for hard-to-reach windows since you can control them via a remote control, wall control or smartphone. Some even work with Alexa and other automated home systems. You can also program them to open and close at specific times.
Design
Window treatments serve many practical purposes, but don't ignore their role in enhancing the beauty of your home, both inside and out. You'll want to choose a window treatment that coordinates not only with your
furniture and decorating tastes,
but also with the style of your home. For instance, wood blinds with
drapes might be better suited for your historical home than vertical blinds.
Consider what your window treatments look like from the outside, too. Having different styles and colors of blinds and shades might seem OK inside, but it can ruin a home's exterior appearance.
Cost
Before you try to save money by choosing a ready-made window treatment, consider that ready-made treatments typically offer fewer design and color options, limited sizes and features, and often lesser  quality in terms of fabric and parts. Custom-made window treatments are not only designed to fit your specific windows, they also offer thousands of color and fabric choices, as well as quality materials and parts that offer a warranty to protect your investment.
With so many window treatment options available, it's wise to seek expert advice. Heritage Design Interiors has been selling Hunter Douglas products for over 25 years. They can help you explore the many options for blinds, shades and shutters, as well as fabrics, trims and rods. They'll also handle measuring, ordering and installing your new window treatments, so all you have to do is enjoy them.