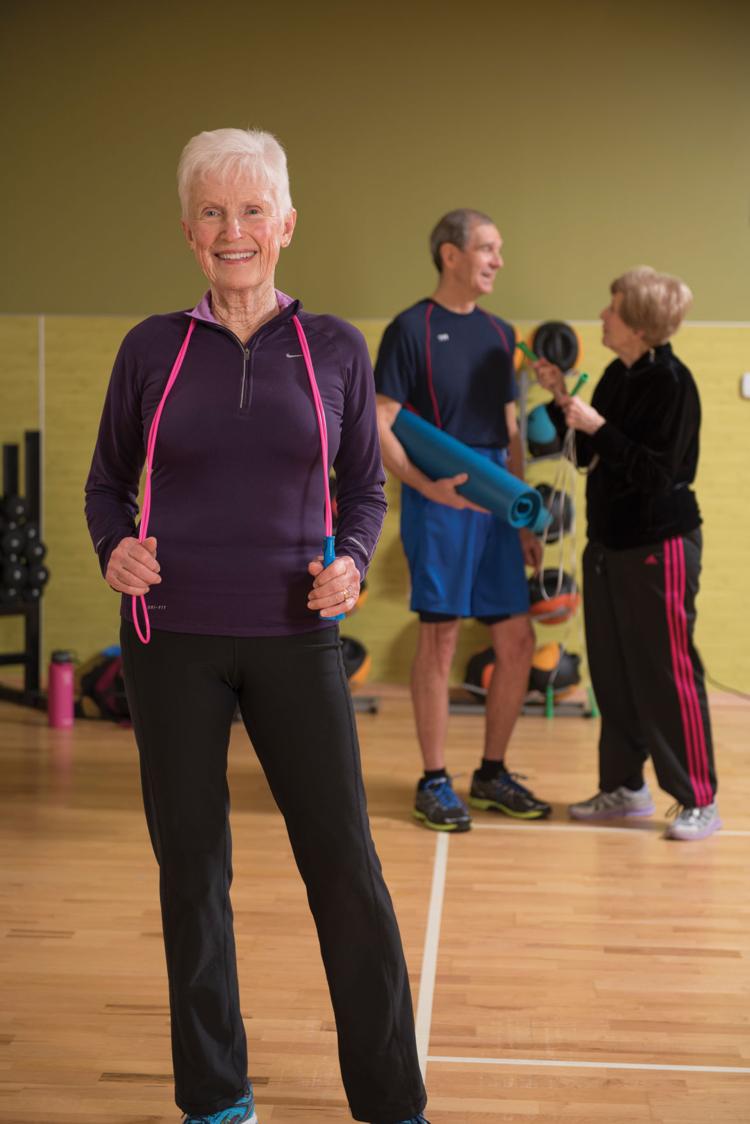 Residents of Willow Valley Communities, a premier 55-plus senior living community in Lancaster, are inspired every day by endless opportunities to live life forward in perfect balance. Janet and John Rushmere chose Willow Valley Communities six years ago and their way of life embodies this harmony.
Janet, 86, and John, 90, are enthusiastically involved in a number of Willow Valley Communities activities. John, who works out, walks, and swims, also enjoys playing bridge. Janet, a dedicated swimmer, trains in the Fitness Center and balances her busy schedule with her interest in art, literature, music, and healthy food. She and John frequently dine in downtown Lancaster and hold season tickets to Lancaster's renowned Fulton Theatre. Janet and John's great-grandsons, Isaac, 6, and Eli, 4, are happy about Willow Valley Communities, too. There are so many fun things for them when they visit.
 "Mind, body, and spirit are all nurtured at Willow Valley Communities," observes Janet. "The gym, swimming pool, and aerobic studio help to keep me fit. Lectures and the Book Club are mentally stimulating. The people who live here are fascinating. I walk, strength train, and swim. I ride my bike when possible. It's a whole new way of life. I just love it."
In 2014 Janet added Senior Games competitions to her full agenda. She returned from the 2019 National Senior Games in Albuquerque, New Mexico, with medals in swimming for freestyle and backstroke. "I've been a swimmer all my life, but Willow Valley Communities' pool is the best I've ever used."
Janet is also a mentor at Martin Luther King Elementary School in the School District of Lancaster. "Reading is one of my passions," she declares. "I hope to pass on my love for books to the children. I read to them, and they read to me. It's a wonderful experience."
Janet and John share a lovely villa at Willow Valley Communities. The 1,600-square-foot, two-bedroom home provides a private entrance, backyard patio, and comfortable space. Features include a spacious living room, large kitchen, attic, a two-car garage, and a gorgeous view overlooking a sparkling pond with a lighted fountain.
Willow Valley Communities offers over 90 different floor plans, including apartments, villas, and townhomes. The monthly fee covers interior and exterior maintenance, a flexible meal plan, award-winning amenities and programming, and Lifecare. Lifecare means that monthly fees are not increased because of a need for an enhanced level of care in the future.
Residents engage in the 80,000-square-foot Cultural Center with fitness and aquatics centers, Day Spa, art gallery, and 500-seat performing arts theater. There is also a 30,000-square-foot Clubhouse with outdoor pool and tennis courts, bowling alleys, golf simulator, sports and fitness centers, and vintage arcade. Willow Valley Communities' 210-acre campus also features miles of meticulously landscaped walking paths and outdoor spaces.
"Choosing Willow Valley Communities is the wisest decision we ever made," Janet concludes. Click here to learn more about Willow Valley Communities.