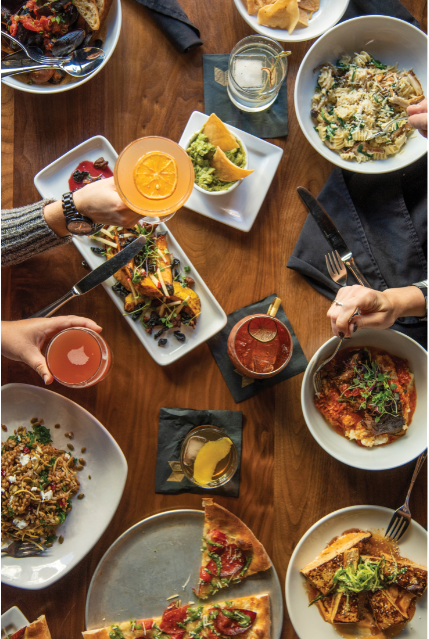 If you ask Rob Commero, chief operating officer of The Pressroom Restaurant Group, what makes a visit to The Pressroom so unique, he'll point to the individuality of each guest's experience.
"It's all about the guest," he says. "We train everybody, from the top down, how to create an experience that is tailored to the person sitting in front of you."
Commero says his staff follows a traditional 12-step approach service model that dictates the number of times a guest interacts with the restaurant staff during their visit.
"These are very old concepts in hospitality, but we modernize them for an upscale-but-causal kind of place like this," Commero says.
In 2015, The Pressroom underwent a major facelift, and reemerged on the burgeoning Lancaster city restaurant scene as a top choice for foodies and craft cocktailers. The remodel included the addition of an al fresco dining space in Steinman Park called The Park Bar and an improved banquet room, dubbed The Printer's Plate. 
The extra space, in addition to the unique, locally sourced menu, has drawn many Lancastrians to The Pressroom since the remodeling project was completed.
At the center of it all is the team's commitment to making each guest's experience – whether it's a family dinner, a formal business meeting, a rehearsal dinner or a night cap with friends – a satisfying one.
"We put a lot of time into training, particularly around what we have to offer our guests," Commero says. "Not only from a perspective of 'look at these great things that we have and you can try,' but also from the knowledge perspective that anyone in any part of our service can listen to what a guest is saying or questions they're asking and make really good suggestions."
One example of this is at the Printer's Plate, the private banquet space at The Pressroom, which can accommodate groups of up to 70 people. Commero calls it a boutique event experience, since each party at the Printer's Plate can customize their menu and tailor their experience with the help of The Pressroom's event planning staff.
"There are no set rules. You tell us how you want your night to go and we can make it happen," Commero says. "If you want a dance floor, we'll find one for you."
But it's not just the service that keeps people coming back.
Lancaster County is known far and wide as Pennsylvania's bread basket, and The Pressroom takes full advantage of the opportunities to partner with local farmers, growers and makers to enhance the flavors on the seasonal menu.
"We're true to our brand when we write menus," Commero says. "We are an American-fusion restaurant. If you look at the profiles that exist in our menu, they're all pretty consistent and they all go together."
Commero says Lancaster's beverage scene is actually what makes the city's food scene really unique.
"The cocktail scene is something that rivals huge metropolitan areas like New York City," he says.
"I think the cocktail game is more competitive than the food game in Lancaster County because of the abundance and availability of fresh, high-quality food ingredients."
"Everyone who wants to use locally grown or raised product has an established relationship with their grower or farmer of choice. We already have those relationships built."
The trick, he says, is to keep your eye on the next big thing on the cocktail scene and to build the relationships with those suppliers.
If you've ever glanced at The Pressroom's cocktail list, you'll know that the time that's been invested building relationships with liquor suppliers is paying off. From unique spirits like sherry and amaro making appearances in craft cocktails, to special partnerships The Pressroom has forged with existing suppliers like Saint Boniface Craft Brewing and Old Forester Bourbon, it's all created with superior service and the customer in mind.
"The staff at our bar does an outstanding job with service, on top of the killer drinks they make," Commero says. Click here to learn more about The Pressroom Restaurant.