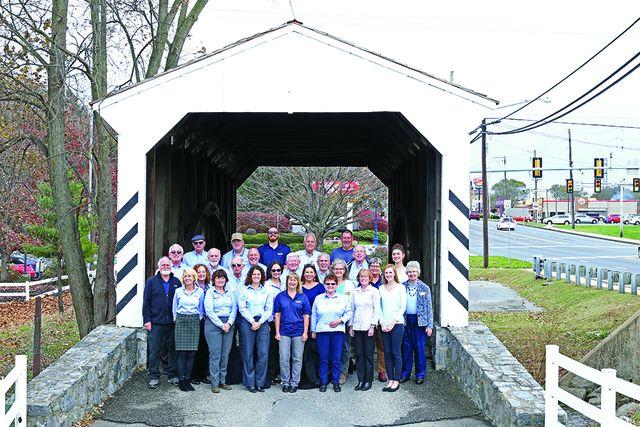 By Karen Triano Golin
As a tourist attraction since 1955 the Amish Farm and House focuses on delivering a positive experience for guests and excellent customer service. Creating that same atmosphere in their own work environment is important to Mark Andrews, general manager, and contributed to the company's first place award in LNP's inaugural Best Workplaces in Lancaster County survey in the Fun & Learning category.
Flexible hours, fun, non-stressful jobs, and great work-life balance all add to employee contentment. Our staff of 60 includes many retired or semi-retired professionals who enjoy working part-time to remain active and engage with the public. Andrews says scheduling employees on the days that best work for them leads to happier employees.
The opportunity to meet visitors from around the world ranks highly with employees who come from diverse backgrounds and locations. Guides get to use their language skills giving tours in multiple languages such as, French, German, Spanish and Chinese to name a few.  As the "United Nations of Lancaster County" it's a unique mix every day. Andrews says they can never have enough foreign language speakers and welcome new language guides.
Team members pitch in to work in all areas from the gift shop to the farm, helping with events, driving our countryside vans, or giving a guided house tour. Employees have established strong relationships and work closely with the Amish community.
Tours and events aren't just for out-of-towners. Local residents are encouraged to visit the 15 acre farm and learn something new about Amish life and Lancaster County in fun, hands-on, and entertaining ways.
Community activities such as strawberry festivals, sheep shearing, and Amish craft fairs occur regularly. A recent addition, goat yoga, has been such a big hit with residents that sessions fill up in minutes. The Amish Farm's first Goat-A-Thon event raised $8,000 for non-profits. With more community and charity events coming, the Amish Farm is focused on being a family, fun place and welcomes you to visit.
Click here to learn more about The Amish Farm and House.
This article was originally published in the 2019 issue of Best Workplaces magazine. Best Workplaces is an annual employee survey project administered by LNP Media Group. The goal of the project is to provide companies in Lancaster County with free, benchmarked survey data across 56 dimensions of employee satisfaction. Best Workplaces magazine celebrates companies with the highest survey scores, by size and by industry category. To participate in Best Workplaces, contact Scott Kneisley at skneisley@lnpnews.com.