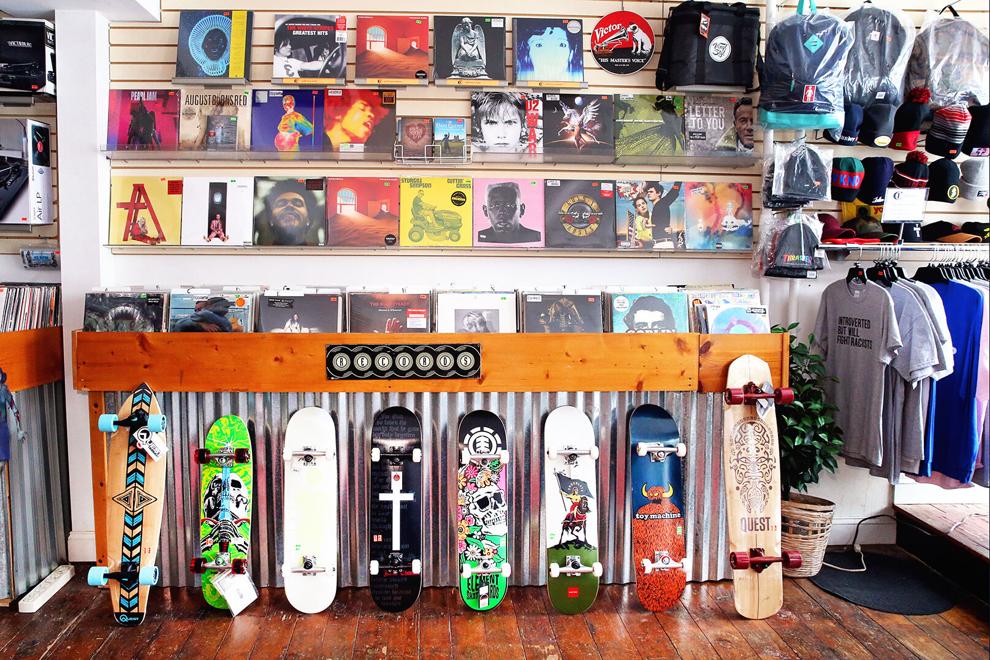 Not everyone sees the connection between skateboarding and music, Jeremy Weiss says, but the two go hand in hand in more ways than one.
From his dad, who played in an early-'60s doo-wop band, Weiss discovered a vast record collection featuring the likes of The Big Bopper and James Brown, and he memorized every word of every song. From videos created by popular skateboarding magazines like Thrasher and Transworld, he expanded his musical horizons with underground music in a variety of genres.
He learned to love it all.
"I'm kind of a weird guy. I can appreciate the vocally indiscernible or the sleepy dreamy, and I also like the old soundtrack to the wedding reception," says Weiss, 49. "I just really love music."
And skateboarding.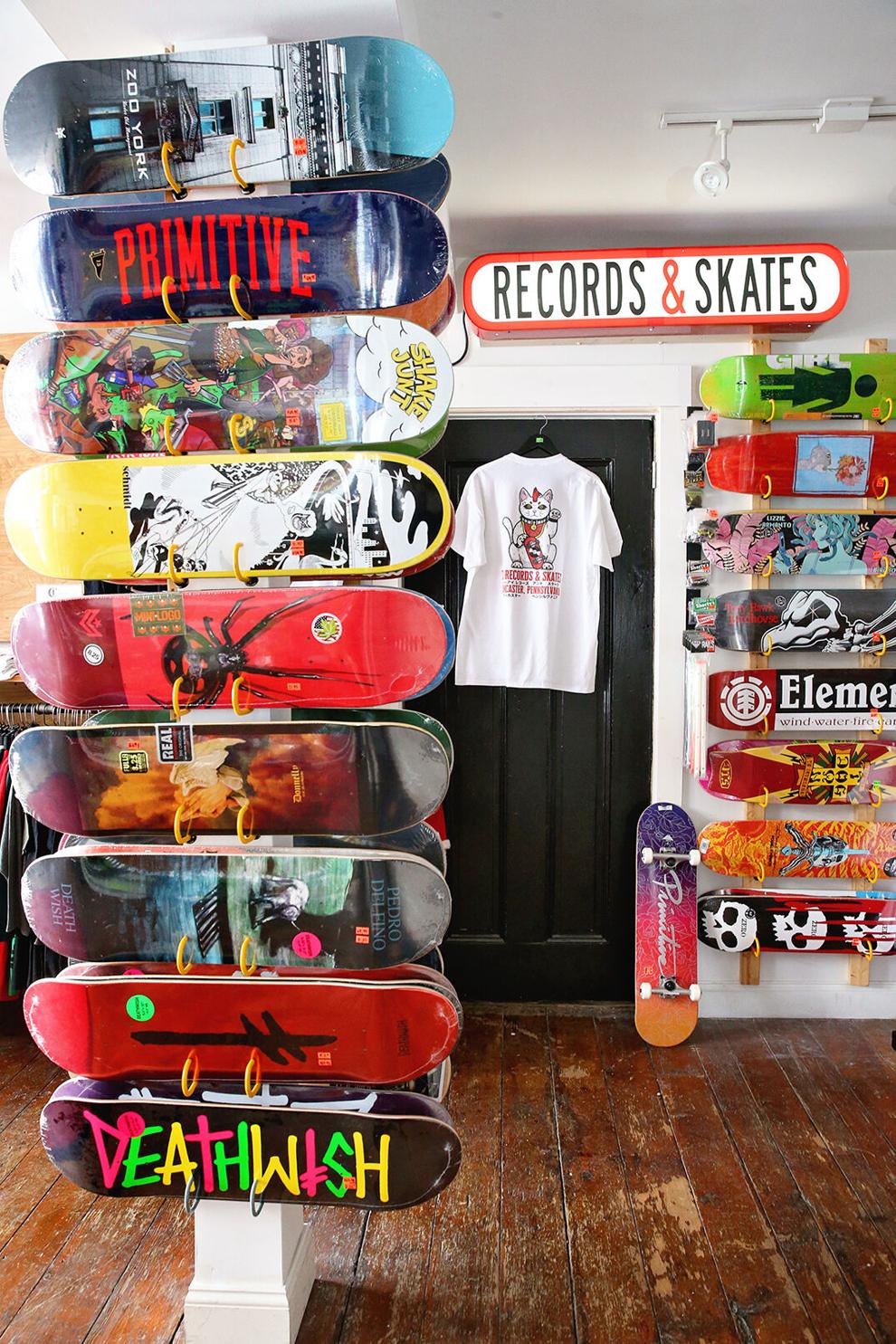 He combines both loves at CI Records & Skates, now in its 26th year in Lancaster. The shop, at 112 W. Orange St., is a storefront for his record label featuring a fully stocked skate shop and over 1,000 vinyl records from indie and hip-hop to modern and classic rock 'n' roll.
If there's one thing Weiss has discovered over the past year, it's that pandemic life has fueled an interest in both his passions.
"There is certainly a boom in both vinyl and skateboarding," Weiss says. "Both things are at their highest mark as far as sales and interest that they've been in years."
Vinyl was already enjoying its resurgence before the pandemic, and now music lovers of all ages have more free time than ever to sit down, drop the needle and enjoy the experience.
"It's a terrific at-home listening experience," Weiss says. More than that, it's a piece of art.
"Virtual and digital are very practical, and they're space-efficient and they can really expand your horizons. You can have this massive library," he says. "But there are certain things in our lives we want a physical connection to and experience with. If this were not the case, museums would be empty."
There's a coziness and warmth to the vinyl experience, Weiss says, as well as a fascination with the very idea of creating sound by putting needle to groove. Plus, much of the vinyl released today is of the limited-edition variety, making it extra special for collectors.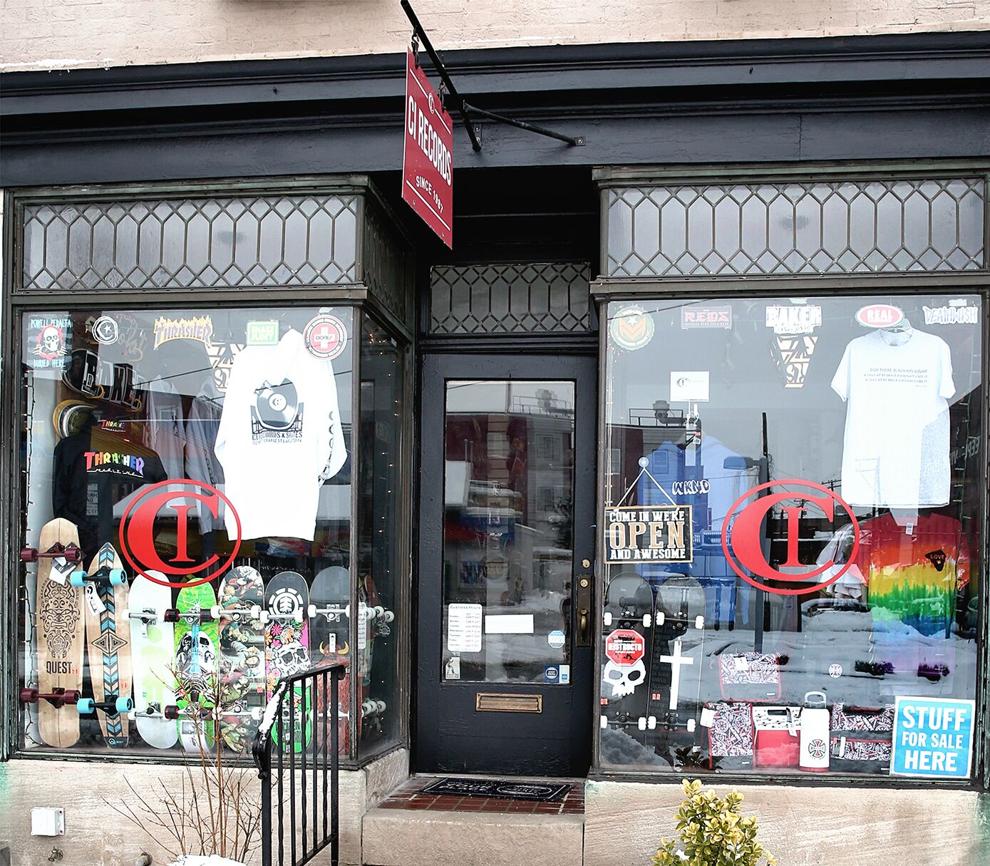 Most of what Weiss sells is new vinyl. "Even if it's a reissue of a Beatles or Led Zeppelin, it's modern. It's remastered, remixed, thicker vinyl," he says. "It's a one-and-done run. I know people enjoy that aspect."
If the pandemic has encouraged people to savor their musical experience more, it's also encouraged them to get outdoors more - hence the boon for Weiss' skateboarding business, too. And while it may come as a surprise to some, Weiss says skateboarding isn't just for those who live for kickflips and ollies on half-pipe ramps and guide rails.
"I'm positive that the pandemic brought out a wide variety of folks that reinvigorated their interest in skateboarding," Weiss says. "It's nothing for us to see someone who wants a board who's 15 or who's 45. … Certainly, over the last 15 years, people have recognized that skateboarding is a legitimate activity."
While early skateboards were basically big, soft roller-skate wheels attached to pieces of wood, aficionados soon required smaller wheels and boards to execute flips or jump over a curb. However, those old-style boards are now making a comeback, Weiss says.
Cruising boards - longer boards with soft, fat wheels for stabilization - are perfect for those who want to learn a little balance and feel the wind in their hair, Weiss says. No acrobatics required.
"I just like the sensation of riding a skateboard," he says."You don't have to be the Simone Biles of skateboarding to ride."
Some customers are returning to skateboarding for the first time in decades, he says, perhaps to enjoy it with a teenager or younger child. Like vinyl records, skateboards have visual appeal as well, with imagery to represent any personal style, from cats to skulls.
"It's really fascinating and exciting to me that it's become something for everyone," he says.
Just like music.
Weiss embraces the same philosophy in his business, too.
"Everyone is welcome. The novice to the expert, the tween to folks my age and older," he says. "Everyone can feel comfortable at CI Records & Skates." 
CI Records & Skates has skate gear and music for everyone. Stop by in person or shop online at https://www.cirecordsandskates.com