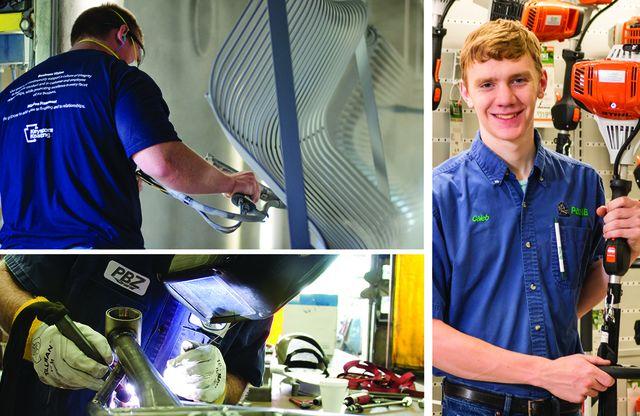 By Karen Triano Golin
Paul B. Zimmerman opened his small equipment repair shop in 1947. As business expanded into manufacturing, he began buying parts in bulk to serve the needs of local farmers. In time these buys transformed into a hardware store.
Today, this family-owned business employs over 300 people in the Lititz/Ephrata and Belleville/Mifflintown areas with three companies: PaulB Hardware, PBZ Manufacturing, and Keystone Koating, as well as several other brands and a wholesale division.
Paul B. Zimmerman, Inc.'s founder began the business to address the needs of his neighbors through innovative solutions to improve lives, and to serve his community in the spirit of Christ. Paul B's philosophy is sustained today by second, third and fourth generation family members and the entire team.
Appreciating that each new team member brings a fresh infusion of energy and ideas, Paul B. Zimmerman, Inc. creates opportunities for growth. Toolbox Academy is a structured training program for existing and rising leaders, aiming to mentor and empower team members to learn, grow, develop, and flourish.
Employee-supervisor relationships are taken very seriously as the company recognizes these relationships drive an employee's perspective of their workplace. To that end training is devoted to helping leaders identify the best ways to guide employees forward.
With a goal of caring for its employees, Paul B. Zimmerman, Inc. has built an internal wellness program, Abundant Health, to address their needs. Team members experiencing illness, loss of a loved one or personal issues are able to take accrued paid time off, apart from vacation days, to heal. Another aspect, the Paul B. Zimmerman, Inc. Cares Fund, provides financial assistance to those who have experienced catastrophic financial hardship.
The work-family atmosphere is demonstrated through annual company picnics, banquets, informal gatherings, and celebratory traditions. The company formally recognizes employees who have reached important milestones in their years of service, starting at 10 years. The longest tenured employee has been with the company for 38 years.
Leadership's desire to care for the whole person is ingrained in the culture and exemplified in Paul B. Zimmerman, Inc.'s first place award for Large Companies in LNP's Best Workplaces survey.
Ultimately Paul B. Zimmerman, Inc.'s success is rooted in the company's ability to provide opportunities for its team members to develop, and its capacity to serve the community.
Click here to learn more about Paul B. Zimmerman.
This article was originally published in the 2019 issue of Best Workplaces magazine. Best Workplaces is an annual employee survey project administered by LNP Media Group. The goal of the project is to provide companies in Lancaster County with free, benchmarked survey data across 56 dimensions of employee satisfaction. Best Workplaces magazine celebrates companies with the highest survey scores, by size and by industry category. To participate in Best Workplaces, contact Scott Kneisley at skneisley@lnpnews.com.