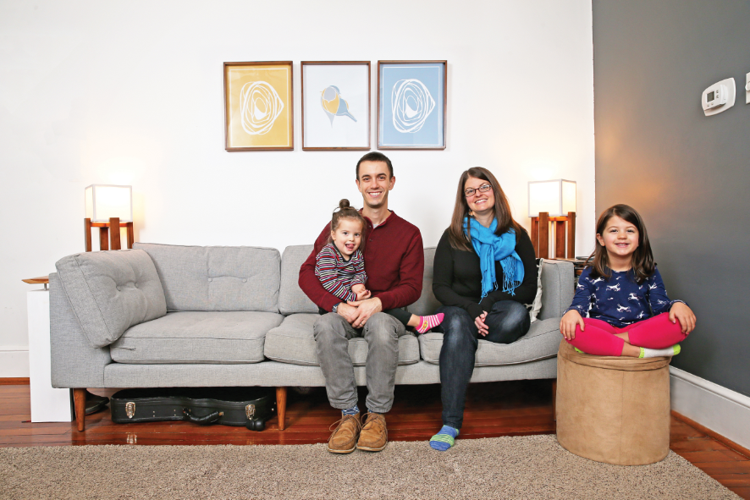 The aha moment for Nathan Grieser came in college, when he returned home from a fall semester abroad in a poor Peruvian town and ran smack into the height of the
Christmas shopping season. The stark contrast between the poverty he had just experienced and the consumerism he found at home gave him a clear sign that he wanted to live his life differently.
"That's where the sort of other-centeredness took root for me," he says. "I didn't want to get wrapped up in the drive to consume."
Instead, when he and wife Kate married, they made a commitment not only to one another but also to the idea of stewardship - using the resources and gifts that God has given them for something beyond their own benefit. For the Griesers and their daughters, Ivy, 5, and Juniper, 3, that means living a life of simplicity or, as Kate says, intentionality.
"It's thinking about how you view the resources you've been given - not just money, but water, electricity, your time and talents," she says. "Stewardship is intentionally making decisions that use those resources to build relationships that connect with others."
There's also a faith component: to honor all that God has created and given us.
The Griesers live out their stewardship by making their home in Lancaster city so they can own only one car, bike more often and reduce emissions. They save energy by doing laundry during the day and hanging it outside to dry. They grow some of their own food and try to purchase locally grown food as much as possible. They meet with an Everence Financial Consultant who helps them to plan their finances and resources in a way that resonates with their faith and values.  
And they share what they've learned with others as presenters at Stewardship University, an annual event sponsored by Everence Financial that brings resources from a variety of disciplines together to show what it means to use what we've been given to make the world a better place. Topics include everything from elevating your nutrition and preparing for retirement to business as a calling and finding mission opportunities close to home.
"We believe that life ought to be more than using what we have for our own pleasure and benefit," says Beryl Jantzi, Director of Stewardship Education for Everence.
Stewardship is different for everyone, but here are three key areas where you can try to be a good steward in your own life, whether your resources are vast or more limited:
Time
"One of the most difficult things to give away is our time," Jantzi says. We're all given the same number of hours in a day, but how do we use them? One way we can share our time is simply by giving our attention to others, whether that means befriending someone on the margins or visiting someone who is lonely.
Treasure
In terms of money, this might mean living below your means so you have something left over to give to others. "One of our goals in living simply is to enable generosity," Kate Grieser says. "I think that generosity is a really rich experience for the person who is giving. There's also a contentment that comes from deprioritizing the things that we want."
Talents
Jantzi likes to tell the story of a small-engine repairman who comes home from work and notices a neighbor kicking his lawn mower. He heads over with his toolbox and after a few tweaks the mower starts right up. The neighbor thanks him and asks him what he makes with all those tools. "Mainly, I make friends," the man replies. We all have a unique toolbox, Jantzi says. How can we use it to make someone's life a little better?
Everence Central Penn will host Stewardship University, a ministry partnership between Everence and the local faith community, on Saturday, March 7, at Calvary Church, 1051 Landis Valley Road. Workshops will focus on stewardship of time, talents, money, health and relationships. A Spanish-language track is also available. For more information or to register, visit StewardshipUniversity.com or contact Lynette Morales at 717-653-6662 or lynette.morales@everence.com.
Click here to learn more about Everence.