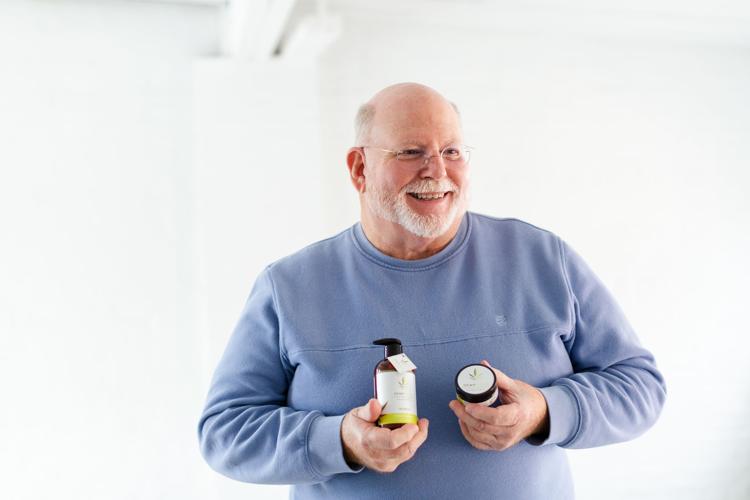 Gary Reitnouer had been suffering from hip pain for months, and it greatly affected his quality of life. He found it hard to sit or drive for more than 30 minutes at a time. Gary's orthopedist could not pinpoint the problem. Physical therapy and over-the-counter topical pain creams offered little relief. He was ready to try anything.
A retired math teacher, Gary learned that a former student worked at Hempfield Botanicals, so he started reading up on cannabidiol (CBD) to treat pain. He purchased the CBD topical salve and within a few weeks' time, he noticed a tremendous difference in his pain. He started off with two applications a day for the first couple of weeks, then went down to once a day, and eventually, every other day. 
Gary was finally able to make the six-hour drive to Norfolk, Virginia, to visit with his brother. His quality of life had greatly improved, all thanks to the CBD salve from Hempfield Botanicals.
Gary shared his success story with his orthopedist, who started recommending the Hempfield Botanicals product to other patients. Gary also continues to recommend Hempfield Botanical's CBD products to those he knows, and they, too, have experienced success in relieving their pain. Heather Kreider, who co-owns Hempfield Botanicals with her husband, is also a chronic pain sufferer. She says she will often encourage people to simply try their products to see if they would benefit from them. They have found that 95% – 96% love the product and find it helpful. Much of their business is word-of-mouth, thanks to success stories like Gary's.
When it comes to finding effective CBD products, Kreider stresses the importance of using the right types of products for your symptoms. Oral forms of CBD are systemic and take longer to get to the affected areas, whereas topical applications treat a specific, targeted area in a more concentrated way.
Aside from deciding on the right form, Kreider says that purchasing CBD products requires some consumer education. Not all products are effective because they don't contain the ingredients they claim. It is important to find a trustworthy and transparent company that makes products using high-quality and thoroughly tested ingredients.
That is what sets Hempfield Botanicals CBD products apart from others – the quality of their products and the high standards they meet. They offer all-natural, THC-free and full-spectrum CBD products that contain whole-plant hemp CBD extracts sourced from sustainable farms in the United States. Their products are made in a food-grade, quality-controlled, current Good Manufacturing Practice (cGMP) certified facility. They triple test every batch for potency, quality and purity to ensure consistent, effective products every time. Plus, each finished product batch is tested by Green Scientifics Labs to ensure quality and consistency.
Gary's story is proof that Hempfield Botanicals' CBD products can have a profound effect on those suffering from chronic pain. Heather Kreider says that is the core mission of the business – to provide products that give people hope and a better quality of life. 
Find out more at hempfieldbotanicals.com.
WARNINGS/CAUTIONS: THESE STATEMENTS HAVE NOT BEEN EVALUATED BY THE FOOD AND DRUG ADMINISTRATION (FDA). THESE PRODUCTS ARE NOT INTENDED TO DIAGNOSE, TREAT, CURE OR PREVENT ANY DISEASE. USE ONLY AS DIRECTED.