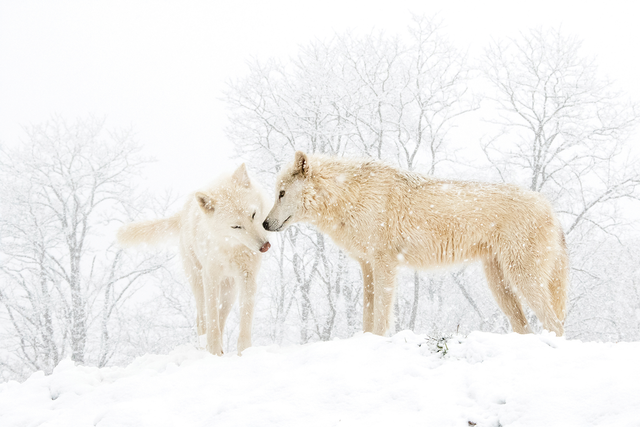 Four decades ago, Bill and Barbara Darlington started what is now Wolf Sanctuary of PA, caring for wolves and wolf-dogs on over 80 acres of woodland north of Lititz. Over the past 40 years, the private rescue has grown into an educational facility and home to over 50 wolves and wolf-dogs. Here are some fun facts about wolves and the sanctuary:
They are not pets - at least in Pennsylvania
While some states allow ownership of wolves or wolf-dog mixes, Pennsylvania does not. State law changed in the 1980s, making it illegal to keep wolves or wolf-dogs as pets without permits from the state game commission and the USDA. The Darlingtons had experience with wolves and began taking in new rescues, in need of a home, once the law changed. The sanctuary has continued their mission to rescue wolves and wolf-dogs in need. Many of the rescue wolves at the sanctuary come from households both in and out of state. Some were confiscated due to illegal ownership. Others were turned over by owners who could no longer care for them, says Michelle Mancini, the sanctuary's education coordinator
They really do have a pack mentality
Wolves want to be with their pack 24/7. It's one of the reasons wolves and wolf-dogs do not make great pets. When they live in a home, they consider humans part of their pack, and they suffer intense separation anxiety when their humans leave to go to work or run errands. "They feel like they've been abandoned," Mancini says.
Two's a pack
In the wild, wolves generally live in packs of five to seven - large enough to hunt big prey, like elk and bison, and to protect their pack territory. At the Wolf Sanctuary, where they are fed raw meat and do not have to worry about outside threats, they live in packs of two to six. "A pack of two gives them that companionship, someone to play with and spend time with," Mancini says. "It's difficult to introduce a bunch of different personalities to each other when they didn't grow up together." When a new rescue comes to the sanctuary, they try to match them with at least one companion who has a compatible personality.
Charted territory
Each wolf pack at the sanctuary lives in a fenced-in area of forest ranging from 1 to 3 acres. The age of the wolves, the number in their pack and their physical condition can all affect the size of their territory
Pet, but don't play
Many of the wolves were raised around people and enjoy human contact, so their caretakers at the sanctuary continue that socialization. Other wolves are instinctively afraid of people, Mancini says. "We respect their space." No matter how social a wolf or wolf-dog may be, the sanctuary volunteers avoid playing with them. "We try to make sure they have a companion for that," she says. "They play very, very rough, and we know their jaw pressure is stronger than the average dog."
Wolves love winter
Wolves have two layers of fur that allow them to survive in very cold temperatures: a soft, dense under layer like wool to keep them warm and a thick outer layer with oils to repel water. "This time of year they are just loving the cold weather," Mancini says.
Winter is a great time to visit the Wolf Sanctuary of PA, because they are more active, playful and easily visible. Public tours are available at noon Saturdays and Sundays from October to May. Reservations are not required but gates close promptly at noon, so guests are encouraged to arrive early. Tours begin at 10 a.m. during warmer months. Guided tours are also available at 10 a.m. Tuesdays and Thursdays year-round. Online reservations are required. Private tours are available by reservation Saturday and Sunday and by appointment Monday, Wednesday and Friday. Full moon events, featuring a bonfire and entertainment, are held Saturday evenings closest to a full moon throughout most of the year. Visit wolfsanctuarypa.org for more information.