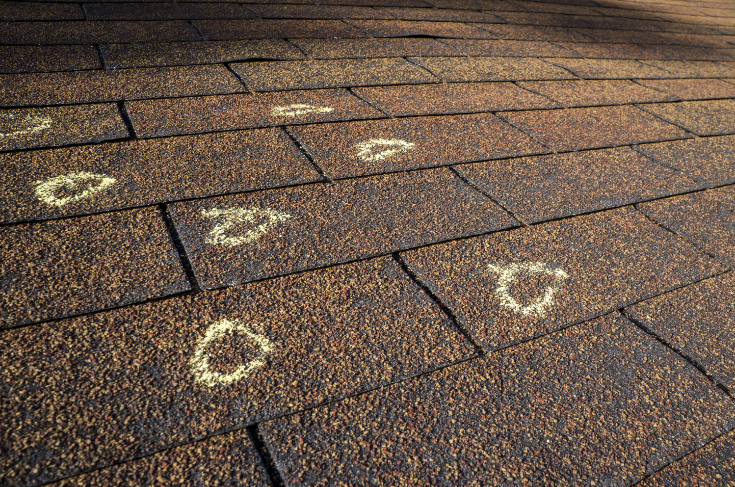 Thunderstorms are always a threat this time of year, but we are in the middle of an exceptionally stormy season in Lancaster County. Nearly every week has brought the threat of severe weather, from damaging winds and even tornadoes to flooding downpours and large hail.
While some storm damage is obvious – your basement is flooded or a large tree limb falls onto your home – other damage can be harder to detect. That is often the case with hail, especially when it comes to your roof.
That's why it's important to take these steps after a hail storm hits your neighborhood:
Don't assume your roof is OK
Just because you can't see a torn or missing shingle or a hole in your roof doesn't mean the damage isn't there. While hail 2 inches and larger is almost guaranteed to cause visible damage, even hail smaller than a quarter can leave its mark on your asphalt shingles or protective metal flashing. Hail can crack shingles and loosen the granules that form their protective top layer, making them more vulnerable to additional damage in the future from storms or the sun's ultraviolet rays. Even the smallest puncture in your roof's waterproofing layer can allow rainwater through the roof deck and into your attic, causing significant damage. And don't forget: Hail damage can void the manufacturer's warranty on your roof.
Consult a professional roofing contractor
Most homeowners lack the safety knowledge and roofing expertise to adequately inspect and repair a roof themselves. In fact, they can actually make matters worse. Choose a contractor who is Haag certified, meaning they have been specifically trained to inspect and assess roof damage. An experienced professional knows the difference between normal wear and tear and the damage caused by hail. They can detect hard-to-find damage, especially on textured roofing materials like dimensional or architectural shingles, and they can spot shallow dents in the outer roofing material that may be deep enough to bruise the waterproofing layer.
Get an inspection
Professional roofing contractors are qualified to work directly with your insurance company to find the best options to get your roof back in shape. Once your roofing contractor inspects your roof, they can determine whether it should be repaired or replaced.
File an insurance claim
If your roofing contractor's evaluation warrants filing an insurance claim, do it promptly. The insurance company will send an adjuster to your home to inspect the damage and process the claim. Make sure to schedule the adjuster's visit at a time when your roofing contractor can also be present. An insurance adjuster will follow a home inspection checklist when determining the damage to your roof. Your roofing contractor will represent your interests and ensure that the adjuster is aware of all damages so you are only left paying your deductible. A hailstorm is considered an "act of God" and is covered under most homeowner's insurance policies, no matter the age of the roof.
Get your roof back in shape
Once your claim is approved, it's time to review the details of the insurance coverage with your roofing contractor and make sure you understand the work and the warranty your contractor will provide. With all your questions answered, you can sign a contract and get that new or repaired roof over your head.
Greenawalt Roofing is a CertainTeed 5-Star SELECT ShingleMaster and TAMKO Pro Certified contractor. Our Haag-certified storm team experts are trained to inspect and assess hail damage. Call 717-898-6000 or visit greenawaltroofing.com to schedule a free hail inspection with one of our hail damage experts.