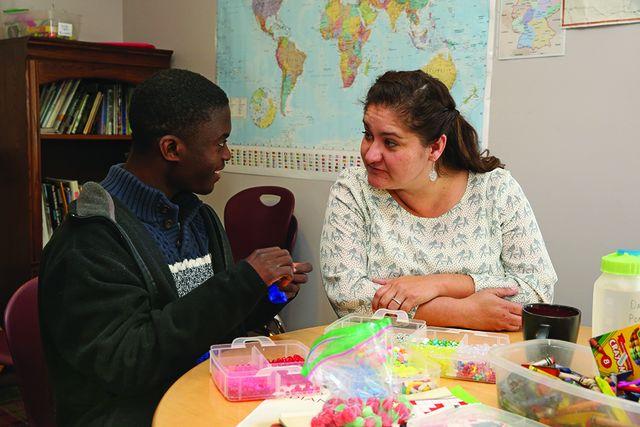 By Karen Triano Golin
Friendship Community is an organization like no other.
Nothing they do is about limitations or can't or restrictions. It's about impacting the world by cultivating capabilities in adults nineteen and older who have intellectual disabilities.
Parents of children with intellectual disabilities founded Friendship Community to ensure provision and care for them as they grew to adulthood. The ground breaking nature of this isn't as apparent today as it was in 1972 when the organization established the first group home in Lancaster County. Today over 200 people are served in 27 group homes in Lancaster and Lebanon counties, and through three day programs.
Friendship Community is a leader in developing programs and customized plans that meet the needs of those they serve so individuals can grow, flourish and be as independent as possible. The overarching goal of Meaningful Day Academy is for participants to achieve employment or volunteer status which fosters community integration and skills development.
One of the organization's most innovative programs is Friendship Heart Studio where professional artists lead classes. Participants' creations are showcased for sale which contributes to both the artists' economic independence and supports the program's ongoing success.
Achievements like these occur within Friendship Community's supportive environment. Their 350+ team members receive specialized and ongoing training. This training is one of the reasons for Friendship Community's third place award in the Large Company category in LNP's Best Workplaces survey.
Friendship Community encourages those looking for a first career or a career change to join their team. Love for the individuals they support is one of the most constant attributes among team members. The strong bonds created through meaningful relationships help team members learn as much about themselves as they do for the individuals in their care.
In a world where it's easy to dwell on the negatives, Friendship Community focuses heavily on the positives. They welcome those with an innate desire to help, who are looking for something bigger, and want to become part of an organization that makes a difference for the individuals they serve. Ultimately, as a Friendship Community team member, you will become a friend to someone. What's better in the world than that?
Click here to learn more about Friendship Community.
This article was originally published in the 2019 issue of Best Workplaces magazine. Best Workplaces is an annual employee survey project administered by LNP Media Group. The goal of the project is to provide companies in Lancaster County with free, benchmarked survey data across 56 dimensions of employee satisfaction. Best Workplaces magazine celebrates companies with the highest survey scores, by size and by industry category. To participate in Best Workplaces, contact Scott Kneisley at skneisley@lnpnews.com.