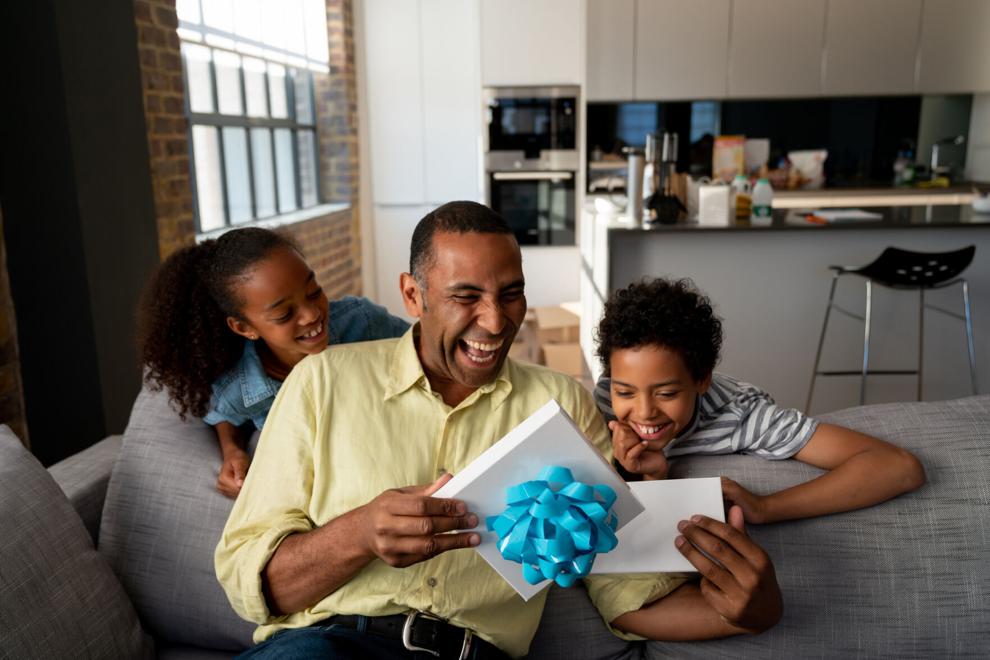 Father's Day is just around the corner, so it is time to start shopping for that perfect gift! Luckily, Brookstone has you covered with a variety of gifts for any type of dad – outdoors, cooking, technology, and more. Here is a list of our ten favorite gifts under $50 available from Brookstone!
Tired of hearing the jingle-jangle of your dad's keychain that make him look like the manager of an apartment complex with a carabineer clip overloaded with keys? Is he prone to losing his keys or smartphone often? Then this is the perfect gift!
With the KeySmart Pro Compact Key Holder, dad can organize up to 10 keys in this slim keychain. It also includes a bottle opener and ultra-bright LED flashlight. The battery indicator light will remind you when it is time to recharge about every 45 days.
The KeySmart Pro also includes a Tile, so if dad loses his keys, he can use his smartphone to locate them. Is he prone to misplacing his smartphone? He can also use the Tile on the key holder to locate his smartphone, even if it is on silent! Pick up this fun gadget by clicking here.
Summer is here and it is HOT! Save dad from watered down drinks with this set that includes extra-large food-grade stainless steel, corrosion-resistant whiskey chilling stones. The set also includes two durable lead-free 11-ounce crystal whiskey glasses, two slate stone coasters, a velvet pouch, and special tongs in a pinewood box. Dad will be feeling fancy with this set that is sure to elevate his drinking experience! Order the set by clicking here.
Is your dad more of a beer guy? Brookstone has you covered with this set of three double-walled beer glasses. Each 16-ounce glass is handmade with borosilicate glass, which strengthens them by 30% so they can withstand the wear and tear of everyday use.
Each set includes the following types of glasses:
- Weizen: Minimalist glass that retains the fragrance of wheat beers such as Weizen, Hefeweizen, Weizenbock, and Witbiers.
- Pint: A recessed bottom makes this glass comfortable to hold with a wide rim that radiates the aroma of the beer. This is great for top-fermented beer, such as Stouts, Porters, IPAs, and Pale Ales.
- Lager: The long and narrow shapes allow the bubbles to rise through the beer to a frothy foam top. This is great for Pilsners, golden brews, and fruit beers.
Pick up this set for Father's Day by clicking here.
Dads LOVE to grill. Give him the gift that lets him show off his grill skills wherever he goes with this BBQ Crock COOL GRILL. The cooler bag has two compartments – the inner compartment is a cooler to carry cold food and drinks, and the outer compartment carries the grill and components.
The carbon steel grill can easily hold up to four burgers on its 87-inch grilling area, and when assembled is only 10.5 inches by 9.5 inches high. The cooler has a 1-gallon capacity and is made with a PVC and nylon waterproof coating, measuring 9.75 inches by 7 inches – small enough to fit almost anywhere.
This set is light, practical, and easy to set up for Dad to take anywhere to get his grill on. Pick up this set by clicking here.
Your Dad may think he has all the cool grilling accessories out there, but does he have these bad boys? These skewers make grilling kabobs a breeze by eliminating the mess that comes with pulling the food off, which usually results in meat and vegetables being flung across picnic tables only to end up on the ground.
Each skewer has nine individual prongs that allow you to slide deliciously grilled food off without the mess. They are dishwasher safe, made of a single piece of brushed stainless steel, and can be used either on the grill or in the oven. Purchase a four-pack of these fun skewers by clicking here.
This set comes with six solid wood jumbo dice, five large reusable score cards, collapsible bucket, lid, and marker for a complete yard dice set you can play over 20 games with! They are weather and water resistant, and can be used indoors or outdoors. This would be a great gift for dad before all those cookouts over the summer for some quality family time. Check them out here!
Save dad the trouble of dragging around a cooler full of ice this summer with The Chiller. Just throw The Chiller in the freezer and when ready for use, load it with three 12 to 16-ounce sized beverages, or larger sized bottles, of your choice. The Chiller will cool drinks in as little as 30 minutes, or at a rate of 20 degrees per hour, and remain cool for 6+ hours with the freezing gels within its walls.
The Chiller is also super durable and built to last forever, making it great for day trips to the beach, hiking, road trips, tailgates, and more. You can purchase The Chiller by clicking here.
This small 2.3-inch speaker packs a punch with its built-in reinforced subwoofer so dad can take his tunes anywhere his heart desires! With 3 watts of power, it can play for 6 hours straight on its highly efficient Lithium Polymer battery before needing a recharge. Not only does it sound amazing, the Geo Speaker features a cool design that comes in three colors with LED-lit edges. You may want to pick one of these up for yourself too! They are available here.
This Qi-compatible charger matches the Geo Bluetooth Edge Design Speaker, which is sure to add some style to dad's home office or work office desk. This charger has LED-lit edges and charges up to 7.5W for iPhones and up to 10W for Android devices. If the charger detects a foreign object, it will stop charging for safety. The Geo Charger is available here.
Dad is sure to appreciate this power bank with its iconic cassette player look that is guaranteed to bring up some nostalgia while reminiscing about his earlier days. Not only is it a great conversation piece, it will keep all of dads gadgets fully charged when he is on the go. The 16,000 mAh battery can charge up to three devices at once via USB-3.0(QC), USB-C & 10W fast Wireless charging for Qi-enabled devices! Pick up this fun power bank here.
This article contains affiliate links. If you purchase from the links in this article, we may earn a commission.