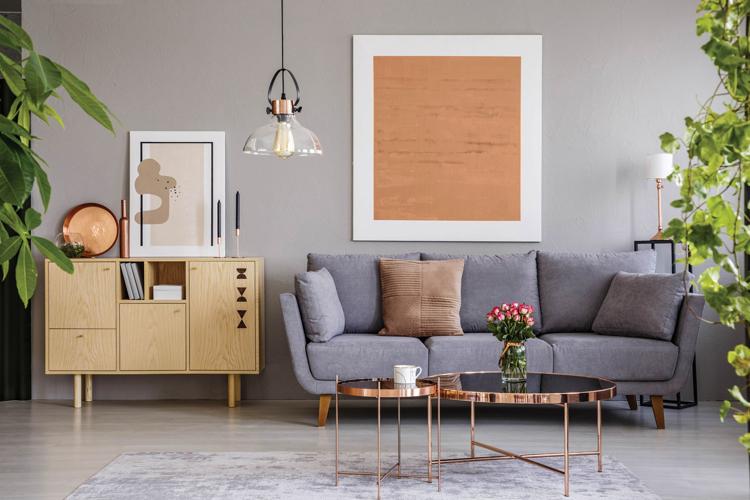 Your home should reflect your lifestyle and personality, not necessarily the latest trends. However, new color and design trends can offer a fun way to update a tired-looking home or workplace. Here are some trends we see for 2020:
The Blues
Navy and shades of blue will continue to trend in 2020. We've seen so much blue in home décor the last few years, but the difference in 2020 will be that the blues will trend warmer.
A Warmer Gray
Cooler grays are trending deeper, with more bronze and warm undertones. There's also less gray-on-gray decorating with different shades.
Black is Back
Today, black is more than an accent. We are starting to see an increase in black cabinetry for the kitchen and the use of black for home exteriors, with black and white providing a bold contrast. This includes black windows, front doors and interior doors with white trim. Fueling this trend is the growing popularity of the industrial home design style, especially among young homeowners.
Gold & Brass
Have you noticed gold and brass recently?
We first started to see it in fashion and jewelry. Now it's strong in home décor, such as plumbing and lighting fixtures. They first started in the matte finish but this coming year, polished brass is back. Brushed nickel is trending toward pewter, which looks more vintage and antique. It pairs well with stainless steel appliances.
In The Pink
Blush pinks are the new twist on the 1980s mauve. Mix it with soft white and bronze browns for an updated combination. Wine and amethyst are also turning up in the combination with warm grays and blacks.
Industrial/Modern Farmhouse
Industrial mixed with a touch of modern farmhouse is one of the biggest home design trends you can expect to see in 2020. Think exposed beams, lighter shades of wood and artisan metal finishes mixed with textures. The mixing of old and new that leans toward classic styles is replacing cold modern styles.
Back To Nature
The popularity of wood and stone for flooring and natural fibers for fabrics and rugs continues. Marble and stone for countertops are also popular. Quartz countertops that look like marble and granite are en vogue due to their low maintenance. Wallpaper with flower patterns and grass cloth for the walls are popular again, along with metallic and pearl finishes. With nature in mind, shades of green ranging from green/blues to deep dark emerald to muted sage and gray greens started showing up in home décor this past year. Warm chocolate browns with wine, golden yellows and warm greens are also returning after the cool tones of gray.
"Trends come and go, so I always coordinate the colors and designs to the client's lifestyle and personality so they can enjoy their new decorating project for several years. Depending on the current look of the home or workplace, a few new accessories, artwork, wall paint, accent furniture and minor changes can really update a tired-looking space." – Heritage Design Interiors
Learn more at https://heritagedesigninteriors.com/