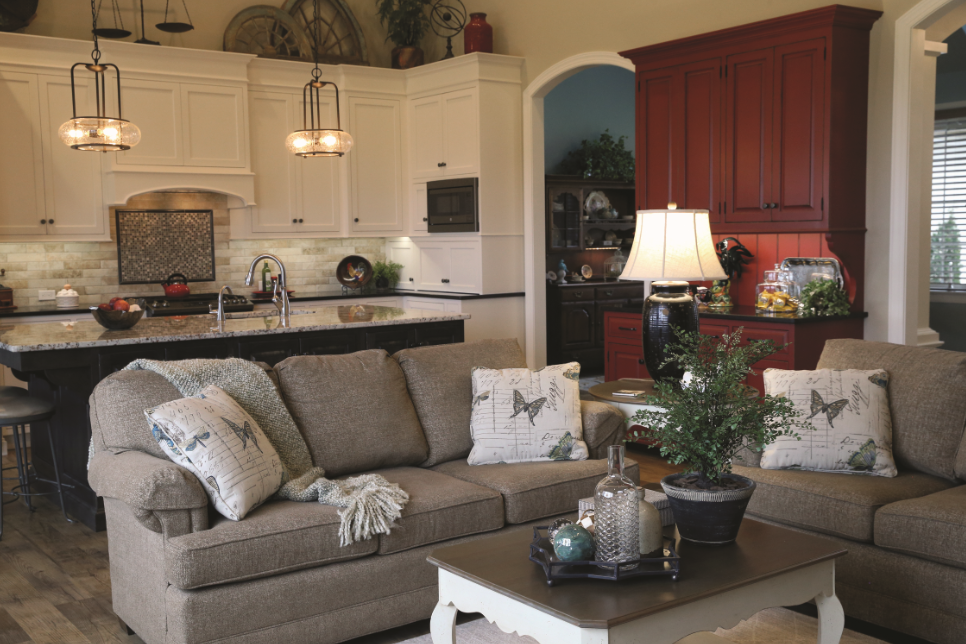 A designer is equal parts detective, psychologist, teacher and artist.
That's the holistic philosophy that Kathy Shenk, owner of Interior Fancies, and her team bring to every project. Kathy started her interior design business in 1995, after two years in the interior design field and a diploma of Interior and Environmental Design from Pennsylvania College of Art & Design.  Over the ensuing years, her philosophy has proved successful as her business, her team and her roster of clients have flourished. 
Whether the client is a business or homeowner, young and just starting out, or a retired couple who are downsizing, the best way to figure out what they want is to ask questions, she says. "Many times, the client is unsure where to begin.  They may have a favorite picture, rug, color, or antique piece, which offer a very good place to start."  
The beautiful antique lamp inherited from grandma or the gorgeous painting from a local artist can become the perfect launching point for the design of a room.  The soft greens and blues of the lamp, or the warm sunset hues of the painting can set the tone for the room.  While Shenk advises that developing a design can evolve from favorite things, it also develops by having trust in the designer to take you where you want to go. 
"Part of the discovery is asking many questions," says Shenk.  "That's how I take my cues."
Is this your first home?
Are you downsizing?
Do you…
    • Love to cook?
    • Work from home?
    • Have a favorite color?
    • Like formal décor or do you
        prefer more casual living?
    • Like clean, sleek lines?
    • Love antiques?
    • Have family photographs
        you want to display?
    • Like to entertain?
    • Have a big family?
    • Like bright, sunny space
        or a cozy feel?
    • Need space for kids to do
        homework?
    • Need a drop zone for coats,
        boots, and keys?
    • Need a fitness center or a
        playroom?
    • Have pets?
That is just the start. Understanding what will fulfill the dreams of a homeowner or business requires visual references too.  Clients are shown options of different room styles, colors, finishes, wallpaper, furniture, cabinetry, countertops, paints, flooring, rugs, lighting, plumbing fixtures, architectural features and more.  
"We need to learn their decision-making style.  Do they decide quickly or do they prefer to mull things over?  It's our job to get to know them and to educate them on what is available.  Often this introduces the client to things they may not have considered."
Shenk recalls a recent client who wanted to create a quiet oasis master bedroom and en suite bathroom.  For this room, they wanted something that would be a departure from the rest of the home, which was more ornate and formal.  Shenk helped them realize a bedroom suite that was quiet and calming, providing a respite from the busy world.  With details like dark stained white oak bedroom  floor, a beautiful ledgestone fireplace, textured wallpaper, coffered ceiling highlighted with ambient lighting, white marble bathroom floor, gray cabinetry and brushed gold fixtures.  Shenk was able to create a stunning sanctuary.
Extras like a custom shoe cabinet disguised as an antique European armoire, restful soaking tub, his-and-her vanities, make-up vanity, and shower with body sprays completed the made-to-order bedroom suite for the couple, who are on their way to becoming empty-nesters.
Shenk might have done her job a little too well.  Not long ago, her client called to "complain" that the bedroom and bath were so inviting and restful that their visiting adult children and grandchildren indicated they might use it as their Airbnb when the parents are out of town.
"The goal of our design team at Interior Fancies is to create rooms that bring beauty as well as function, a space to call their own." Shenk says.