Seeing a major comet is far more common than the political phenomenon that will occur in Pennsylvania two years from now.
So-called great comets, on average, are visible every five years from different parts of earth, according to EarthSky.org.
Pennsylvania governor's races occur every four years, and U.S. Senate races every six (though with two senators, there's typically a race two times every six years).
What makes 2022 so unique is that for the first time in decades, both the governor and U.S. Senate races will be on the ballot as open seats.
That means there is no incumbent running. And that means a candidate with the right message, millions of dollars raised, and a dash of luck, could become the state's chief executive or one of a 100-member body in Washington that gave the country two of the past three presidents, Barack Obama and Joe Biden.
"It's rare," said G. Terry Madonna, political science professor at Franklin & Marshall College.
The state's two-term limit means Gov. Tom Wolf, a Democrat, will leave office at the end of 2022. The Senate seat is open because the Republican incumbent, Patrick Toomey, decided not to run again.
Political analysts say the two openings will bring out dozens of potential candidates, some who will make a show of testing the waters, while others jump right in with official campaigns. Almost half of the state's congressional delegation is interested or being mentioned as potential candidates, and Dave Reed, the Indiana County Republican who was state House majority leader from 2015 to 2019, told The Caucus he's weighing his options.
Thomas Baldino, former political science professor at Wilkes University in Wilkes-Barre, said records show an open Senate and governors race haven't happened in the same year since before 1974, the year former Gov. Milton Shapp ran for re-election. Prior to Shapp's first election, governors were limited to one term, which increased the probability of a Senate and governor's race having happened the same year, said Baldino, who is co-authoring a book on Pennsylvania government and politics.
Starting next year, both contests will get underway. So who might run?
What follows is not a list of actual candidates (one lawmaker was not even aware that one DC insider publication had included him as a potential Senate candidate). Instead, consider this a list of people being mentioned in political circles, political publications and touted by insiders.
---
The Donald Junior?
The Republicans' farm team is stacked with potential, but lacks a candidate significant statewide name recognition. The first hurdle of a viable statewide candidacy is name recognition, said Jerry Shuster, a University of Pittsburgh professor who teaches political rhetoric. To get recognition statewide takes an investment in political advertising.
Though it ranks low on the probability scale, one Republican, Donald Trump Jr., wouldn't have to overcome the recognition hurdle: He's got plenty of name ID.
GOP insiders say there's been talk of the president's son moving to Northeastern Pennsylvania -- where he hunts -- to establish residency and run for one of the two offices. Efforts to reach Donald Trump Jr. through the White House and Trump campaign press offices were unsuccessful.
---
The Dems
Democrats, at this point, appear to have an advantage with two candidates with statewide experience and name recognition: Attorney General Josh Shapiro, whose base is in a Philadelphia collar county, and Lt. Gov. John Fetterman, of Braddock in the state's southwest.
"I think the Democrats have a functional, formidable and prime candidate in Josh Shapiro," said Shuster. "I am not saying he is going to win it all, but he is an effective and dynamic attorney general."
Shapiro was actually trailing virtual unknown Heather Heidelbaugh, a Pittsburgh trial lawyer, when the polls closed last week. Noticeably, he never panicked as the slow counting of mail-ballots progressed, giving him a comfortable four-point win.
Lemoyne Attorney Dick Stewart, co-chair of the Central Caucus of Republican State Committee, saw that as a weak showing that took the shine off Shapiro's victory. But Shuster says it will be forgotten as the governor's race begins to heat up next year.
Fetterman, meanwhile, ran for the U.S. Senate in 2016 and finished third in that year's Democratic primary. Most political observers have said they believe that is the office he would seek in 2022, but Fetterman told The Caucus he is considering both options.
"I'll look at them both, the pluses and minuses…In the end I'll choose the one where I can make most contributions," said Fetterman.
Wes Leckrone, a political science professor at Widener University, said he believes support for a Democratic candidate for Senate will coalesce around a woman, given the results in the once red -- now bright blue -- Philadelphia suburbs in 2018 and 2020.
"I see a lot of strength in Southeastern Pennsylvania," Leckrone said, and women are key to that vote.
Examples of women as Democratic contenders include Rep. Madeleine Dean, of Montgomery County, and Montgomery County Commission Chairman Val Arkoosh, a physician, said Leckrone.
Treasurer Joe Torsella was considered a possible candidate for Senate or governor, but he was defeated for re-election by political newcomer Stacy Garrity. Auditor General Eugene DePasquale, of York County, was long viewed as having statewide aspirations, but he lost the 10th District congressional race to incumbent Scott Perry, a retired Brigadier General.
"I don't see Torsella or DePasquale as viable," in 2022, said Berwood Yost, director of the Center for Opinion Research at Franklin & Marshall College.
Yost said he believed DePasquale and Torsella, after their losses, might find it hard to raise campaign money in the short term. Noting the late Gov. Robert Casey lost three times before winning, Yost said, "They can certainly come back. It's just now their profile is certainly diminished."
In addition to Dean, other Democratic members of the state's congressional delegation considered as possible 2022 candidates include Chrissy Houlahan, whose district includes Chester County, Brendan Boyle out of Philadelphia, and Conor Lamb of Allegheny and Beaver counties. Another name mentioned is that of state Sen. Sharif Street of Philadelphia.
---
GOP long list
Among the Republicans whose names come up for either race are William McSwain, the Trump-appointed U.S. Attorney in Philadelphia; former Lt. Gov. Jim Cawley of Bucks County, U.S. Reps. Scott Perry of York County, Dan Meuser of Luzerne County, Guy Reschenthaler of Allegheny County and Glenn Thompson of Centre County.
In the state Senate, potential GOP candidates include Scott Martin of Lancaster County, Mike Regan of York County, Doug Mastriano of Franklin County, and Camera Bartolotta of Fayette County.
Mastriano spoke at many of the ReOpen PA rallies outside the state Capitol over the summer, and there were more than a few unofficial "Mastriano for governor" signs spotted in the crowds.
In the Pennsylvania House, Republican Tarah Toohil of Luzerne County is said to be deciding on a run for one of the seats.
Paul Mango, an Allegheny County Republican, now with the Trump administration at Health and Human Services, made an unsuccessful bid for governor in 2018.
It's too early to handicap the 2022 GOP primary for governor and Senate, said Stewart of the state Republican Committee.
These names are bandied about by political insiders who don't know -- because most of the pols don't know -- which office they might seek, if any. Democrats interested in a run for governor could see their path effectively blocked by Shapiro. On the GOP side, Regan is frequently mentioned for governor, as is Mastriano.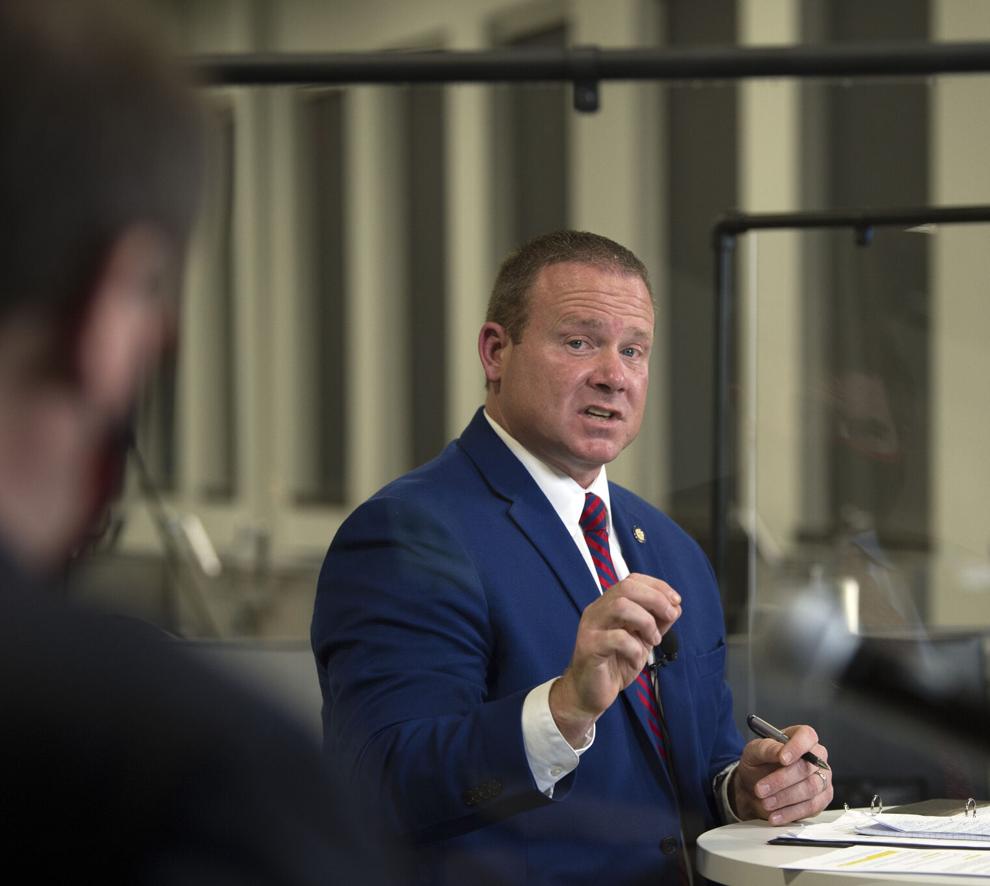 ---
Martin for Senate?
Two days after he was re-elected to his Lancaster County state Senate seat, Scott Martin was mentioned in a prestigious Washington, D.C., publication as a potential candidate for the U.S. Senate seat held by Sen. Patrick Toomey, R-Allentown, who isn't running again. The article, in the Capitol Hill newspaper Roll Call, was a survey of possible 2022 Senate candidates across the country.
Martin drew a mention, in part, because he easily defeated his Democratic challenger, Janet Diaz, who raised $1.5 million from state and national Democrats hoping to flip control of the Senate.
Asked for a comment, Martin responded in an emailed statement, "It's flattering to have folks think of me in that fashion in those conversations. However, I feel it is important right now for me to focus on completing our state budget and safely working towards bringing our economy back and steering the commonwealth to the strong financial position we were in prior to COVID-19."
Note that in his response, Martin doesn't rule out a run. And if he ran and lost in either the primary or general election, he'd still have his seat in the legislature to return to.