Bryan Cutler is sitting in his cluttered corner office in the state Capitol on the day after he was named to the second-most-powerful spot in the Pennsylvania House of Representatives — and he's rattling off the names of all his school teachers as if they're the ones who just elected him.
One in high school helped him overcome his fear of public speaking. Another made him a better debater.
His elementary school teachers, he said, naming them one by one, taught him "the value of hard work" after they had written things like, "doesn't work well with others" and "couldn't work quietly" on his report cards.
"My personal favorite was, 'Doesn't know when recess ends and class time resumes,'" laughed the 43-year-old state lawmaker, recalling decades-old comments from his near-photographic memory.
Cutler's colleagues and friends have their own descriptions of the man who is now the highest-ranking House lawmaker from Lancaster County in nearly a century.
Cutler, they say, is humble, bright and deeply rooted in the local community.
From his family's two centuries in Drumore Township to the unlikely health tragedies that spurred his neighbors to rally around his household when he was a teenager, Cutler is a product of that community.
It's what led him to run against an unpopular incumbent representative from his own party when he was a young X-ray technologist with no experience in politics, and it's what drove him to actively seek a statewide leadership role in the dozen years since.
And now, as a soon-to-be seven-term legislator selected by his House GOP colleagues to serve as majority leader, he's bringing those Solanco roots to the inner circles of the Capitol in Harrisburg.
'Jewels of the community'
Long before Cutler gave politics any thought at all, he knew he wanted to become a lawyer.
An attempted-murder trial was taking place in Lancaster County. Cutler was in seventh grade, and the mother of schoolmate Andrew Oltsman took the boys to shadow an assistant district attorney for a day in court.
The lawyers' back-and-forth and the "formality of the courtroom" fascinated the young Cutler. He remembers the thrill of the attorneys showing jurors the rifle in a plastic evidence bag, and he remembers being "terrified" while sitting right behind the defendant.
Cutler would eventually get his law degree from Widener University when he was 31, but the prospects of getting it at all had become far from certain.
When he was 15, his mother became terminally ill and was diagnosed with ALS, or "Lou Gehrig's Disease." A few months later, his father was diagnosed with the same thing — defying the odds that Cutler has described as one-in-a-quarter-million for a couple to both be diagnosed with the disease.
Cutler's father, Gary, died two years later, in 1993, when Cutler was a senior at Solanco High School. His mother, Joyce, lived until 1999.
"It hit the community as just a total shock," said state Sen. Ryan Aument, who grew up a quarter-mile down the road from the Cutlers and went through school two years behind Cutler with Cutler's younger sister, Karen.
Aument recalled how well-known and active Gary and Joyce Cutler were in the community — how they would come into their classrooms in second and third grade to show their collection of arrowheads.
"To see how Bryan and Karen came through that experience, through their teenage years, the responsibility thrust on their shoulders as caregivers, and they both have turned out jewels of the community," Aument said.
Oltsman, now a patent lawyer in Harrisburg, echoed Aument and others in saying the experience made Cutler "grow up really fast."
"He is the most upbeat guy," and even with taking care of the household during those years he didn't complain, Oltsman said.
Cutler said it was clearly a formative time — when extended family and the church helped cut firewood, plow snow and cook "more food than you know what to do with."
"It's easy to be accepting in a situation like that when you have that kind of social safety net around you — because while it's certainly very tragic, it's also comforting to know you have friends and family like that," said Cutler.
His strong faith also played an important role, said Cutler, who is a member of Wrightsdale Baptist Church.
Ultimately, the support he got through his parents' illnesses inspired a deep, unwavering desire to give back.
From X-rays to law school
After graduating from Solanco, Cutler and his high school sweetheart, Jennifer, married and stayed local. She became a registered nurse and he became an X-ray technologist after getting a two-year degree through what is now the Pennsylvania College of Health Sciences.
The career move was part family-related, as his mom and grandmother were nurses and his parents' illnesses pushed him toward health care. It was also part chance — he befriended an X-ray tech while getting several scans himself for high school track injuries.
A few years later, Cutler went back to school after working second and third shifts at Lancaster General Hospital, earning a bachelor's degree in healthcare administration when he was 26. He was promoted to a management position in the radiology department, where he oversaw all the components not related to direct patient care — from billing and charging to outpatient registration and the room full of folders of X-rays.
Meanwhile, he said he and Jennifer couldn't sever the history of living in a township where his family had come as Quakers in 1800. So they bought his childhood home — nearly 11 acres that used to be part of his grandfather's dairy farm. Their three children — Cheyanne, 15, Caleb, 13 and Drew, 10 — along with their own chickens, sheep, ducks, dogs and cats, would come later.
At 28, Cutler returned to school again — this time for that law degree that had been on his mind. He quit his management gig and worked part-time again as an X-ray tech. The photographic memory, he said, came in handy when he began studying case law (and later the fine details of legislation for floor debates).
But by his third year of law school, he began setting his sights on another, much larger, role.
Budding political leader
In 2005, the sitting incumbent in the 100th Legislative District covering all of the southern end was Rep. Gibson. C. Armstrong, son of the then-influential state senator in the area, Gibson E. Armstrong.
That summer, Rep. Armstrong voted against a controversial legislative pay raise, but accepted the increase before later returning it to the state.
The pay raise — which was later repealed — spurred criticism of Armstrong and other lawmakers, but even before that flare-up Cutler began looking at the seat because of his desire to give back and what he says were feelings among residents that the district deserved better representation.
Cutler and others interviewed for this article declined to be more specific about frustrations with Armstrong.
Aument, who had by then returned to the Solanco area after serving in the U.S. Army, was also considering running. The young duo teamed up for the 2006 election.
"We planned a campaign without having decided who was going to be the candidate," said Aument. In the end, he said it was the "deep connection between Bryan and southern Lancaster County," especially after the community had rallied around his family during the illnesses, that made him decide Cutler was the better candidate.
Aument became the campaign manager. They blocked the powerful Republican Committee of Lancaster County endorsement and won the primary by 15 points, a "huge assist" coming from the pay raise that led to more than a few upsets that year of lawmakers who had supported or collected the increase, or both.
"Reforming the culture in Harrisburg was central to the message of that campaign," said Aument, who served as Cutler's chief of staff before later winning another state House seat and serving alongside his friend in Harrisburg.
'He never sat still'
Cutler won the 2006 primary on a Tuesday in May and graduated from law school the following Saturday.
An amateur triathlete who completed a half-Iron Man and once rode his bike 162 miles from Quarryville to Ocean City, Maryland, in eight hours — in mostly pouring rain — Cutler has a hard time sitting still.
And that was evident from his first days in the Capitol.
On the floor, where seats and tables for the 203 members are aligned in long rows, he sat in a middle seat next to Rep. David Hickernell, of Elizabethtown, and Rep. Katie True, who preceded Aument in the East Hempfield-area House district Aument represented before being elected to the state Senate.
"That was the worst seat he possibly could get because he drank a lot of water. He was very healthy and he was running at the time," recalled True. "He'd be all into looking at the bills and he would be up and down, out of that chair, and I finally said to him, 'You really need to get an aisle seat.' He never sat still."
Cutler quickly became known for doing his research and being direct and honest with his colleagues.
He was level-headed and calm, compromising but could show a stubborn streak. Not one person interviewed for this story could name a single time they've seen him lose his cool — a perhaps infrequent characteristic for Pennsylvania's top legislative leaders.
Rep. Seth Grove, a southern York County Republican, was among many who said Cutler was personable, strategic and commanded respect on both sides of the aisle. He focuses on solving problems, Grove said, rather than the partisan divide that bogs down so many debates in Harrisburg.
Rep. Frank Dermody, an Allegheny County Democrat who will be opposite Cutler as minority leader, said through a spokesman that he and Cutler have worked constructively in the past and will do so again.
"Rep. Cutler approaches his work thoughtfully and I respect the ability and success he's shown," Dermody said.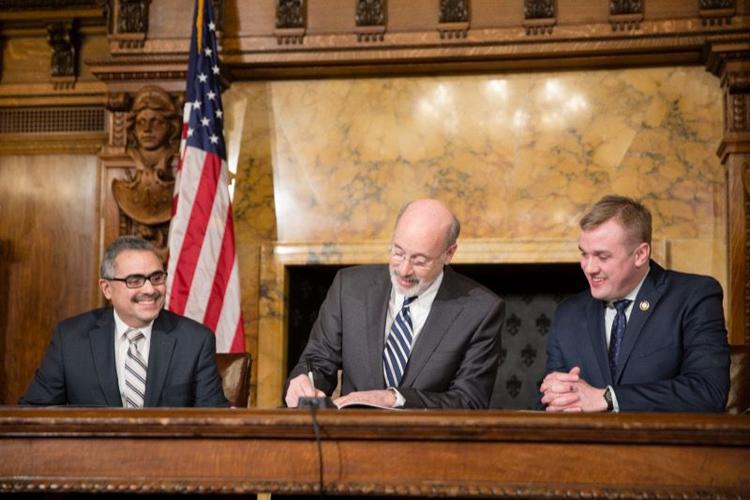 Even Rep. Cris Dush, the Jefferson County Republican who ran against Cutler for the closed-door majority leader election this week, said he did it not because he wanted to run against Cutler, but because he wanted to give the caucus a different option in terms of styles.
"I've been one to step into the middle of protests and that kind of thing," said Dush, who drew national attention earlier this year when he moved to impeach four Democratic state Supreme Court Justices because of the redistricting case.
He continued, "Bryan has been the kind of person that steers the discussion in a different way. But he's been very effective in the way he does things, so either one of us, I'm very pleased."
Oltsman, the childhood friend who was the best man at Cutler's wedding, and vice versa, called him "very tempered and thoughtful."
"He's one of those folks you wouldn't expect to be in the Legislature."
Oltsman described himself as probably the "least political person" Cutler knows. He said that's helpful for Cutler because it gives him a break — a chance to go mountain biking or play strategic board games (don't think Monopoly, he said) with friends and not talk shop.
Majority leader
A flood of congratulatory messages and meeting requests were coming in, as expected, after Cutler was chosen for his new role on Tuesday.
The fast-talking, quick-moving new majority leader was immediately tasked with starting to figure out new committee chair assignments and discussing what policy priorities the Republican Caucus will have in the coming session.
He was handling those essential new duties the day right after his selection.
But he was also at his 83-year-old grandmother's house. She lives "just over the hill" from him in Peach Bottom, and she had an issue with the sewer drainage field on her property being backed up. Cutler, dressed in jeans and a green sweater, was already on his way to Harrisburg but he turned around to make sure it was taken care of before the professionals could come clean it up.
"None of it's changed Bryan," Aument said of how far both of them have come from their days together in Drumore Township. "In a real sense I think we're just two kids from southern Lancaster County who have known each other and been friends for a long time."
Another one of those friends is Jake Smeltz. Now Aument's chief of staff, he previously worked for former Rep. John Barley and former Sen. Noah Wenger.
Before then, Smeltz was Cutler's school mate. They met in sixth grade and had every class together through the end of high school. In their junior year, they started a prayer club while also studying the Bible together at their homes.
"He was just this very bright, genuine person," Smeltz said of Cutler, recalling one of his oldest and best friends — someone who had a "tough road" but a big heart and a sometimes eerie photographic memory. "I can remember broad strokes of the movie and he's quoting lines. We'll talk about a vote that happened six years ago and he'll rattle off the vote total."
As for what lies ahead, Smeltz said it's going to be an important time for Cutler, the county and the state.
"It's a whole new world for him," Smeltz said. "This is a moment. And it's going to be a heavy lift."