Glossy postcards jammed into mailboxes. Television ads filling every commercial break, and more ads popping up on Facebook and Instagram. Calls at all hours of the day asking for support, time and money. Campaign advertising and outreach was omnipresent last year in Pennsylvania, and it wasn't because the presidential candidates were the only ones awash with cash.
With nearly the entire 253-member Pennsylvania Legislature up for election, hundreds of candidates were vying for seats in the state House and Senate, while their parties and political allies funneled resources to key races in the high-stakes battle to control those chambers in Harrisburg.
In the run-up to Election Day 2020, Democrats thought they had the best chance of winning a House or Senate majority for the first time in a decade. But after all those ads and mailers and years of politicking, the result was, essentially, the same as it was before.
Republicans dominated the down-ballot races, keeping comfortable majorities in both chambers, where they will continue to check Democratic Gov. Tom Wolf during his final two years in office.
The cost of status quo: more than $80 million, according to The Caucus' review of campaign finance reports for dozens of groups whose primary work was to invest in state legislative races in the past two years.
"It demonstrates that you can't buy voter love," said Matt Brouillette, who runs a political committee that spent $6.4 million to help Republican legislative candidates.
His was the top-spending independent group for Republicans, though Democrats raised and spent more than the GOP overall.
Such a massive amount of campaign cash — likely a record — to produce no change in the power balance "raises some questions about the impact of all that money in a presidential year," said Chris Borick, a professor of political science and director of the Muhlenberg College Institute of Public Opinion.
Still, he and others said there's no sign of pulling back. Other factors around the presidential race and the pandemic altered the political landscape so much last year that record amounts of money in sometimes sleepy legislative races have not been viewed as a waste.
"Money matters. It still does. It helps move people a few points, but in some of these races you need broader things to make the change," and that broader current just wasn't there this year, Borick said. "This is anything but a wave."
---
'Money was not a problem'
Despite repeated calls for campaign finance reforms over the years, Pennsylvania is one of only a few states without limits on campaign contributions.
The candidates, organized party committees and independent groups —including small grassroots organizations and larger super-PACs —all raise and spend money for the same races.
However, it's difficult to put a final price tag on these races. The lack of donation limits and transfers of large sums of money between allied groups creates a complex money web.
For state legislative campaigns, each party in the House and Senate has a campaign committee that raises and spends much of their candidates' money.
Collectively, the four committees raised and spent about $42 million in the 2020 election cycle — likely a record, according to the latest campaign finance reports.
Of that total, the House Democratic Campaign Committee's $20.7 million haul was twice as much as that of the House Republican Campaign Committee. The Senate Democratic Campaign Committee's $6.4 million showing was $1.7 million more than the Senate Republican Campaign Committee.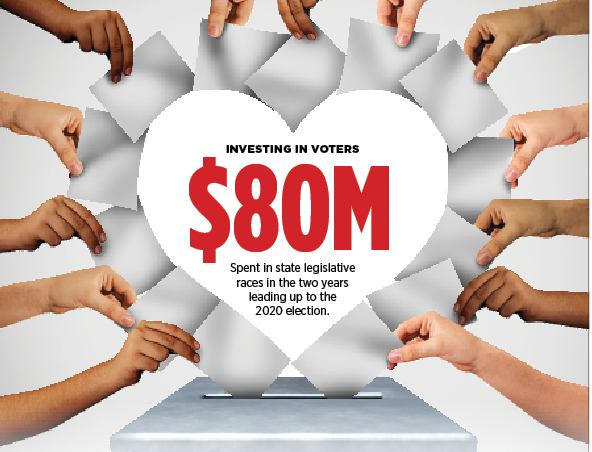 Scores of independent groups spent millions more.
About two dozen of the top groups independently raising and spending money for the same races spent about $46 million over the same two-year period, campaign finance reports show.
Some of that money went to the four primary campaign committees, and a smaller percentage went to 2019 judicial races or other statewide candidates in 2020. But most of that $46 million either went directly to House and Senate candidates or to independently produced ads that benefited them.
Independent ads were the priority for the top spenders on both sides —Brouilette's Commonwealth Leaders Fund for Republicans and Pennsylvania Fund for Change for Democrats.
Fund for Change, whose officials did not respond to requests for comment, spent nearly $7.1 million and was primarily financed by Philadelphia-based PA Alliance Action.
Established as a 501(c)4 nonprofit that does not disclose its donors, PA Alliance Action is one of a few dark-money groups that spent money that paid for ads in legislative races.
Most of the other top-spending groups — the governor's eponymous Wolf PAC, the Pennsylvania Service Employees International Union, the Pennsylvania State Education Association and a PAC representing the Philadelphia Trial Lawyers Association — also mostly supported Democrats.
"Money was not a problem for the first time ever," said Jamie Perrapato, executive director of Turn PA Blue, a group that raised about $800,000 for Democratic candidates.
Turn PA Blue made the direct contributions to candidates while also organizing volunteers to call, text and write postcards to hundreds of thousands of voters.
At the end of the day, Perrapato said, "it was very hard to get our message across." The message itself wasn't necessarily bad, she said, but it was overpowered by the presidential campaign and their domination in every news cycle.
"This election was about one thing and one thing only, and that was (President Donald) Trump," Perrapato said. "People came out and voted for (Joe) Biden, but that didn't mean they were going to stick with us down-ticket."
High turnout for and against Trump made an impact, she and others said. So, too, did Democrats not doing door-to-door canvassing — valuable moments of in-person conversation that they said was key to their success in the 2018 midterms — for most of the summer and fall because of the pandemic.
Republicans' continued door-knocking could "be as big a factor" as anything, said Berwood Yost, director of the Center for Opinion Research at Franklin & Marshall College.
"Not having that ground game could be as important as not having that digital game," Yost said, referencing another open debate about how much money the campaigns should have invested in social media and digital platforms rather than traditional and expensive TV ads.
---
Second-guessing tactics
The question is on the minds of activists like Laslo Boyd, whose group ChangePA raised $450,000 for a select group of Democrats.
Democratic challengers "almost without exception had enough money," but analyzing how each candidate spent ChangePA's donations, roughly $30,000 per candidate, will be important, said Boyd, a former political science teacher who previously was involved in Maryland state politics.
Part of the group's decisions on which candidates to support last year was determined by asking if the candidate had a social media manager in addition to a campaign manager. The idea of shifting more resources to platforms like Facebook might be a priority in the future, he said.
"You need to learn lessons from elections, but you try and avoid learning the wrong ones. And this is going to be tricky," he said.
Brouillette said it was a combination of strategy, messaging and overspending by Democrats that helped down-ballot Republicans.
"The analogy I've used is, 'You've got to water the plant, but you can also overwater it and kill it.' I don't know if that's what happened here, but it was certainly not well-spent money," Brouillette said.
Part of Brouillette's strategy was to send mailers out at the beginning of the summer, before there was too much noise in the final stretch of the campaign, and to target quieter markets rather than the expensive and noisy Philadelphia area.
Brouillette said he could not have spent more money in the races his group targeted without feeling like it was oversaturation.
But that doesn't mean fundraising and spending won't increase even more in the next cycle.
Top-tier open races for governor and U.S. Senate will be on the ballot. Plus, legislative and congressional candidates will run in districts that will be redrawn before the midterm election.
This once-in-a-decade redistricting will especially energize candidates who might have lost in 2020 but could find hope in more favorable districts next time, observers said.
"As long as politics is involved in our money, you're going to have money in politics," Brouillette said.
Follow The Caucus on Twitter ​@CaucusPA, ​@BEBumsted, ​@Wrschgn and ​@SamJanesch.