U.S. Rep. Lloyd Smucker's resounding 18-point victory over Democrat Jess King in Tuesday's midterm election was the culmination of an aggressive head-to-head campaign that many — including the candidates themselves — thought would end in a closer outcome.
— Hundreds of thousands of doors knocked and phone calls made.
— More than $3.3 million raised and spent between the candidates.
— Wide expectation that Democrats would get a big boost nationally and in Pennsylvania.
In the end, Democrats captured control of the U.S. House of Representatives and half the seats in the Pennsylvania delegation.
But in the 11th Congressional District, Smucker trounced King by 34 points in southern York County and by 12 points in Lancaster County, despite some inroads by King.
Overall, though, Smucker's resounding win came pretty close to mirroring the GOP's voter-registration advantage.
"We thought it was a closer race than this," Smucker said, referring to the "good grassroots campaign" and the more-than $1.6 million King raised in the race.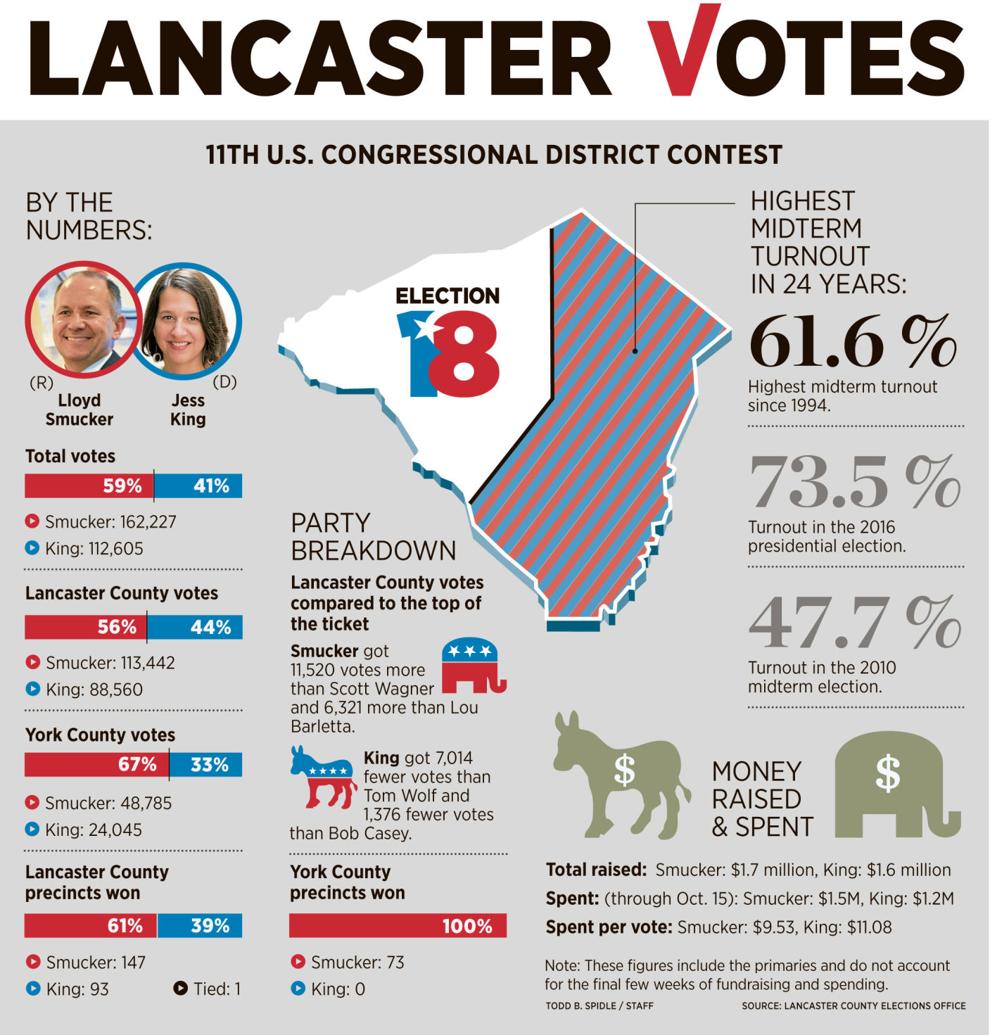 "A few months ago I was concerned Republicans wouldn't match the intensity" on the Democrats' side, Smucker  said. "Clearly they did."
The incumbent credits that jump in enthusiasm to his campaign's message that he had never before been in a campaign with this "stark of a difference" in the direction the candidates wanted to take the country.
Put simply, he said, that meant smaller government versus larger government.
"The partisan makeup of the district — it was just overwhelming," said Stephen Medvic, a Franklin & Marshall College government professor. "And no matter how Jess King worked — and she did, and her volunteers worked hard and organized well — you just can't overcome that sort of lead going in that Smucker had."
Lancaster County
In Lancaster County, the race was closer than it was districtwide.
According to the candidates, party operatives and independent analysts, it was a combination of a new, extremely Republican-heavy 11th Congressional District and a national narrative that invigorated GOP enthusiasm in the final weeks of the race — pushing up the party's turnout and possibly even returning some would-be split tickets back into solid Republican ballots.
Percentage-wise, King out-performed the voter registration margin and the Democrats' showing in the 2016 congressional election in every single Lancaster County precinct.
But in a district that President Donald Trump won by 26 points — and where Republicans had a massive 100,000 voter advantage this year — her gains were far from enough.
Compared to Democrat Christina Hartman's performance against Smucker in 2016, King improved in Lancaster city's already substantial Democratic stronghold, and won some longtime Republican suburban precincts in Manheim, East Hempfield, East Lampeter and Manor townships.
She also made small improvements over the voter registration margins in the rural eastern and southern ends of the county.
Click precincts in the below interactive map to compare results to 2016 and 2014.
This map shows precinct-level results in the Nov. 6, 2018, election in the 11th Congressional District. Precincts in red indicate those in which incumbent Republican U.S. Rep. Lloyd Smucker won more votes. Precincts in blue indicate those in which Democratic challenger Jess King won more votes. For details about each precinct, please click on the map. Or go to our Election 2018 homepage for detailed results and analysis.
In the race for the 11th Congressional District seat, which covers all of Lancaster County and southern York County, Smucker won 162,227 votes to King's 112,605 votes.
Go here to read every story we've written about the Smucker/King race.
Still, at the end of the day, Smucker had won Lancaster County's portion by 12 percentage points and southern York County's Republican-filled precincts by 34 points.
He also out-performed the top of his ticket while King received fewer votes than the more well-known incumbent Democrats who won re-election.
She got about 7,000 fewer votes here than Gov. Tom Wolf and 1,376 fewer votes than U.S. Sen. Bob Casey.
Smucker, on the other hand, won 11,520 more votes than the less-favorable Republican gubernatorial nominee Scott Wagner and 6,321 more votes than Senate candidate Lou Barletta.
What happened?
Kirk Radanovic, chair of the Republican Committee of Lancaster County, pointed to the party's voter outreach effort that culminated in 45,000 phone calls and texts out of the GOP headquarters on Election Day. Volunteers were enthused, he said, ever since Supreme Court Justice Brett Kavanaugh's contentious confirmation process in September.
And when turnout started out strong on Tuesday morning, he said he knew the few polls in the race had it wrong.
"I just saw Republicans were so incensed at how (the Kavanaugh process) was handled that they were going to vote even if they had to stand for 45 minutes in a pouring-down rain storm," Radanovic said.
King, for her part, agrees both local and national GOP messaging played a pivotal role in energizing Republican voters in recent weeks.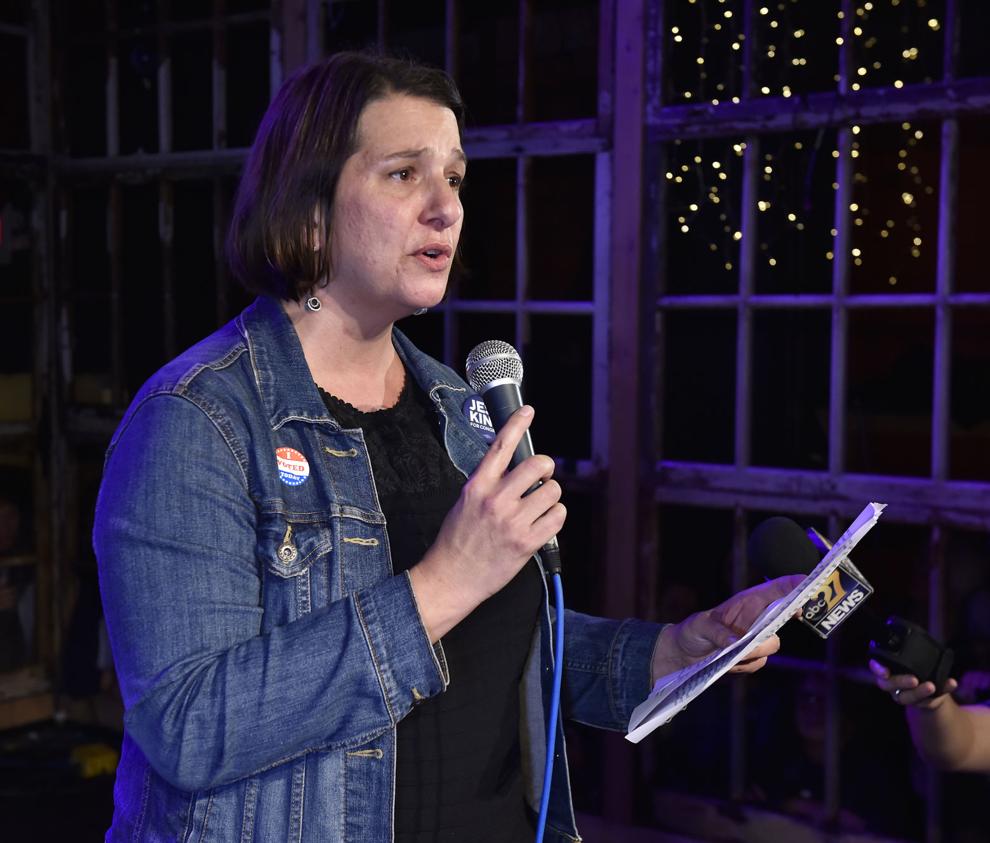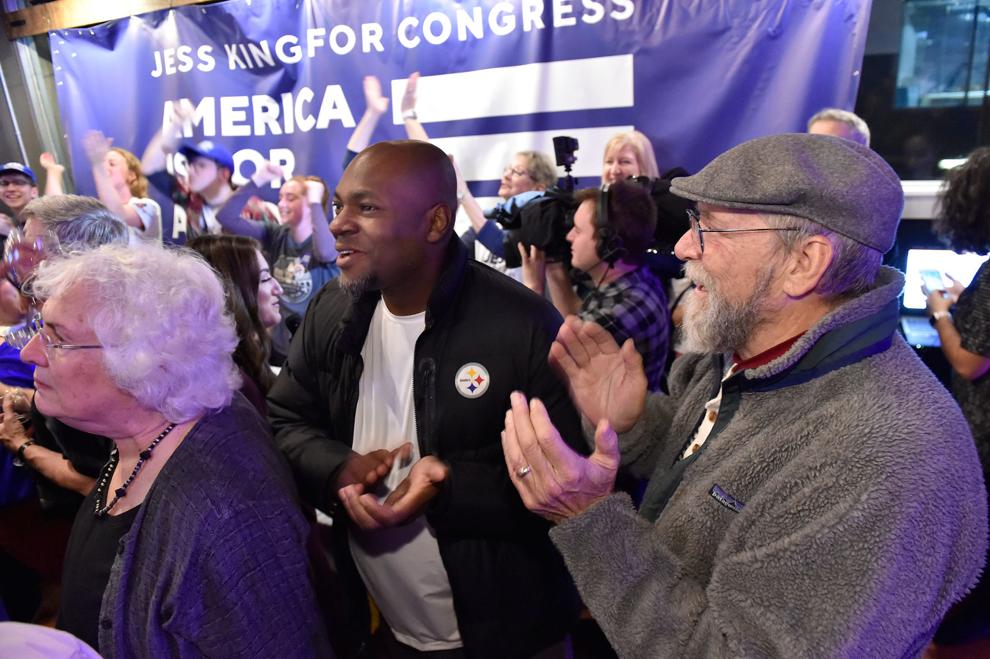 But it wasn't a message about their tax cuts or attempted health care reforms — the largest legislative efforts in the last two years, she said.
It was a pivot, she said, to "racial fear-mongering and sensational falsehoods to rile people up and really advance turnout."
That became a reality for her when Smucker released television ads falsely implying she wanted to legalize heroin and abolish the Immigration and Customs Enforcement agency.
And to a degree, they worked, she said.
"We saw people coming out and asking questions at our events, asking me directly, 'So, you want open borders?' I said 'no.' Or, 'You want to legalize heroin?' So people really hear that, heard his narrative," King said, adding that she was proud of the positive campaign her team ran.
Jonathan Smucker, a leader of the Lancaster Stands Up group that independently knocked on 46,688 doors this year to support King and other candidates, also talked about the "national context" and messaging in the final weeks.
The Kavanaugh hearings and the talk about the caravan of Central American immigrants didn't just make a difference, Jonathan Smucker said, they even made some voters rethink their choices in the congressional race.
"We encountered people who, Republicans, who decided to vote for Jess earlier but because of one or the other of those things were going back," he said.
He referred to the attack ads and a mailer that was sent in the final week of the campaign, and paid for by the state Republican Party, using the caravan of migrants to criticize King and support Smucker.
"I think Smucker ran a very dishonest campaign," said Jonathan Smucker, a longtime Lancaster community organizer and second-cousin of the congressman. "The last two months, the attacks I think were disgusting and shameful."
The congressman said in an interview again on Tuesday night he did not think he ran a negative campaign.
Instead, he said, "it was a discussion about values and vision for the future."