House Republicans in the state Capitol have revealed a plan to pull more than $2.4 billion from various government agency reserve funds and other accounts to fill the state's budget deficit.
"Until and unless every source of reserve revenue is exhausted, we should not, and are not, asking more of our taxpayers," Rep. Dan Moul, of Adams County, said during a news conference Tuesday announcing the plan.
State lawmakers passed a $32 billion 2017-18 spending plan in July without a way to pay for it. Gov. Tom Wolf has warned that he will soon begin making decisions on freezing spending, which could affect schools, emergency response services and more.
The House GOP plan unveiled Tuesday is an attempt to avoid the plan favored by Wolf and the Senate that relies on $1.2 billion in borrowing and some new taxes, like one on Marcellus Shale drilling.
Moul and other members of the Republican group said they spent the last six weeks examining hundreds of reserve accounts and narrowed in on 41 to produce the $2 billion needed.
That would include one-time transfers such as $100 million from the Keystone Recreation, Park and Conservation Fund; $359,000 from the Job Training Fund; and $357 million from the Public Transportation Trust Fund, to name a few.
Rep. Joe Emrick, of Northampton County, referred to it as the "shadow budget."
Criteria for identifying "surplus" funds included the understanding that it would not have any impact on the operations of the programs, that there was no legal restrictions for taking them and that the funds had historically high balances.
House Democratic Leader Frank Dermody, in a statement, questioned the legality of what the Republicans proposed and the effects of the fund transfers.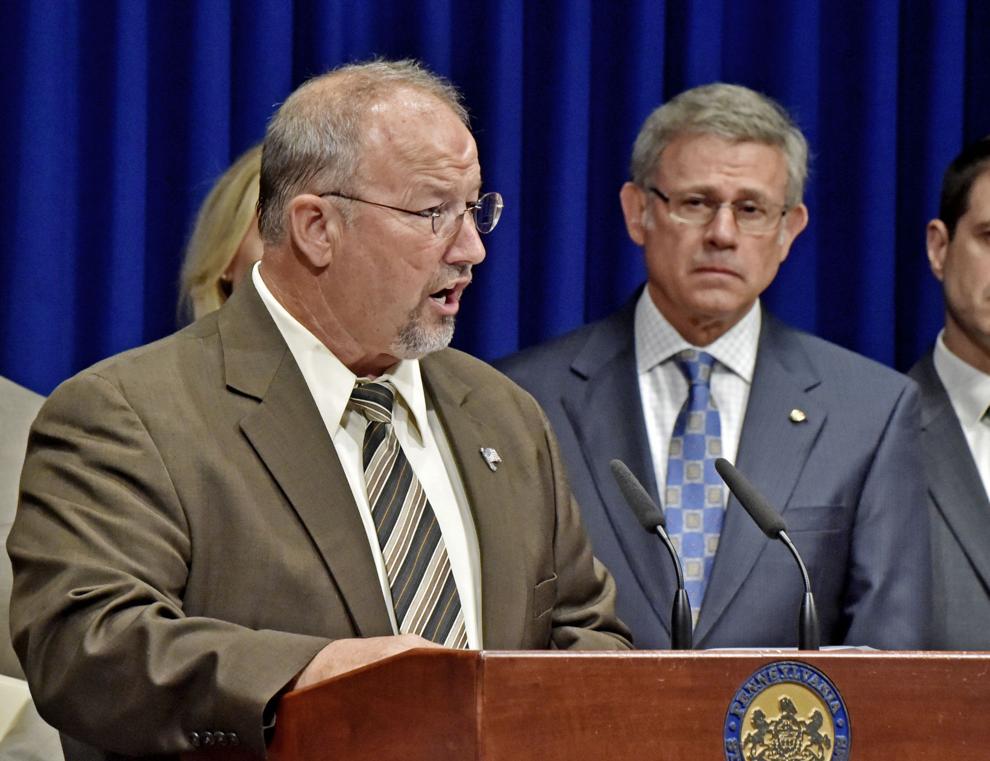 "I'm deeply concerned this plan would lead to destructive cuts in programs and services that Pennsylvanians need to have, such as education, health care and a half billion dollars cut in transportation," Dermody said.
Two lawmakers from Lancaster County -- Reps. Dave Zimmerman, of East Earl, and Brett Miller, of East Hempfield -- participated in the 18-member group.
Zimmerman said it was a "tedious process" to go through all the special funds. He said it was important to not touch any funds below their lowest point in the previous three years, thereby ensuring that their daily operations would not be affected with the loss of their "rainy day" money.
"Not a single one of these programs and their operations will be affected," Miller said. "These are excess dollars that are not being used. Period."
Both Miller and Zimmerman said they've already heard pushback from some groups who fear the loss of their program funds, though they declined to specify who they've spoken with.
"I could've easily suggested we stay out of certain accounts because of my interests but we all agreed as a caucus, as a 'taxpayer caucus,' that we're not going to do that," Zimmerman said.
The House returns to session next week after its extended break. The new Republican plan would need to pass the House and the Senate before approval by the governor.