The uphill battle to get the Plain community to vote for Donald Trump has been kicked off by a group of Republicans who believe the small group of potential voters is critical for the billionaire's election victory.
Amish PAC, a political-action committee started by party insiders with ties to Newt Gingrich and Ben Carson, has launched pro-Trump advertisements in two Plain community newspapers.
"We've officially begun to introduce Donald Trump to, likely, the last group of voters who still don't know anything about him," Ben Walters, an Amish PAC co-founder, said in an email.
RELATED: New PAC looks to get Amish vote for Donald Trump
What will that introduction look like?
The ad features a large photo of Trump in his office and includes a checklist of "what you need to know about him."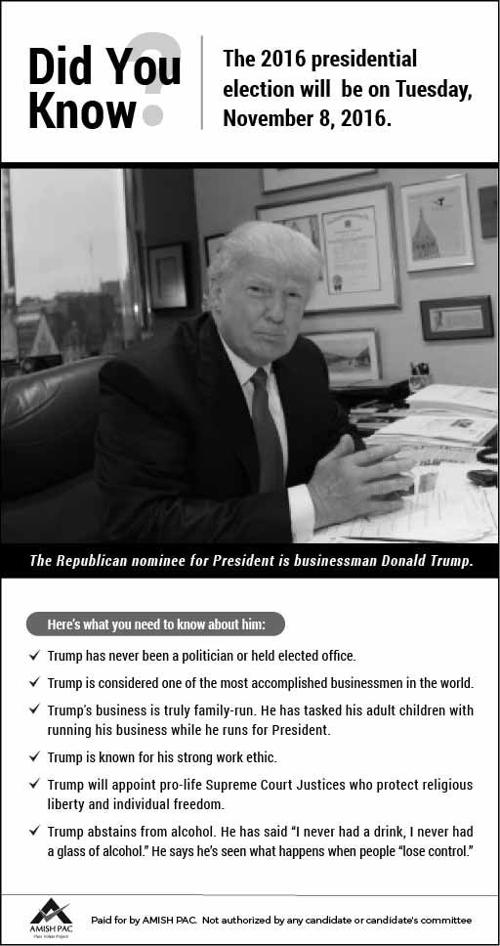 The list starts with the fact that he's never held elected office. It goes on to tout his success as "one of the most accomplished businessmen in the world," whose business is "truly family-run" and was built on a "strong work ethic."
It also notes Trump's distaste for alcohol and his desire to appoint Supreme Court justices who are against abortion.
Experts on the Amish have said the community will likely admire Trump's business acumen but be opposed to his boasting personality, as well as his three marriages.
In 2004, the last time the Amish were heavily courted for votes, President George W. Bush appealed to them by speaking of his Christian faith and opposition to abortion and same-sex marriage.
Ohio and Pennsylvania are home to the largest Amish populations in the country — with about 60,000 each.
The newspaper ads will run weekly in two Ohio-based papers, The Budget and the Holmes County Hub Shopper. Walters said part of the reason for choosing The Budget is because it has some circulation in Lancaster.
To fund the campaign, Walters said they've raised nearly $25,000 — up from $8,000 in mid-May.
While a donor list is not available yet, Walters said a disproportionately high amount is from Pennsylvania donors. He added they've also had about as many donations from Texas as they have from Pennsylvania.
And with months to go before the election, the committee is still projecting to raise and spend about $41,000 in total.
"The next step is our billboard project," Walters said. "We are still finalizing a design and looking at locations."