As expected, the Oklahoma-based firm that wants to build a controversial natural gas pipeline through western Lancaster County has submitted its formal application to the Federal Energy Regulatory Commission.
The Transcontinental Gas Pipeline Company, owned by Williams Partners, submitted its application for a certificate of "public convenience and necessity" early Tuesday. The company hopes to get FERC approval and begin pipeline construction in Lancaster County in July 2016.
"This process will continue and it's far from over. But it's a significant  milestone though," Williams spokesman Chris Stockton said.
FERC has never rejected a Williams application for a pipeline, although the agency has required changes in pipeline routes. Williams is the nation's largest pipeline owner.
The route would follow 35 miles through Lancaster County and has been highly controversial.
The Lancaster County section is called the Central Penn Line South pipeline. It's part of a 177-mile shortcut to bring natural gas from the fracking wells in northeastern Pennsylvania to Williams' existing interstate Transco pipeline in Lancaster County.
The gas would then be shipped to customers along the Atlantic Coast as far south as Alabama, we well as likely overseas.
Complete Pipeline Coverage: Lancaster Online Pipeline stories
Maps included with the proposal show an updated route for the pipeline. Still, Chris Stockton noted the filings only include information as of December 2014.
"It's still a fluid process. We are making changes and adjustments based on new data."
Stockton said additional amendments will be filed, the first of which could come within 30 days, that may detail additional route changes.
For example, the formal filing shows the official route now no longer bisects Conestoga Indian Town in Manor Township; the new route avoids the site's boundary by about one-third of a mile.
The infamous "Conestoga Massacre" of Native Americans began in Indian Town; experts have called the area the most important Native American cultural and historical site in Pennsylvania.
"That was an example of our response to a cultural resource," said Williams spokesman, Chris Stockton.
The pipeline's route through known and suspected Native American lands has been a particular source of concern for some.
According to the filing, only 32 percent of archaeological investigations have been completed in Lancaster County. 
The document, which includes 156 separate sections, details the project path through Lancaster and other counties, along with the projected impact on local soils, waterways and cultural resources like Native American heritage and historical sites.
The "Atlantic Sunrise Central Penn Line South" pipeline will construct a new 42-inch diameter pipeline through portions of Drumore, Martic, Conestoga, Manor, West Hempfield, Rapho and Mount Joy townships, and Mount Joy Borough.
Williams states in its application that it has "made 352 adjustments to minimize impacts on sensitive features," since May 2014.
Most of the route adjustments took place in Lebanon and Lancaster counties, according to the report.  They were due to wetland and waterbody concerns, threatened and endangered habitats, engineering challenges, landowner requests, cultural considerations and forests. 
Two weeks ago, a Penn State study that Williams paid for concluded that building the pipeline in Lancaster County would mean a $75.5 million boost to the local economy.
But opposition to the pipeline remains strong, especially in southern Lancaster County. Voters in Martic and Conestoga townships will vote on a referendum in May to consider a home rule type of government.
That would enable voters to decide whether to pass a community-rights ordinance that would seek to ban the pipeline from township borders.
Opponents of the pipeline on Tuesday predicted the FERC filing will create a new wave of solidarity against  the pipeline.
Already, there are rallies scheduled to organize opposition.
Lancaster Against Pipeline has organized a "mass orientation" for April 18 in Lancaster "to get involved in the movement to protect our homes, land and history."
Though most of the session will involve strategies to stop the pipeline and how people can get involved, ways of peaceful civil disobedience also will be addressed.
Mark Clatterbuck, a Martic Township resident  and  co-founder of Lancaster Against Pipeline, said the filing was no surprise.
But what was surprising, he said, was that Williams wants to keep the names of landowners and the locations of important archaeological sites and sensitive wildlife or plants that may be affected out of the public record.
"What good neighbor brings all this harm and actually hides the risks?" he asked. "We will work to make the hazards public."
Williams said listing the names of landowners would be an invasion of privacy.
One statistic shows the level of opposition to the pipeline here. While in most counties, Williams has been allowed on almost all land, in Lancaster County 24 percent of 188 landowners have refused permission.
U.S. Rep.  Joe Pitts, who has not opposed nor endorsed the pipeline, issued this statement about the filing: "I have not had time to review the proposal, but there are some things property owners should know. Now that Williams Partners has filed with FERC, constituents who may be affected by the construction have a number of ways to make their concerns known. I will work with any constituent who wants to know the best way to voice objections to the filed plan.
"The filing of a proposal is an early step in a process that will take place over at least the next 12 months. FERC can make changes to the route or even put a stop to the project. There is still a long way to go before FERC makes a decision."
County Commissioner Dennis Stuckey said this: "As the process moves forward with the application filing, FERC should carefully consider all relevant input both pro and con so that all interested citizens are heard and the merits of the project weighed carefully.  In the event approval is given to build the pipeline, all property owners in the construction path should be treated fairly and all property rights respected."
Commissioner Craig Lehman said, "The filing comes as no surprise. From the outset, Williams Partners has postured like this is a done deal. I hope that that is not the case and that FERC insists that existing pipeline infrastructure be expanded and upgraded as a reasonable alternative."
The "Atlantic Sunrise Central Penn Line South" pipeline will construct a new 42-inch diameter pipeline through portions of Drumore, Martic, Conestoga, Manor, West Hempfield, Rapho and Mount Joy townships, and Mount Joy Borough.
Stockton said only 86 percent of the land the proposed pipeline will run through has been surveyed to date. He said additional changes would likely happen to the route in response to environmental, cultural and landowner concerns.
Asserting that the benefits of the project outweigh any potential negative impacts on landowners or other stakeholders, Williams requested that FERC authorize the project by April 29, 2016.
Original route of Williams pipeline through Lancaster County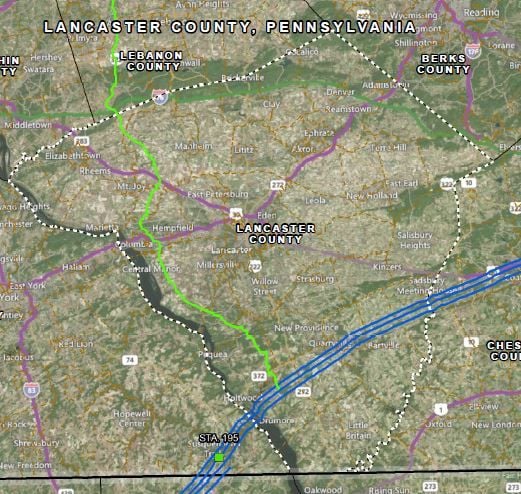 Every parcel of land the Atlantic Sunrise pipeline would cross in Lancaster County is shown in aerial photos in the filing to FERC. Click here and then the Lancaster County properties are listed in Volumes 125 through 130.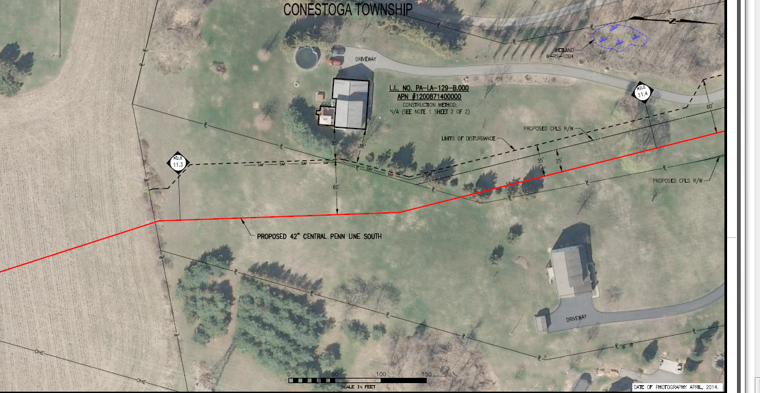 Since Williams has been in a pre-filing stage with FERC, much of the environmental and archaeological analyses have been well underway.
In its filing, Williams said that the pipeline would not impact any endangered or threatened species in Lancaster County.
The company had to look at the northern long-eared bat and monarch butterflies, whose migratory range includes the project area. Surveys identified several other animals or plants protected by federal or state law — including the Indiana bat, bog turtle and bald eagles.
Staff writers Susan Baldrige and Gil Smart contributed to this story.