Bob May sat at a conference room table at the headquarters of Lancaster County's busiest EMS agency recently. The chatter of emergency dispatchers bounced off the walls of the East Lampeter Township station: "Medic 56-5. Class one, 13:52."
Last year, Lancaster Emergency Management Services Association responded to 30,000 EMS calls — about 35 percent of all the medic calls in Lancaster County.
EMS calls countywide went up 12 percent in the past five years, from 75,975 in 2013 to 85,265 in 2017. Funding, however, has not kept pace.
May, executive director of Lancaster EMS for nearly 20 years, spoke without hesitation: "The writing's on the wall. I keep trying to tell people. It's not tomorrow. But it's going to happen. We are not going to be around as an industry."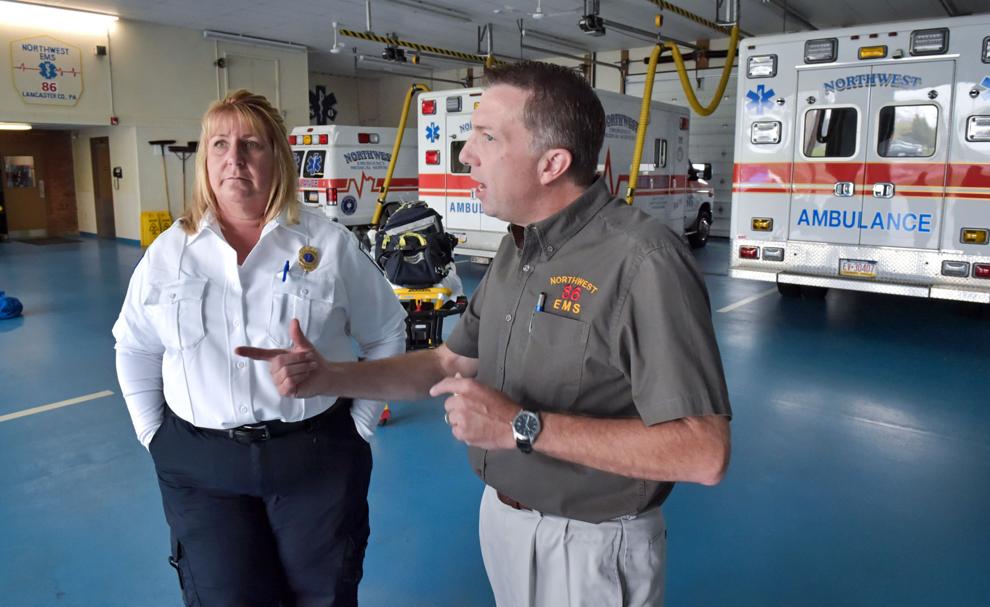 May's fears echo beyond Lancaster County. Across the state, emergency medical services are facing the pressure of rising call volumes, lackluster insurance support and thinning staffs.
The number of EMTs and paramedics in Pennsylvania has dropped from more than 50,000 in 2012 to just shy of 40,000 in 2016, May said.
Steve Lyle, who leads the South Central PA Emergency Services Federation, said it's a statewide issue that can't be ignored.
"In a word, EMS is in a critical state," he said. "Not just in Lancaster County, not just in the commonwealth, but in the entire nation, we're all looking for this magic model, this magic bullet: How can we keep EMS as this life-saving mechanism, and how we can sustain it?" Lyle said.
Some smaller Lancaster County stations, such as New Holland EMS, continue to thrive because of community support, as EMS Chief Darrell Fisher told LNP recently. But that's the anomaly, experts say.
"Something needs to change," said Scott Kingsboro, director of Northwest EMS, the third-largest EMS agency in Lancaster County
The problem
The portion of its charges that Lancaster EMS collects from patients has dropped significantly over the past 10 years, from 56 percent in 2008 to 48 percent in 2017.
That means that last year the agency recouped less than half of the $18.1 million it charged for EMS services. Northwest EMS' net collection rate has dropped over the past 10 years, from 59 percent in 2008 to 41 percent in 2017.
Both Northwest EMS and Lancaster EMS said their average at-ready fixed cost per call is $525. Medicare and Medicaid reimbursements don't come close to that cost.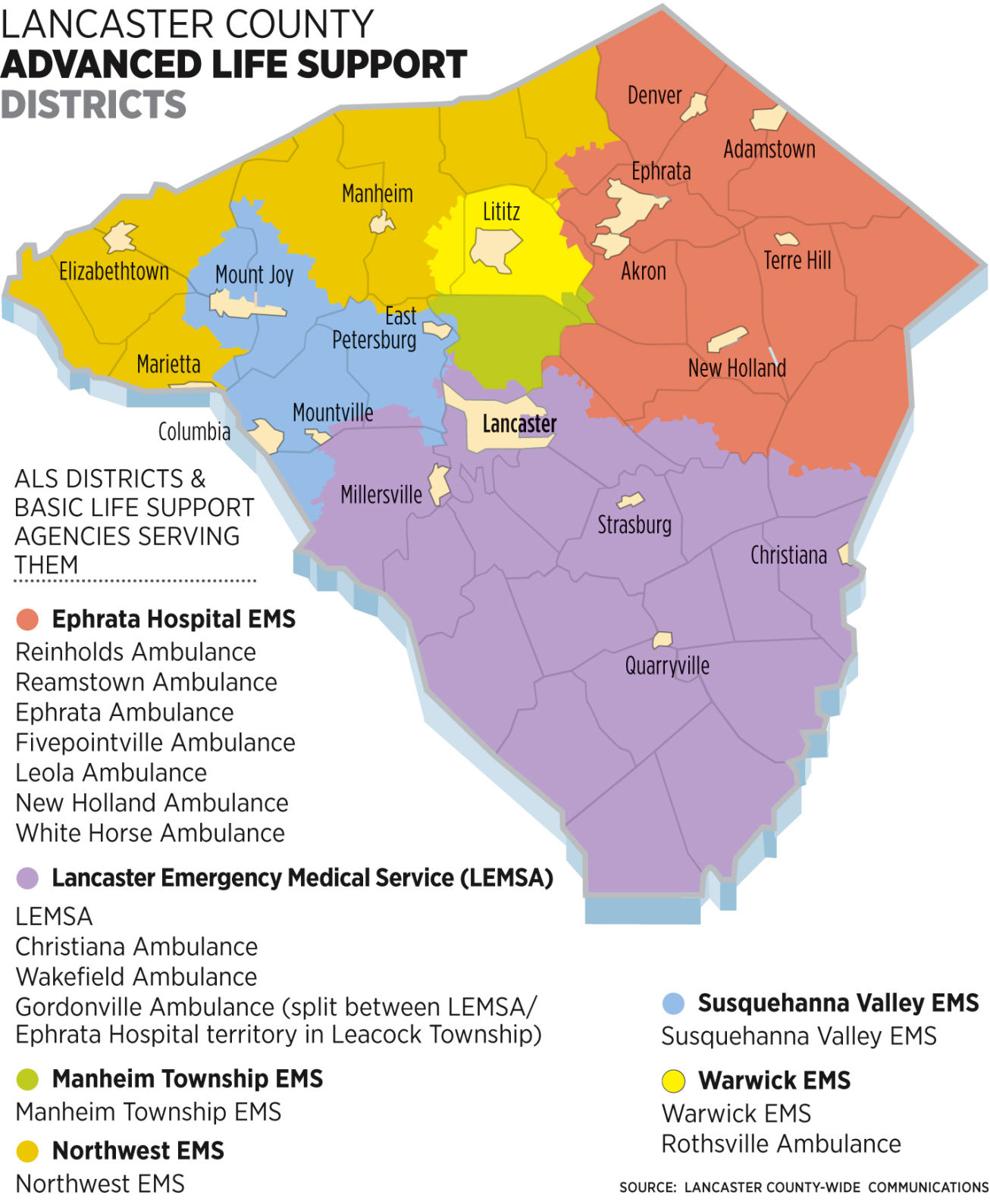 Medicare covers $359 for a basic call and $427 for an advanced one. This year, the state Legislature passed a law that increased Medicaid payments for ambulance services from $200 to $300 for Advanced Life Services and from $120 to $180 for basic services. It was the first increase since 2004. Also passed into law was a bill that allows ambulances to charge for their services even if they don't end up transporting a patient to a hospital.
Stagnant reimbursement rates are a major part of the problem, Kingsboro said. Another issue is that insurance companies typically send EMS bills directly to patients, and patients don't always pass that money to the ambulance service, he said.
Seeking county help
In a field structured around caring for others, it's not easy to admit that the helpers need help.
"Our biggest problem has always been ... communicating and touting ourselves and marketing ourselves," said Michael Fitzgibbons, president and CEO of Susquehanna Valley EMS, the EMS agency called upon second-most often in the county. In 2017, it was dispatched about 12,000 times.
 "We definitely need to get out there and give a better message to the community and let them know what we're doing," he said.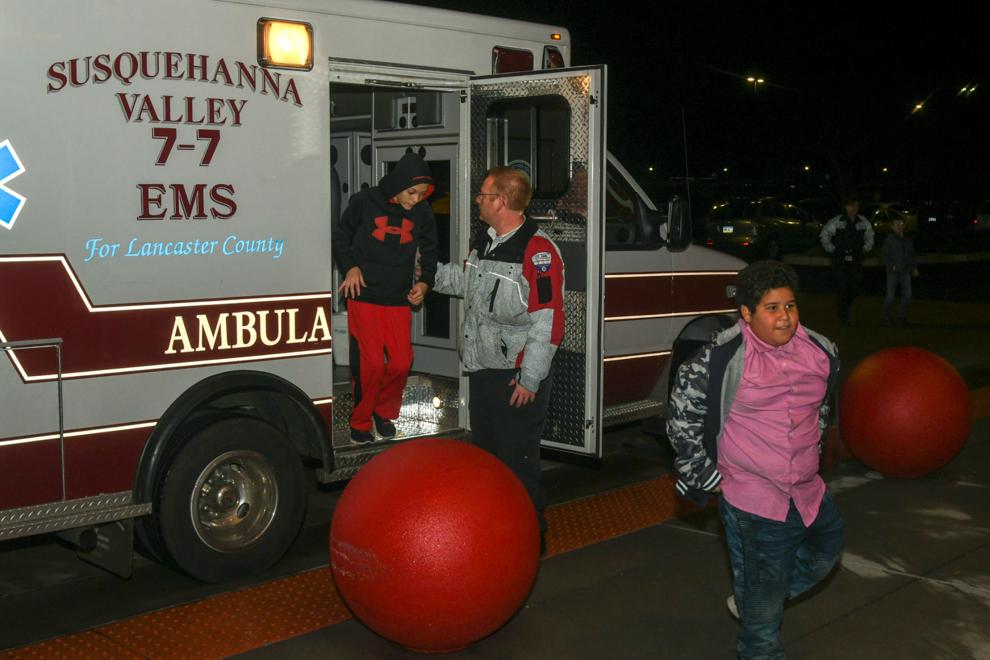 The EMS industry's struggle can largely be attributed to finding a consistent funding source. Agencies in Lancaster County began consolidating in the late 1990s, May said.
Northwest EMS' community outreach manager, Lori Shenk, said the community doesn't always realize the costs of running an ambulance service.
"I don't think the community recognizes that we're not volunteers … they think, 'It's free. I'm entitled to it,' " she said.
 May and Kingsboro recently sought an audience with the Lancaster County Board of Commissioners to share their concerns.
"Is this a municipal issue or a county issue? Where does the ultimate responsibility lie to fix this problem?" May said to LNP.
On Nov. 21, they gave a presentation at a commissioners' meeting. The commissioners "seemed to understand that we need to find solutions," May said afterward.
"All of our first responders are working in a challenging environment these days, but I think perhaps there is not a widespread understanding of the challenges faced by EMS," Commissioner Josh Parsons said in an email to LNP.
He said the Pennsylvania County Commissioners Association recently began putting together a committee to propose statewide solutions. Solutions may involve policy, legislative and efficiency proposals, he said, adding they would like to have Lancaster County representation on the committee.
"It is important for us as a community to ensure first responders have the support they need to do their jobs," Parsons said.
Finding solutions
EMS agency directors and industry figures interviewed by LNP had a lot of ideas for chipping away at the bigger problem of EMS funding.
Heather Sharar, executive director of the Ambulance Association of Pennsylvania, said, "there's not one solution." Her focus is legislative changes. She advocated for a bill this past year to allow ambulance services to bill patients for care even if they're not taken to a hospital.
Gov. Tom Wolf signed the bill into law in October, and it should alleviate some "immediate stress," she said. The association is looking toward the next legislative session "on the little things that need to be fixed."
One idea Lyle, of the region's EMS federation, has is preventing the need for EMS response to begin with. That could be done through a relatively new concept called "community paramedicine," he said.
It's a concept May mentioned, too, in which EMTs set up visits with regular 911 callers in their homes to help them take better care of themselves.
Another possible solution is to get more funding from municipalities. Pennsylvania's municipal code requires municipalities to ensure emergency services for their communities.
"Every kind of support for EMS is a good thing, whether it be 'in kind' support or direct funding," Sharar said. "However, municipalities are struggling with their own financial woes."
 Rather than pull from their existing budgets, municipalities could implement an EMS tax, May said.
It would be similar to the fire tax that a few Lancaster County municipalities have adopted. Seven of 21 municipalities gave funding to Lancaster EMS in 2017, amounting to $175,000, or less than 2 percent of the agency's $12.5 million budget, May said.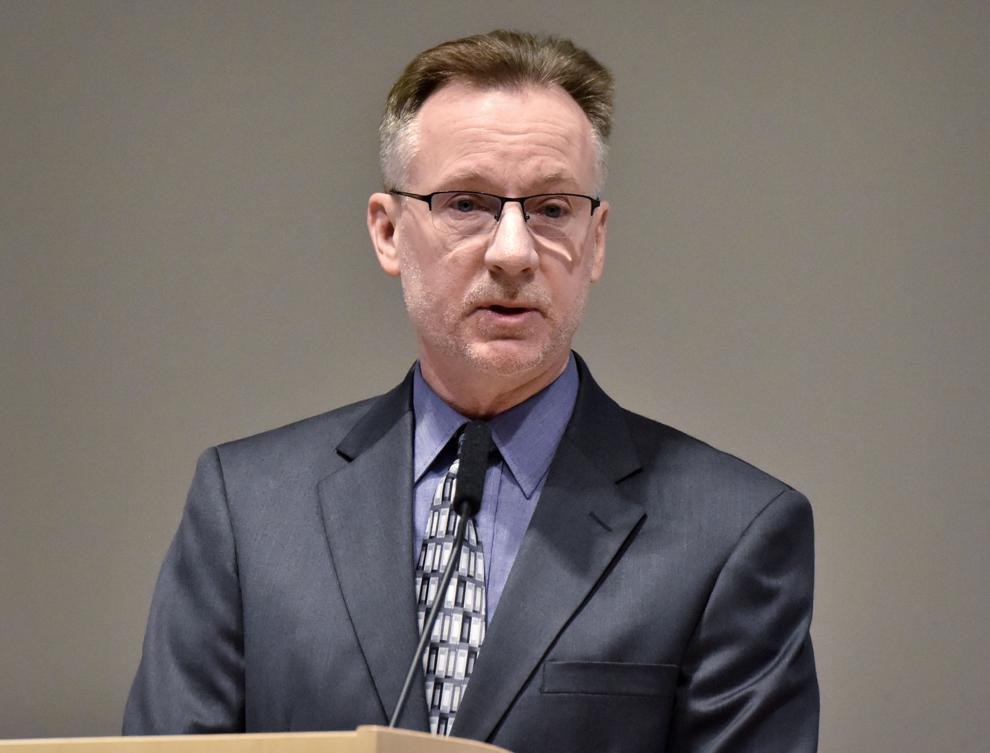 The biggest contributor, Lancaster city, paid $155,000. On average, half of Lancaster EMS' calls are in Lancaster, he said. If Lancaster paid for its own EMS, it could cost around $5.5 million, he said.
May said that since Lancaster Mayor Danene Sorace took office, he has spoken with her about needing more funding. Her response, he said, was to ask about a long-term solution. Sorace's chief of staff confirmed the conversation and said the city is working with Lancaster EMS to address the problem.
"The budgetary contribution is important. Where Mayor Sorace is well suited is understanding that larger organizational challenges," Matt Johnson, her chief of staff, said. "Let's do that hard work of trying to help solve some of those so we are not having a budgetary crisis every year."
Kingsboro said. Northwest EMS has spent a lot of time visiting municipal leaders to tell them why their support is important. Northwest EMS covers 11 municipalities in Lancaster County and two in Dauphin and Lebanon counties. Nine of the 11 Lancaster County municipalities contributed funding in 2017.
"The majority of our municipalities give us some kind of funding. We hope municipalities keep increasing that," he said. "We're trying to inform and educate."
Fitzgibbons, CEO of Susquehanna EMS, said the industry's downward trend has been happening for a long time.
"If you didn't see it coming and you were in charge of an EMS company, you kind of had your head in the sand. We've prepared for it. Is it great? No. Do we get paid what we should be? No. We're not ready to shut the doors either," he said.
To save money, they've implemented a central deployment model, where all emergency units and supplies are kept at one location. Ambulances can set up at one of their other locations, but keeping inventory in one spot cuts down on costs, he said.
Considering consolidation
In 1996, there were 36 agencies in Lancaster County. Today there are 19 licensed EMS agencies, with care levels ranging from basic to advanced.
The most recent agencies to consolidate were Brickerville EMS into Northwest EMS in 2016.
Consolidation will inevitably continue, whether by choice or by more services being forced out of business, but it's not necessarily a bad thing, May said. "If we consolidate into somebody, and it's for the greater good of the community and the employees and it means a name change, that's a nobrainer to me," he said. "It's not about me. It's about the mission."
Another idea May has considered is an EMS authority or countywide group providing oversight and directing funding for EMS.
"If we wiped the slate clean and rebuild … you could build out the system based on where the needs are, not based on politics and district preservation," May said.
 May knows it would be a challenge to get EMS agencies to be willing to join, but "we have to work together," he said.
A niche of smaller EMS agencies in the northeast and eastern parts of Lancaster County fear that countywide changes to EMS could have a negative impact on their companies.
"A countywide system would not benefit New Holland and our area. We feel strongly about that," Fisher, chief of New Holland Ambulance, said.
The ambulance community is tight knit. The leaders communicate. In separate interviews, May commended Fisher's tight-knit, community-run organization, and Fisher acknowledged the issues facing Lancaster EMS.
"Where I'm at, where (May's) at, we're totally different," Fisher said. "Without our community buy-in, we couldn't survive. No way."
Right now, they have more volunteers than shifts to fill, he said. They cover parts of four municipalities, including 8,000 households and 1,000 businesses. They have 60 active volunteers and four paid staff members, Fisher said.
"Would a (countywide system) help some people? Yeah, probably. It would dump funding into places that need it. But would it take some of our funding? Absolutely," he said.
But the money to keep EMS agencies in business has to come from somewhere, he said. And that's why EMS leaders such as Kingsboro and May are stepping up to acknowledge the crisis.
 "Every community has to look at its ambulance and talk to them and see what they're greatest needs are," Kingsboro said.
 May said some people don't like the way he talks about EMS being in crisis.
"When I say EMS is in crisis and our days are numbered, people say, 'Oh, come on. You're always going to be here.' I've been doing this since '76 as a volunteer. I was 16. I have never seen it this bad," May said. "Somebody has to pay attention to this."