Twelve days after Hurricane Maria slammed into Puerto Rico, destroying homes and plunging 3.4 million people into darkness, Emma Trilla flew into San Juan with $5,000 cash, four 50-pound duffel bags bulging with supplies, and a list of 20 names and addresses.
Trilla's boss at Pony Express Foods in Earl Township sent her and a co-worker last October on a daunting, 10-day mission.
Company founder Ted Cundiff Sr. told them to track down the people on the list — each a relative of a Pony Express employee — and bring back word of how they were faring.
"We look at our people here as family," said Cundiff, whose company makes beef jerky. "When they're hurting, we're hurting. And some were getting frantic messages that loved ones were stranded in the mountains and children were going without food and water."
About three-fourths of Cundiff's 100 employees have ties to Puerto Rico. Most had no way to find out if relatives had survived and still had homes. He saw worry etched on faces.
Trilla, 52, a group leader at Pony Express, suggested to Cundiff that sending people to Puerto Rico would be more helpful to the distraught workers than sending supplies or making a donation.
With reports that it would take months to completely restore power on the island, Cundiff agreed, and after San Juan's airport reopened, Trilla and co-worker Luis Rodriguez were on their way, all expenses paid by their employer.
A follow-up trip happened last month. Pony Express Foods sent six people to the central town of Aibonito for a week to help with recovery.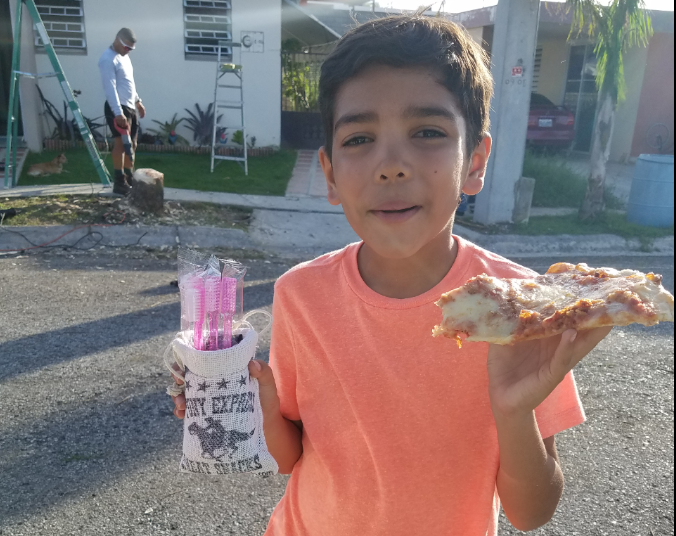 "We're fortunate to work for a great company," Trilla said of Cundiff and co-owner Debbie Erdman. "Not everybody has hearts like them."
Hazardous roads
Trilla and Rodriguez, both of Lancaster, crisscrossed Puerto Rico last October, taking a Jeep Wrangler when they went into mountains. They set out at dawn each morning to take advantage of every minute of daylight on the blacked-out island.
They came across washed-out roads and dubious bridges, but kept going, relishing the astonishment and tears of joys that greeted them each time they found someone on their list.
They handed out soap, toothpaste, flashlights, batteries, bug repellent, baby food and formula, granola bars, tuna, Spam and, of course, Pony Express jerky, among other supplies. They also gave cash.
Strangers not on their list benefited, too. Trilla dipped into her duffel bags for things to give people who seemed in dire need.
One day, children munched on slices of pizza after Trilla came across an operating pizzeria. Another day, she treated everyone at a doughnut shop to doughnuts and coffee.
Trilla and Rodriguez managed to track down every person on the list, even those who had been displaced.
Trilla emailed photos and messages to keep workers informed. She knew photos of the damage would break hearts.
The good news was everyone on the list was safe and sound. But about half had abandoned homes that were uninhabitable. Some needed roof repairs, but several homes needed to be rebuilt.
Trilla saw, too, how the everyday stress of living without power and running water was taking a toll.
"Puerto Rico rises"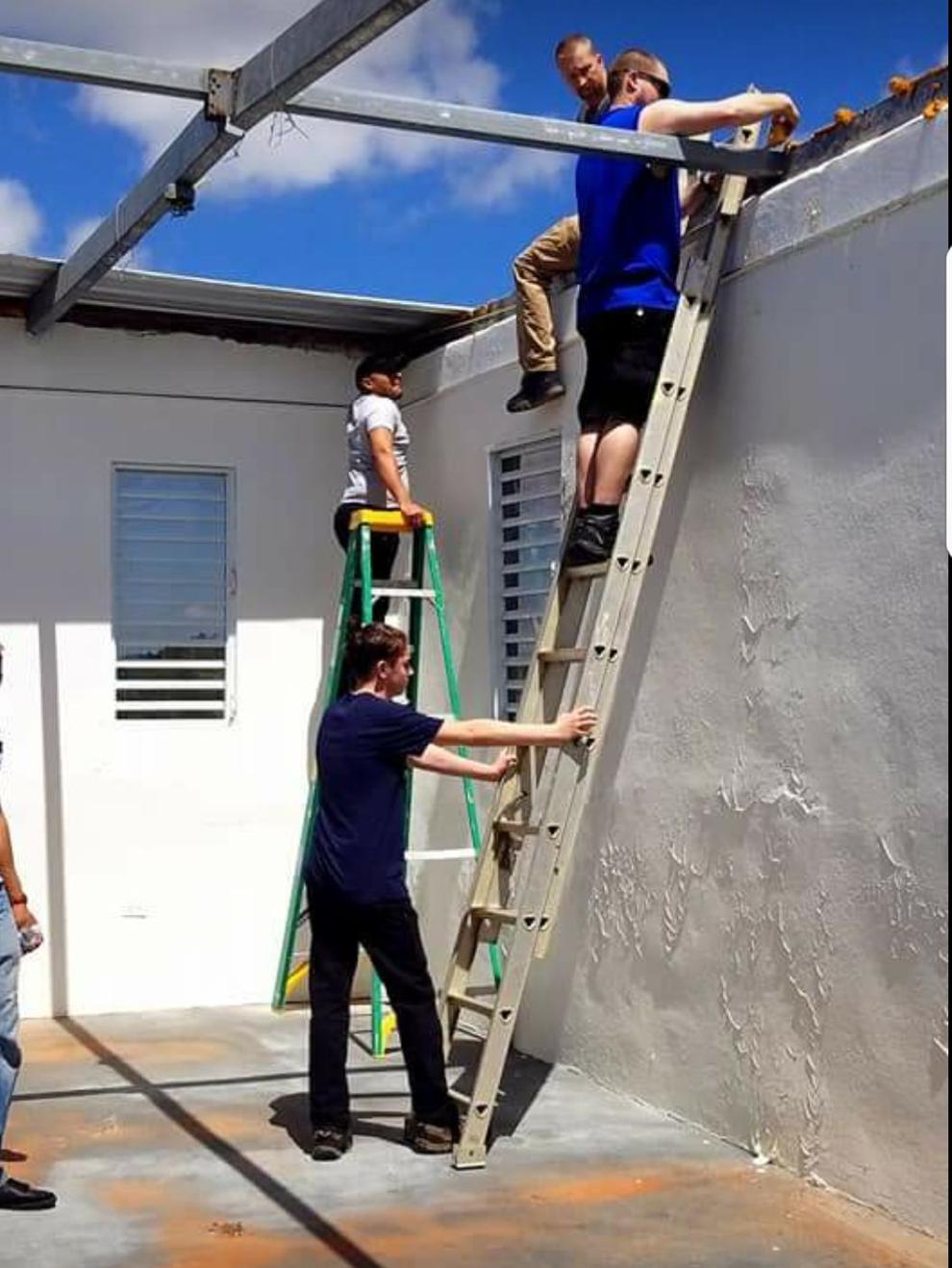 What gave Trilla hope were the homemade signs and banners she saw all across the island. They declared the island's post-Maria motto: Puerto Rico se levanta. It means "Puerto Rico rises."
Last month, Sam Yoder, 42, pastor of Ephrata Area Church of Christ, led Pony Express' six-person team to Aibonito, where they helped with repairs to a church and homes and refurnished the home of an elderly man living alone.
Yoder returned home committed to raising funds and recruiting volunteers to help the island rebuild.
"I'm going to be going back," Yoder said. To which Trilla added, "I will be right with you."
Co-owner Erdman said the company stands ready to help.
---
Pastor Sam Yoder's congregation, Ephrata Area Church of Christ, invites the community to participate in its Puerto Rico Will Rise relief effort.
To donate, mail checks to Ephrata Area Church of Christ, 55 New St., Ephrata PA 17522. In the memo line, write "Puerto Rico Will Rise."
For more information or to volunteer, contact Elis Vizcarrondo at 717-769-5712 or Lovegodloveothers76@gmail.com.