For more than 225 years, Lancaster County has claimed its kite-shaped space in the Commonwealth of Pennsylvania.
That's how the about 630,000 acres of land is described in an 1883 book called "History of Lancaster County, Pennsylvania" by Franklin Ellis and Samuel Evans.
"In the southeastern part of the map of Pennsylvania is seen a four-sided space, shaped not unlike a boy's old fashioned-kite, with its western corner somewhat extended, and its lower point slightly flattened on the Maryland line. This represents Lancaster County," the text says.
Who were the first people to settle in Lancaster County?
The question was submitted to "We the People," LancasterOnline's platform for answering questions from readers.
It's a question that must be answered retrospectively, explains Steven Nolt, senior scholar at the Young Center for Anabaptist and Pietist Studies at Elizabethtown College.
Native Americans lived in the area long before property ownership was established by land grants. Europeans settled from east to west, inhabiting land in parts of Chester County that later became Lancaster County, he said.
Lancaster County officially became a county May 10, 1729, and the border between the two was established.
"We have to go back and try to figure out where that land was on a contemporary map," Nolt said.
---
The Susquehannocks
Native Americans were the first to inhabit the Susquehanna Valley followed by a mixture of Europeans: German, Swiss, English and Ulster-Scots, according to Kevin Shue, a LancasterHistory.org genealogist.
 "It's all sort of intermingled," Shue said.
Susquehannock Native Americans lived along the Susquehanna River. They flourished in present-day Manor Township in the early 1600s, according to Ellis and Evans' book.
Their capital, Connadago, was located in present-day Columbia and home to around 3,000 people, according to Nolt.
They traded with European merchants as far away as Quebec, Manhattan and Delaware, Nolt said.
The number of Susquehannocks dropped after they were hit by European diseases in the late 1670s.  Some moved south and west,  he said.
---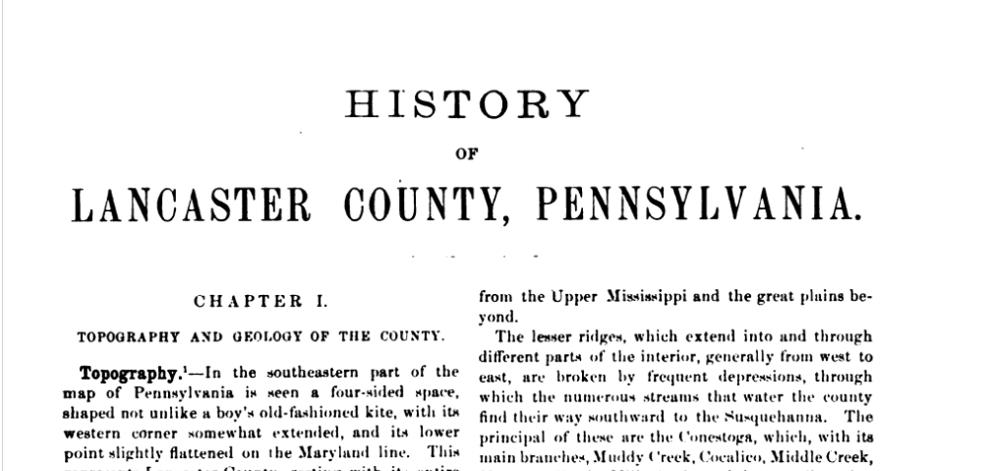 Settlers move west
William Penn created Bucks, Chester and Philadelphia counties in 1682. Chester County was defined vaguely as the area west of Philadelphia County as far west as the South Mountain, according to John Ward Wilson Loose in the 1978 book "The Heritage of Lancaster."
In the 1690s, Europeans took out survey warrants or received deed patents for land in Chester County that may have shaded into areas such as present-day Christiana, Nolt said.
"A Scot named Gault was established in Salisbury Township in 1710, and an English Quaker family was keeping the hearth fire burning in Little Britain Township possibly prior to 1710," according to Loose.
A group of eight households broke the trend of contiguous land settlement by "leapfrogging" to land in present-day Strasburg, Willow Street and West Willow in 1710, Nolt said.
---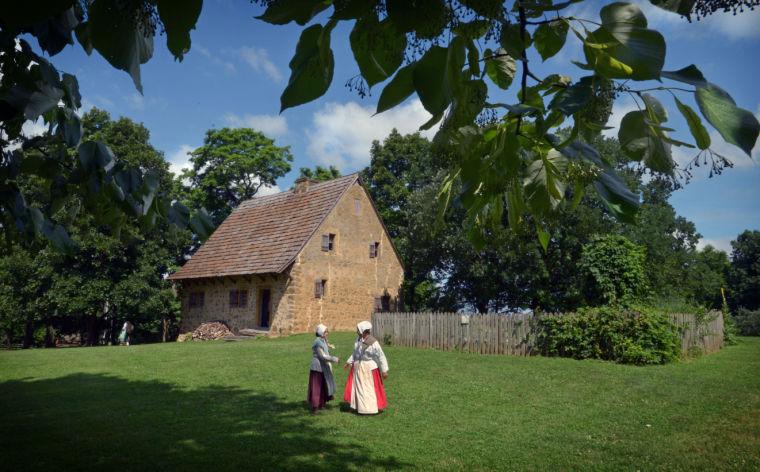 Drawn to fertile land
The families arrived in Philadelphia in September 1710, according to Nolt. They received a warrant for 10,000 acres in Lancaster in October 1710 but may not have moved to the land until summer or spring 1711, Nolt said.
Although they were not the first people to live in Lancaster County, their settlement is meaningful, Nolt said.
"They're … not just moving one block over, so to speak, but moving into a new area and creating a new European settlement and new community that is clearly going to be within Lancaster County," Nolt said.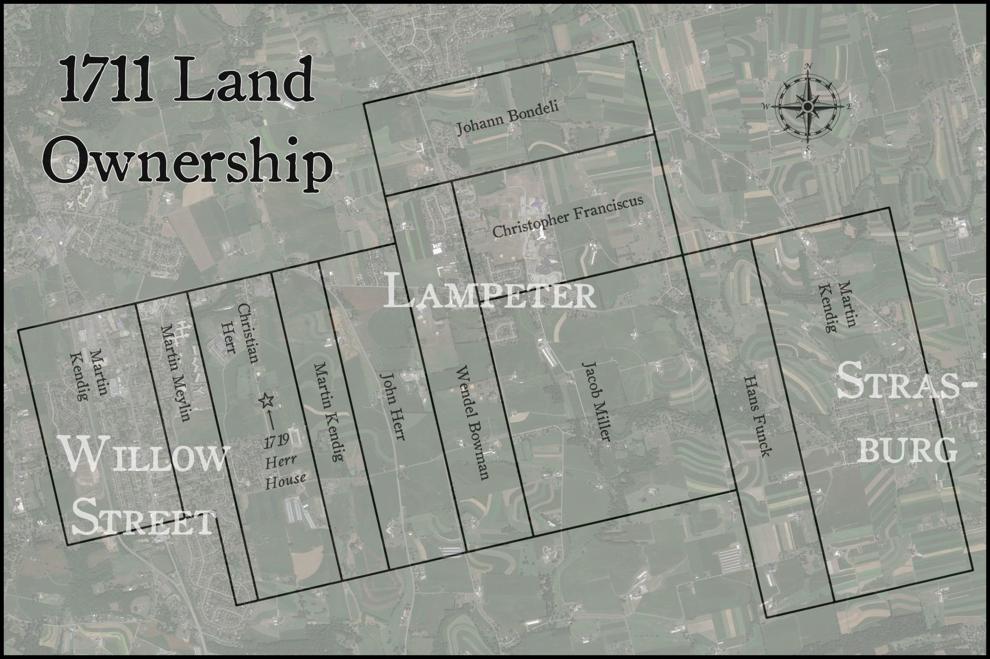 The households' names were, according to Nolt: Kendig, Mylin, two Herr families, Bowman, Miller, Franciscus and Funk.
They were looking for land that would be good for farming, according to David Schrock, director of the Hans Herr House in Willow Street.
"There's an oral tradition that they chose the land that had the biggest trees that they could find, and that indicated fertile soil," Schrock said.
The area where they first lived was along an old road that includes parts of present-day routes 741 and 30.
At first, they would have lived in crude log cabins, Schrock said. Within a decade they added more substantial houses.
French settlers were the next to arrive in 1712, settling in the area near present-day Paradise and Strasburg, according to Loose.
Built in 1719, the Hans Herr House is the oldest surviving structure in Lancaster County.
Generations of the Herr family lived in the home until the early 1900s. It was restored to a Colonial-era appearance in the early 1970s. In 2013, a replica Native American longhouse was built on the property to tell a "more complete story of early Pennsylvania life," according to the Hans Herr website.
"These people did some things right, but they also made some mistakes," Schrock said. "There's a lot we can learn today from how the European and Native American population treated each other."
Learning the history of Lancaster County helps provide context for today, he said.
---
What question do you want LancasterOnline to report on next? Vote below.
---
More We the People reports:
---