The man who killed 25-year-old Christy Mirack was likely someone who wouldn't stand out in a crowd, according to a behavioral profile created by the FBI.
He likely wasn't the center of attention or the life of the party, according to news reports on the profile in the years after the unsolved 1992 brutal slaying of the Roherstown Elementary School teacher.
But the man police arrested Monday in Mirack's death doesn't quite fit those characteristics. Raymond "DJ Freez" Rowe has spent the nearly 25 years since Mirack's murder growing his entertainment business.
In the past 15 years, the 49-year-old Lancaster man has worked at venues not only in central Pennsylvania, but also in Philadelphia, New York and New Jersey. 
Rowe's website for his Freez Entertainment business claims he does about 150 parties and events a year, including proms, middle school dances and other events at schools in Lancaster County.
It was at one of those county schools that investigators were able to collect used chewing gum and a water bottle Rowe had used while working an event that led to his arrest and charge of criminal homicide.
In announcing Rowe's arrest, Lancaster County District Attorney Craig Stedman said law enforcement officials didn't know how Rowe knew Mirack.
"He could be your neighbor, your friend, your co-worker, and he might absolutely slip under the radar," Stedman said of Mirack's killer at a press conference last year.
What we know
Here's what we know about Rowe, based on newspaper clippings, public records and accounts of people who know him:
Rowe was born in 1968. He got his start as a break-dancer and then house party DJ as a teenager in the mid-80s, according to his Freez Entertainment website.
He attended J.P. McCaskey High School but did not graduate.
He was married in 1988 at age 19, county records show.
He worked at the Chameleon Club in Lancaster for 15 years starting in the early 90s. In August 1992 he and his fianceé — he and his first wife divorced in September 1993 — hosted an anti-violence rally in Lancaster Square.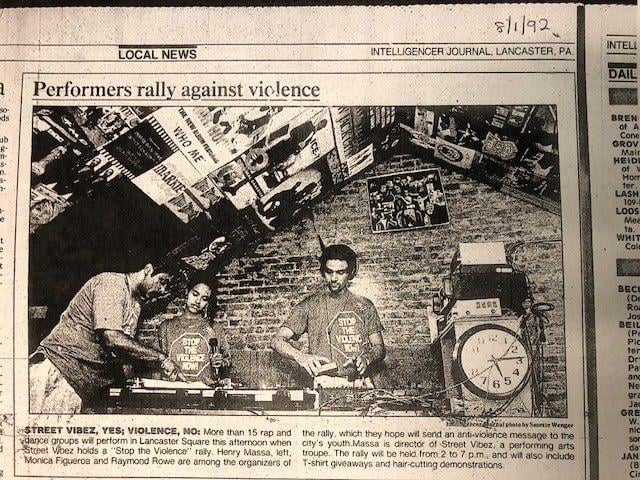 A few months later, on Dec. 21, 1992, Mirack was killed in her East Lampeter Township home. Investigators have said they don't know how Rowe and Mirack knew each other, but Mirack lived in Lancaster before moving to East Lampeter. A young, 20-something college student, she could have gone to social events in Lancaster, they said.
Rowe spent time in Pucon, Chile, in 1996, working at clubs in a tourist area. He came back to Lancaster in 1997 and opened a retail store, 12 Spot Sound, at 215 N. Lime St. At the store he launched Lancaster's first DJ school, where he taught more than two dozen DJs in Central Pennsylvania, according to the Freez Entertainment website. In 1998 his second marriage ended in divorce.
He married a third woman in 2000. Sometime before then he earned his general equivalency diploma through the Lancaster-Lebanon Intermediate Unit 13, according to the engagement announcement. Rowe and his third wife divorced in 2007.
Rowe was arrested in July 2001 after police raided the Chameleon Club looking for underage drinkers. He was charged with disorderly conduct and resisting arrest.
A judge put Rowe in the county's Accelerated Rehabilitation program in May 2002. He completed 50 hours of community service, paid a $650 fine and court costs and was on probation for one year, according to a previous LNP report.
He then filed a civil suit against a series of Lancaster County government and law enforcement officials in 2003, including then-mayor Charlie Smithgall, then-city police Chief William M. Heim and several detectives in the Lancaster County district attorney's office.
In the suit, he asked for more than $150,000 in compensatory damages, saying that he suffered severe injuries from his head to feet. The suit alleges the raids violated Rowe's civil rights. It was dismissed and settled in 2004, according to records from the U.S. District Court for the Eastern District.
Rowe married his fourth wife in January 2013. The woman, who is from Ukraine, has a daughter who was born before she moved to the United States. She is the office manager of Freez Entertainment, according to the website.
Rowe's preliminary hearing is scheduled July 9 with District Judge Denise Commins.
---
More coverage