Lancaster County is 52 percent Republican, 32 percent Democrat and 15 percent independent, voter registration figures show.
But those percentages vary greatly by location. So as we head toward the Nov. 8 presidential election, let's take a closer look at the political geography of Lancaster County.
What's the most conservative area of the county? The most liberal? The most independent?
---
Related: Congressional race in Lancaster County
Related: State Senate race in Lancaster County
---
Here are nine takeaways from an analysis of unofficial October voter registration data:
1) Republicans outnumber Democrats in all but four of the county's 60 municipalities: Lancaster city, Lancaster Township, Columbia Borough and Millersville Borough. (A third of all the county's Democrats live in those four communities).
2) The five communities with the highest percentages of Republicans are the townships of Leacock (nearly 75 percent), Earl (73 percent), East Earl (71 percent), and Strasburg and Brecknock (70 percent each) — all in the eastern half of the county.
3) The most conservative precinct in Lancaster County is the Muddy Creek district of Brecknock Township, on the northeast border with Berks County. It is more than 75 percent Republican, 15 percent Democrat and 10 percent independent.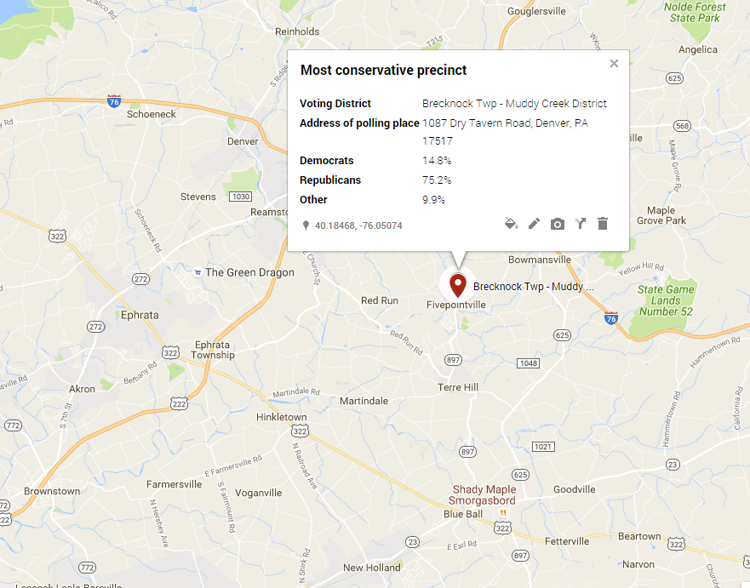 4) The county's most liberal precinct is the 7th Ward 2nd Precinct in southeast Lancaster city. It is 72 percent Democrat, 10 percent Republican and 19 percent independent.
5) The county's most independent precinct is the 9th Ward 4th Precinct in the city's northwest, where 27 percent of voters are neither Democrat or Republican.
6) There are no precincts where independents and minor party members outnumber Democrats, but there are 14 where they outnumber Republicans. In fact, independents have nearly overtaken the GOP in Lancaster city, where there are 24,128 Democrats, 8,172 Republicans and 7,723 voters who belong to neither party.
7) In Lancaster city, there are only two precincts — both on the far eastern edge of the city — where Republicans outnumber Democrats. One is the 7th Ward 8th Precinct, in the Bridgeport area. The other is the 6th Ward 6th Precinct along Pitney Road, where Republicans have a one-voter edge.
8) Outside of Lancaster City, Democrats outnumber Republicans in only 25 precincts in eight communities. Those precincts are in the townships of Lancaster, Manheim, Manor, East Hempfield and East Lampeter, and the boroughs of Columbia, Millersville and Marietta.
9) Other than Lancaster Township, the suburbs bordering the city remain solidly Republican, though with smaller margins than most rural townships. Manheim Township has the smallest GOP edge, followed by East Hempfield, Manor, East Lampeter and West Lampeter townships.