And so it begins. 
Mayflies have begun hatching in the Susquehanna River, riverkeeper Ted Evgeniadis said.
While there hasn't been an "abundance" of mayflies, Evgeniadis said there are still "plenty" hatching on the river. 
Evgeniadis predicted that within two weeks, areas surrounding the Susquehanna River should see an onslaught of mayflies as larger quantities hatch. The typical hatching period is late June to early July, said Evgeniadis. 
In previous years, hoards of mayflies have swarmed manmade structures near the Susquehanna River -- including the Veterans Memorial Bridge that connects Columbia to Wrightsville.
This year, according to Evgeniadis, is likely to be no different.
And because of the insect's short lifespan of 24 to 48 hours, piles of dead, decaying mayflies are also to be expected. 
As eggs, mayflies are laid on the surface of water and eventually float to the bottom where they sit for a period of time between a day or several weeks.
After hatching, the nymphs spend two to three years underwater, until they eventually rise to the water's surface, molt, dry their wings and fly onto to land with one purpose: reproduce.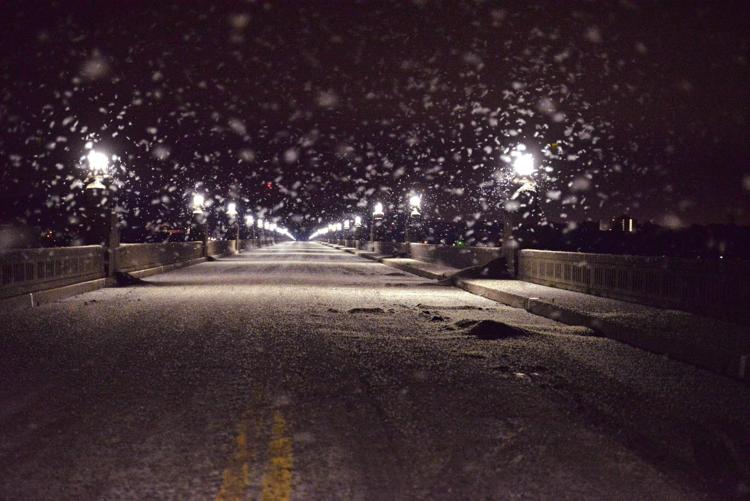 In June 2015, following the "blizzard-like" conditions, the bridge was temporarily closed after three motorcycle accidents caused by low visibility and slick roads. 
Last year, the Columbia Borough Police Department decided to turn off lights on Veterans Memorial Bridge to prevent mayflies from swarming like they did years prior. 
Efforts to contact the police department about plans for this year were unsuccesful.