For decades, 800 S. Queen St. was the home of Rebman's, a quirky family-owned store that was a beloved Lancaster landmark. 
Today the 1.5-acre commercial property, near the southern edge of the city, is run-down and mostly unused. But that's about to change, businessman Jeremy Feakins said.
Feakins has put together a project team and is raising capital to build a mixed-use complex at the site, which Rebman's left in 2003. It would have retail and residential space — designed, he said, with the needs of the surrounding community in mind.
88,000 square feet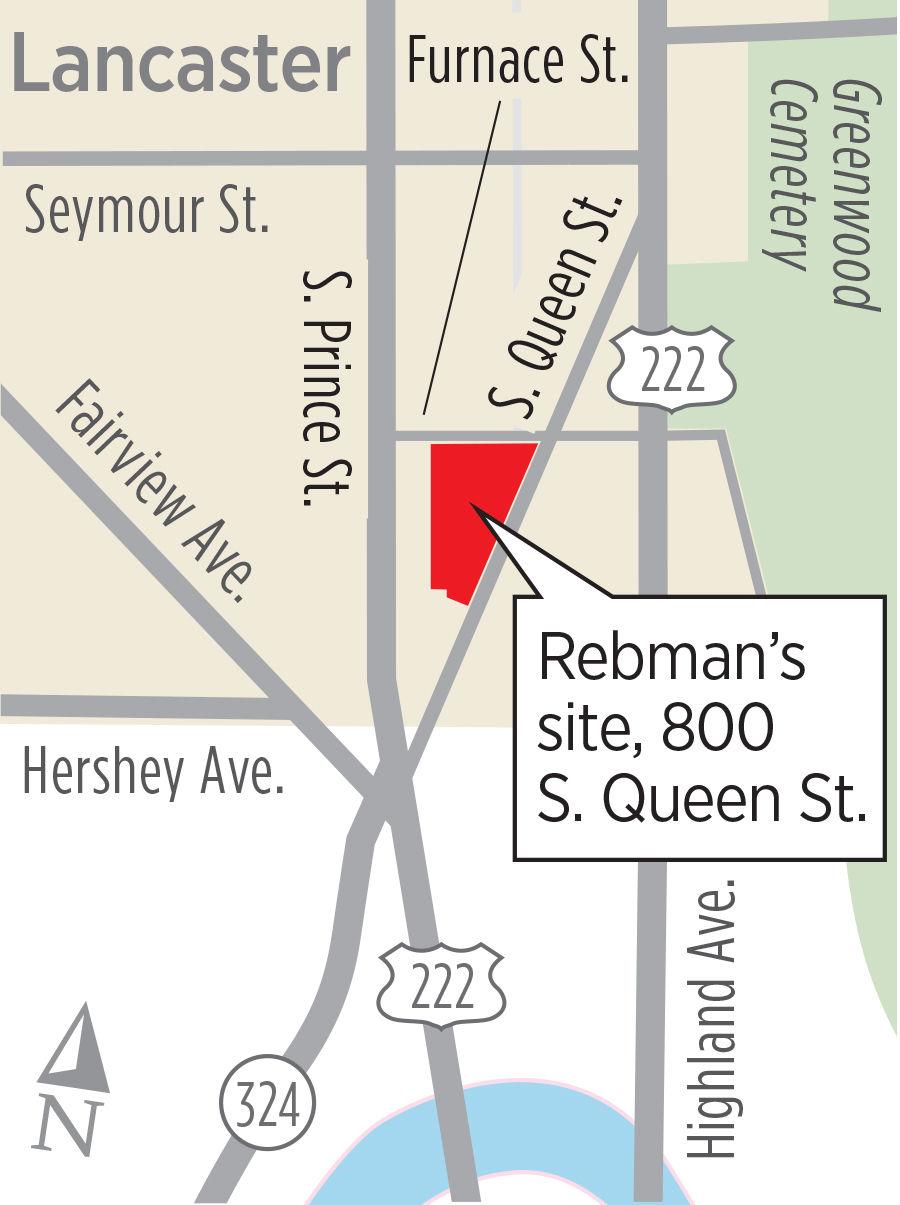 Feakins has owned the property since 2006 and has an office there. Until recently, the main building was rented out as storage space.
The plan calls for razing the existing buildings. In their place would rise a four-story L-shaped building overlooking South Queen and Furnace streets, plus a one-story outbuilding envisioned as a daycare center.
The budget is $14.6 million, though Feakins emphasized it and other details are preliminary and subject to change.
All told, there would be about 88,000 square feet of space, of which about 14,000 square feet, including the proposed daycare, would be commercial or retail space.
Tentatively, the largest unit would be a medical office or urgent care center. The others would be for storefront businesses; at least one, it is hoped, would be a restaurant.
The rest of the building would consist of 72 one- and two-bedroom apartments. They would be rented at rates deemed affordable to households making 60% to 80% of Lancaster county's median income.
For the one-bedroom units, that works out to rent of $915 to $1,220. For the two-bedroom units, it's $1,029 to $1,372. The actual rents could end up lower, Feakins said.
"Our tenants will be working families," he said.
The units will not be subsidized. Nor does the project team plan to use construction subsidies designed to incentivize affordable housing. The numbers work without them, Feakins said.
The project will bring affordable rentals and new commercial space to an area with a shortage of both, he said.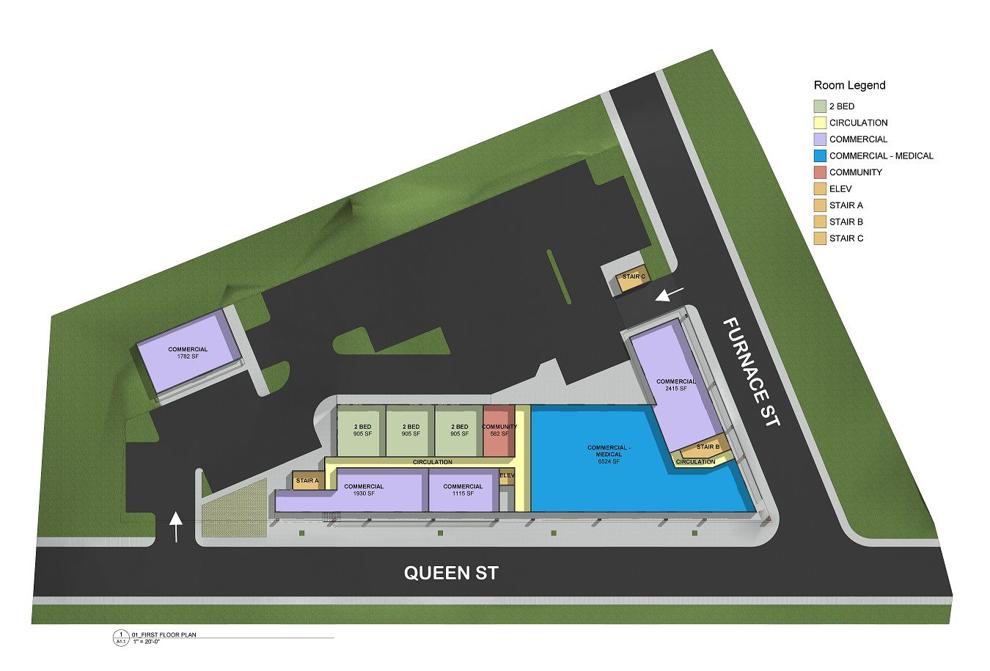 Meets city goals
In developing and refining the plan, Feakins and his team have consulted with city officials, the Lancaster Housing Opportunity Partnership and the Lancaster City Alliance.
The complex "will help to meet the community's recent and critical need for affordable housing ... while providing much-needed walkable access to goods and services to residents of the surrounding neighborhood," the alliance's Jeremy Young wrote in a letter of support.
The project's mix of uses aligns with City Hall policy goals, Chris Delfs, Lancaster's director of planning and community development, said in a separate letter.
Planned amenities include a green roof and rooftop community garden, a fitness center, 77 parking spaces and security personnel on duty 24/7.
Renderings of the complex show a prominent "Rebmans" sign — patterned on the one familiar to generations of shoppers — at the corner of South Queen and Furnace streets.
"We are calling it that now because everyone is familiar with the property," Feakins said. Actually putting up such a sign, of course, would require an agreement with the Rebman family, he said.
There's also talk of reserving some space for a photo display commemorating the Rebman store's history, he said.
Budget numbers
The preliminary project budget is $14.6 million. Of that, 75% will be bank financing, leaving $3.65 million to be raised by private investors. At least $2 million is to come from a "founders circle" of early investors, including Feakins himself. Feakins' investment firm, JPF Venture Group, is the general partner.
Besides leading JPF, Feakins, a British native and naturalized U.S. citizen, heads Ocean Thermal Energy Corp., which is working to implement a technology that generates renewable energy from ocean temperature differentials. He lives on a 52-acre horse farm in Pequea Township.
Feakins said he's wanted to redevelop 800 S. Queen St. all along. The "turning point," he said, came when a federal opportunity zone that includes the property was established.
Ceated under the Trump administration's 2017 tax law, opportunity zones are intended to draw investments to distressed areas. The designation allows investors to defer capital gains taxes by putting money in eligible projects, or avoid them altogether on accrued profits if they stay invested for at least 10 years.
Feakins' team has set up an investment fund targeted at opportunity zone projects, with the Rebman's project as the inaugural effort.
Under federal securities rules, participating investors must be "accredited." That means they must have a high income — at least $200,000, or $300,000 with a spouse — or net worth of at least $1 million.
Feakins' team is still at an early stage: It has to finalize plans, secure financing and go through the city review and approval process. Nevertheless, it's hoping to break ground this year.
Every project is different, but if all goes smoothly, securing the necessary city approvals could probably be done in about nine months, Delfs said. 
The project coordinator and contractor is Landisville-based Professional Design & Construction. Construction is expected to take about 18 months.
Young said 800 S. Queen St. is the only opportunity-zone project in Lancaster he's aware of.
Besides Lancaster's, there is an opportunity zone in Columbia. There, a local entrepreneur plans to partner with a New York state developer to rehab two adjoining former hotel buildings into a mix of retail and market-rate housing.