A newly elected governor's first state budget proposal is a big deal.
The spending proposal sets the tone for his tenure, and is the first major step in the direction he hopes to lead the state, even though the Legislature usually makes significant changes before adopting the fiscal plan.
Gov. Tom Wolf will deliver his proposal on Tuesday, and increased funding for education is expected to be a key focus. But before he unveils his spending plan, here's a look back at news accounts of how the last five Pennsylvania governors embarked on their journey as the state's top leader.
Gov. Tom Corbett - 2011
In his first budget as Pennsylvania governor, Tom Corbett called for cuts to public education and the elimination of 1,500 state jobs. His budget totaled $27.3 billion.
Corbett renewed his opposition to a tax on the state's booming natural gas industry, while public education was facing a loss of about $1 billion due to the expiration of federal stimulus funds.
The Republican also proposed cutting $259 million in grants that subsidized programs such as all-day kindergarten and $224 million in reimbursements to school districts for charter school tuition.
And he proposed spending cuts of more than 50 percent for the 14 state-owned universities in the State System of Higher Education and four state-related schools.
Gov. Ed Rendell - 2003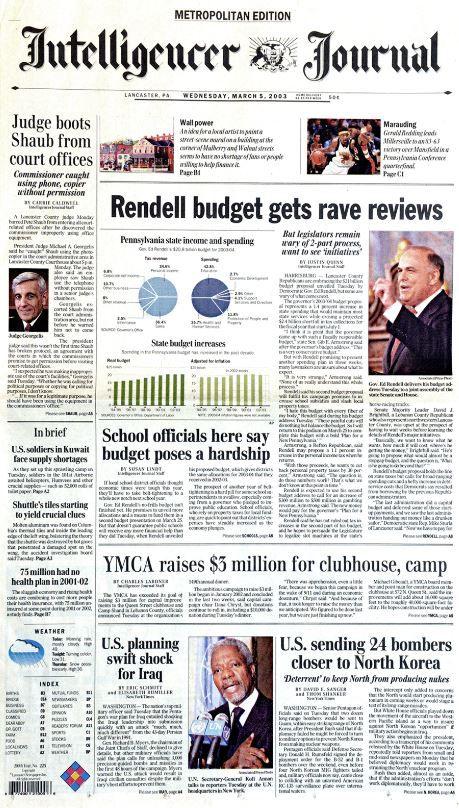 Gov. Ed Rendell took an unorthodox approach when he presented his budget. He separated it into two parts — a $21 billion plan that included cuts and a later $3 billion proposal that increased public school subsidies and state taxes.
The Democrat proposed a 20-percent across-the-board cut in spending while holding the line on spending for education.
After the GOP-controlled General Assembly signed off, the governor used a line-item veto to approve everything but the education budget.
Then he unveiled a plan that called for a 34-percent increase in the state income tax from 2.8 percent to 3.75 percent. He also wanted slot machines legalized at racetracks.
Rendell's proposal would have provided an additional $1.5 billion to districts and instructed them to reduce property taxes. His budget proposed to boost the state's share of the cost of public education from 35 percent to 50 percent.
Gov. Tom Ridge - 1995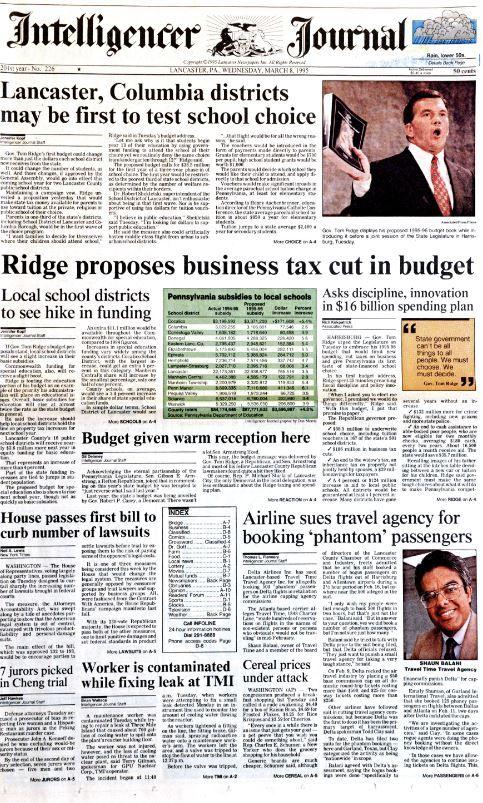 Following up on his campaign promises, Gov. Tom Ridge unveiled a $16.1 billion budget that proposed to cut business taxes, slow the growth of state spending, create a school choice voucher program and reduce welfare benefits.
Ridge's budget ax included proposed cuts of $44 million to 19 state programs. The biggest proposed cut was $36.5 million to the state's sewage treatment plant operations grant program.
The budget proposed money for building more adult prisons and facilities to house violent juvenile offenders, and earmarked more money than any previous state budget for road and bridge maintenance.
Gov. Robert Casey - 1987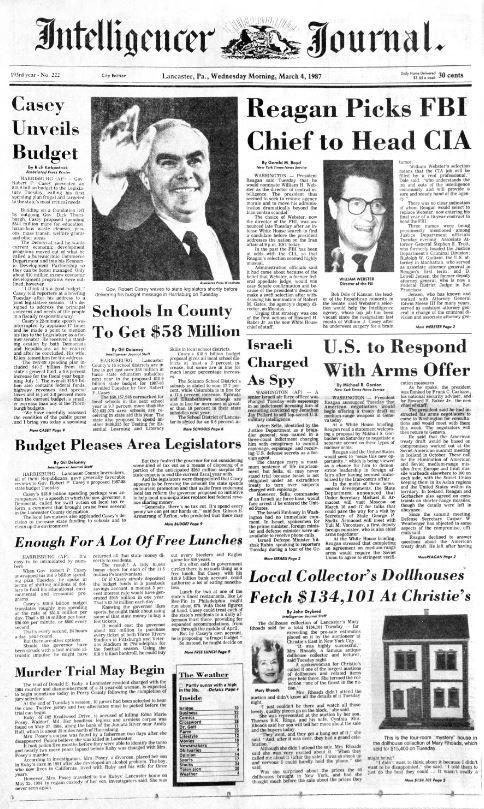 Robert Casey had the very fortunate task of having to decide what to do with a $262 million budget surplus when he took over the post as Pennsylvania's governor.
Because of the surplus, Casey proposed increasing state spending by 5.6 percent — to $10.2 billion — without raising taxes.
The extra cash helped fund major spending hikes on education, environmental protection and services to citizens who most need help. The lion's share was designated for increased aid to school districts to upgrade basic education, which would consume 37 percent of the state budget.
Casey also discussed management reform during his budget proposal. He vowed to restructure state economic development programs, insurance oversight and tax policies.
Gov. Dick Thornburgh - 1979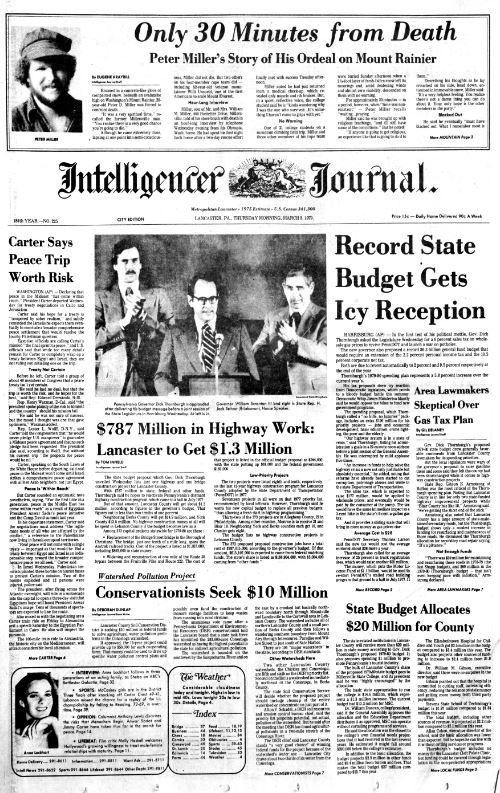 Gov. Dick Thornburgh began his tenure in office by asking for a 6 percent sales tax on the price of gas to help bail out the Department of Transportation.
The new tax, he said, would allow PennDOT to start up its stalled building program and launch a $76 million pothole patching effort.
The $6.3 billion spending package proposed increased funding to create jobs, improve basic education, enhance crime-fighting and boost aid for the elderly, mentally ill and welfare recipients.
To meet those goals, Thornburgh asked for an extension of two taxes that had been scheduled to expire. They were a 2.2 percent personal income tax and the 10.5 percent corporate net income tax.