Even now, in the age of globally accessible digital media and research done by Google searches, many newspaper companies still have a vault of some kind, a place where old copies of their newspapers can be preserved for posterity.
LNP Media Group is no exception – in the basement of the newspaper building at 8 W. King St. in downtown Lancaster, there is a large, climate-controlled room, packed floor to ceiling with 225 years worth of old newspapers, carefully bound and wrapped in acid-free paper. The room is accessed by a foot-thick metal door that's opened by turning a massive wheel – the whole thing evokes submarine imagery – and it contains a staggering amount of local history.
But as LNP staff began preparing for the company's upcoming move to 101 N. Queen St., a second vault door was discovered, lurking behind large machinery and equipment in another section of the sprawling basement. It seemed that no one knew about this vault – even Kim Gomoll, LNP's librarian and archivist, had no idea it existed.
Opening this second vault door revealed a much smaller room, and the thick smell of mold and must indicated that it most assuredly was not climate controlled. What was in it?
Story continues below video:
Well, nothing Earth-shaking. No lost treasures. But it did contain a wealth of items that people interested in old newspapers or local history in general might find fascinating. Here is a photo tour of LNP's forgotten vault.
1. The vault door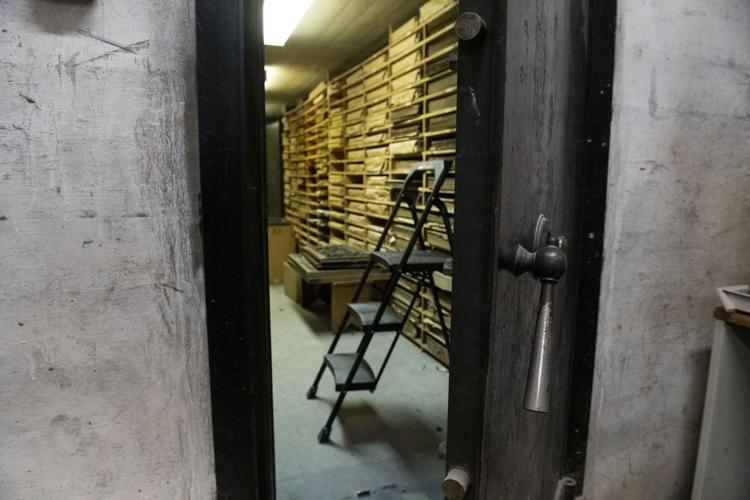 The newly rediscovered vault housed hundreds of historical documents from Lancaster County and LNP's history. The heavy metal door boasts a handle reminiscent of a safe.
---
2. Movable type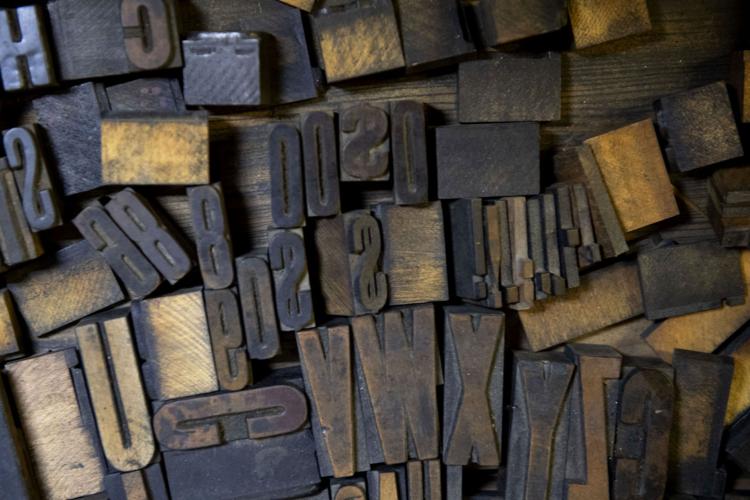 The vault contained many trays of movable type pieces for old letterpress printing, likely dating to the 1800s. From quarter-inch pieces to massive letters six inches or more in height, these trays contained not only letters and numbers, but also punctuation marks and symbols such as dollar and cent signs. Though discolored by years worth of ink, the letters were in excellent condition, and could easily be used for printing today.
---
3. & 4. A touch of Europe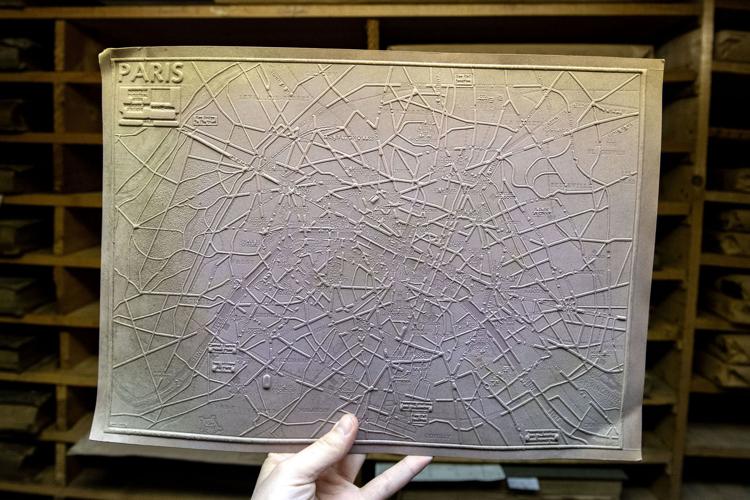 We found several maps of European cities, constructed in relief like printing plates, and made of a thick, heavy cardboard. Here's Paris – the below image shows just how detailed these pieces are, with streets and landmarks labeled throughout.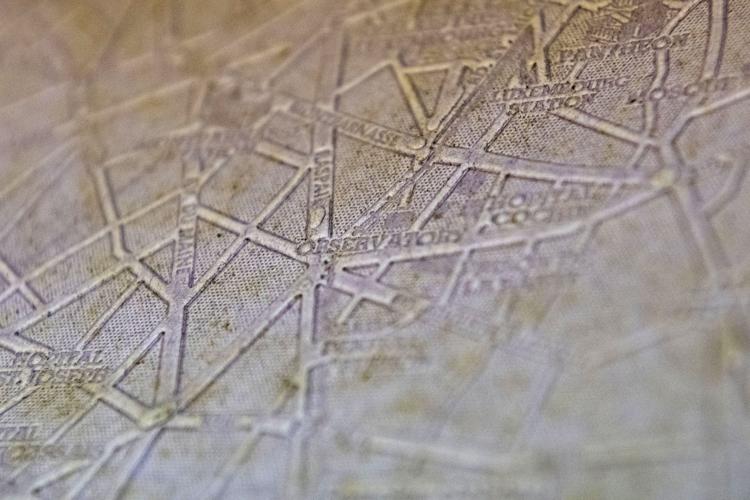 Though we know from their markings that these came from wire news services and dated to the World War II era, even the retired press operators we contacted were unsure as to their purpose. It would seem they might be used to reproduce maps or portions of maps in print for coverage of the war, but the pieces show no signs of ever having been inked. (And, more importantly, if they were used as printing plates, the text and image would be reversed.)
---
5. Glass slides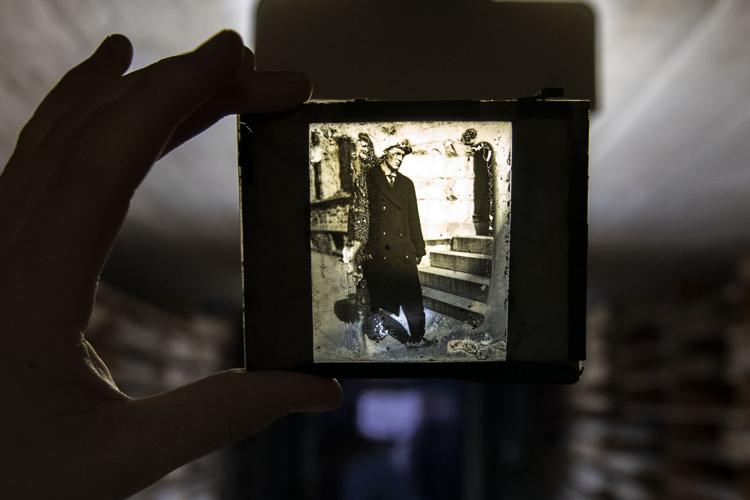 Thrown haphazardly into a box were dozens of glass slides. Each consists of two pieces of glass with the image between them. Virtually all of them are shots of well-dressed men walking or striking poses on the street, either singly or in pairs. (One lone slide depicts a man walking with a woman.) They almost look like images for a catalog, or fashion photography.
---
6. 'Hartman the Hatter'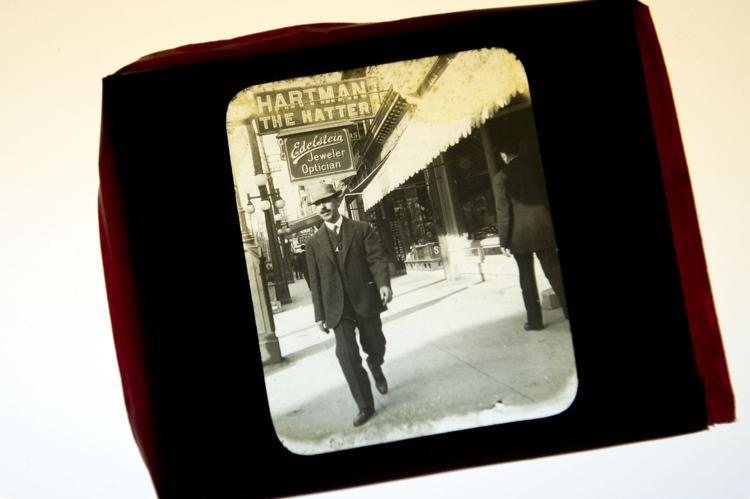 This particular glass slide contains a clue – the prominently displayed sign for "Hartman the Hatter," placed perfectly in frame with a gentleman sporting a jaunty hat. Were these photos shot as marketing pieces for a hatmaker? (Curious about who Hartman the Hatter was? So were we. A search through the LNP archives revealed that Albert Hartman began his haberdashery business in his hometown of Columbia in the 1890s before moving to North Queen Street in Lancaster shortly after the turn of the century. Hartman died in a car crash in 1918 at the age of 52.)
---
7. Early clip art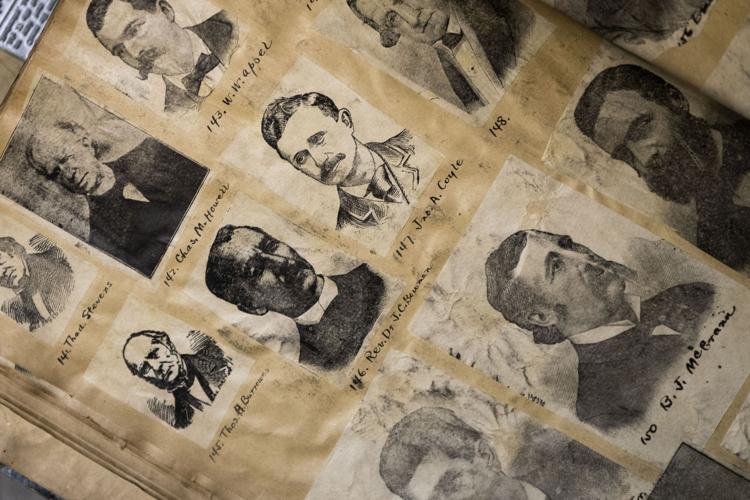 We found two large books filled with what can best be described as "antique clip art." Many pages, like this one, are filled with drawn portraits (and a few early photos) of notable people. Other pages contain a variety of other images, such as pictures of European military regalia, or tribal garb of the Pacific islands. (This particular page contains many recognizable local names, such as politician Thaddeus Stevens, jeweler W. W. Appel, and railroad magnate B.J. McGrann.)
---
8. & 9. Massive maps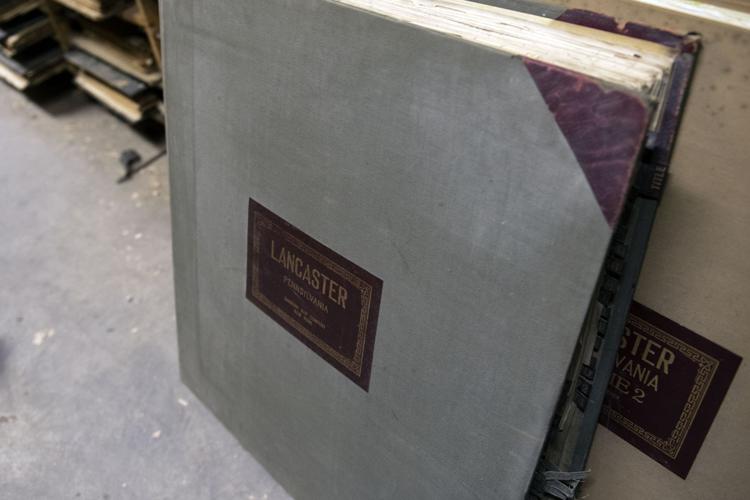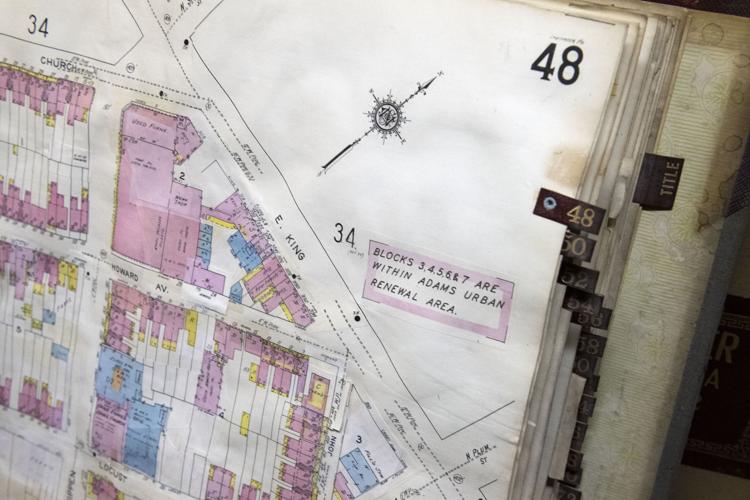 By far the largest single objects in the vault were these massive books, measuring about 3 feet square. Labeled as "Insurance Maps of Lancaster, Pennsylvania," they contain hyper-detailed maps of the city, with every individual property marked and outlined. These maps are dated from 1935 to the early 1960s.
---
10. Old newspapers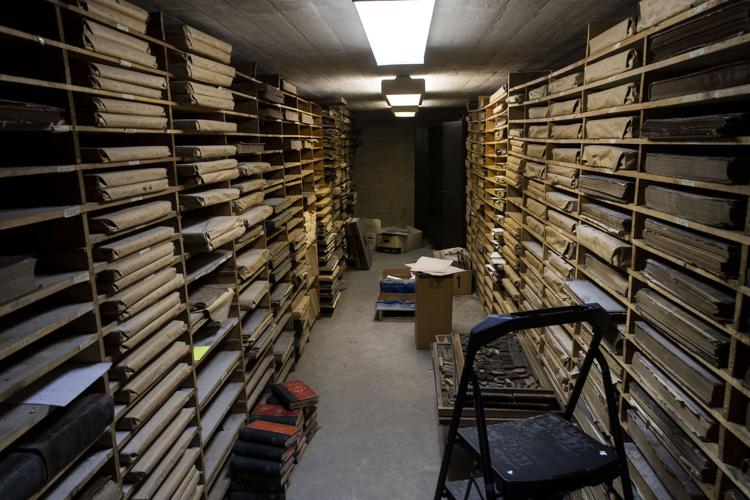 Both side walls of this long, narrow vault are lined floor to ceiling with shelves packed full of old newspapers from Lancaster county (including some old German-language papers) and beyond, including papers from Baltimore, New York and other cities. No careful wrapping in acid-free paper here – these papers are mostly bound into volumes, though some are loose. They are all in various stages of disintegration, though one loose copy of a Lancaster New Era from World War II is surprisingly intact.
---
11. Store receipts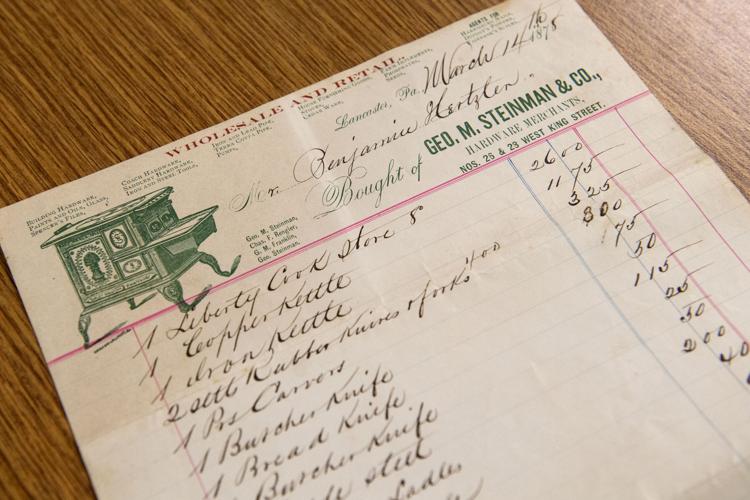 Before getting into the newspaper business, the Steinman family was well known in Lancaster for their hardware store, located in the first block of West King Street. Here is the first page of an old store receipt from 1875, which was left in the vault for some reason. The receipt is four pages long, and includes virtually everything someone would need to set up a house – from plumbing equipment to spoons to a fireplace poker.
---
12. A Presidential signature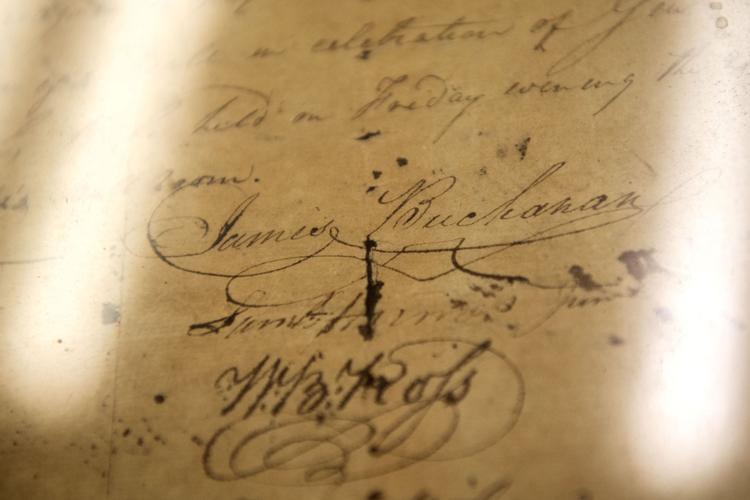 We were amazed to find a document bearing the signature of James Buchanan in the vault. Dating to 1812, the document is a collection of signatures of individuals pledging to help pay for a gala ball honoring George Washington's birthday. Buchanan was just 21 years old at the time he signed this document. Two years later, he would begin representing Lancaster County in the state House of Representatives, thus beginning the political career that would eventually lead him into the White House.
---
13. Aerial photos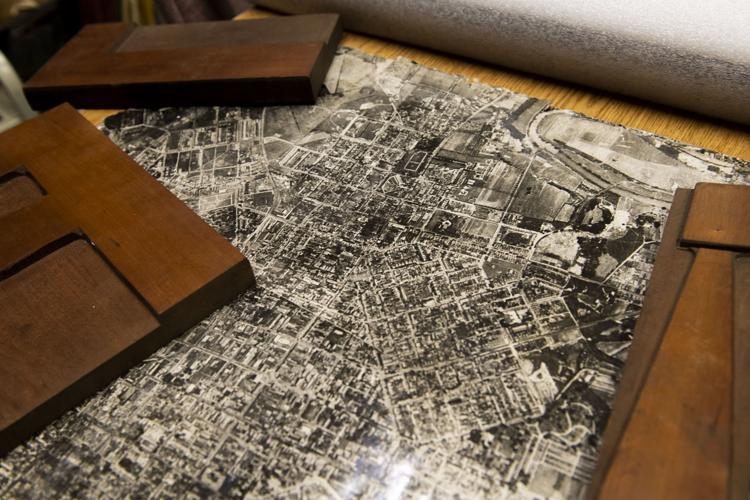 We found a huge box full of large, heavily damaged aerial photos of Lancaster city and the surrounding county. The photos had curled so tightly that we had to steam some of them in order to unroll them. Even after steaming, we had to weigh down the corners with the heaviest pieces of movable type to take photos of them. The photos aren't dated, but judging by the local landmarks, they seem to date from about the 1930s.
A look inside LNP | LancasterOnline's forgotten vault [photos]